Rapid diagnosis, targeted treatment and dramatic antibiotic preservation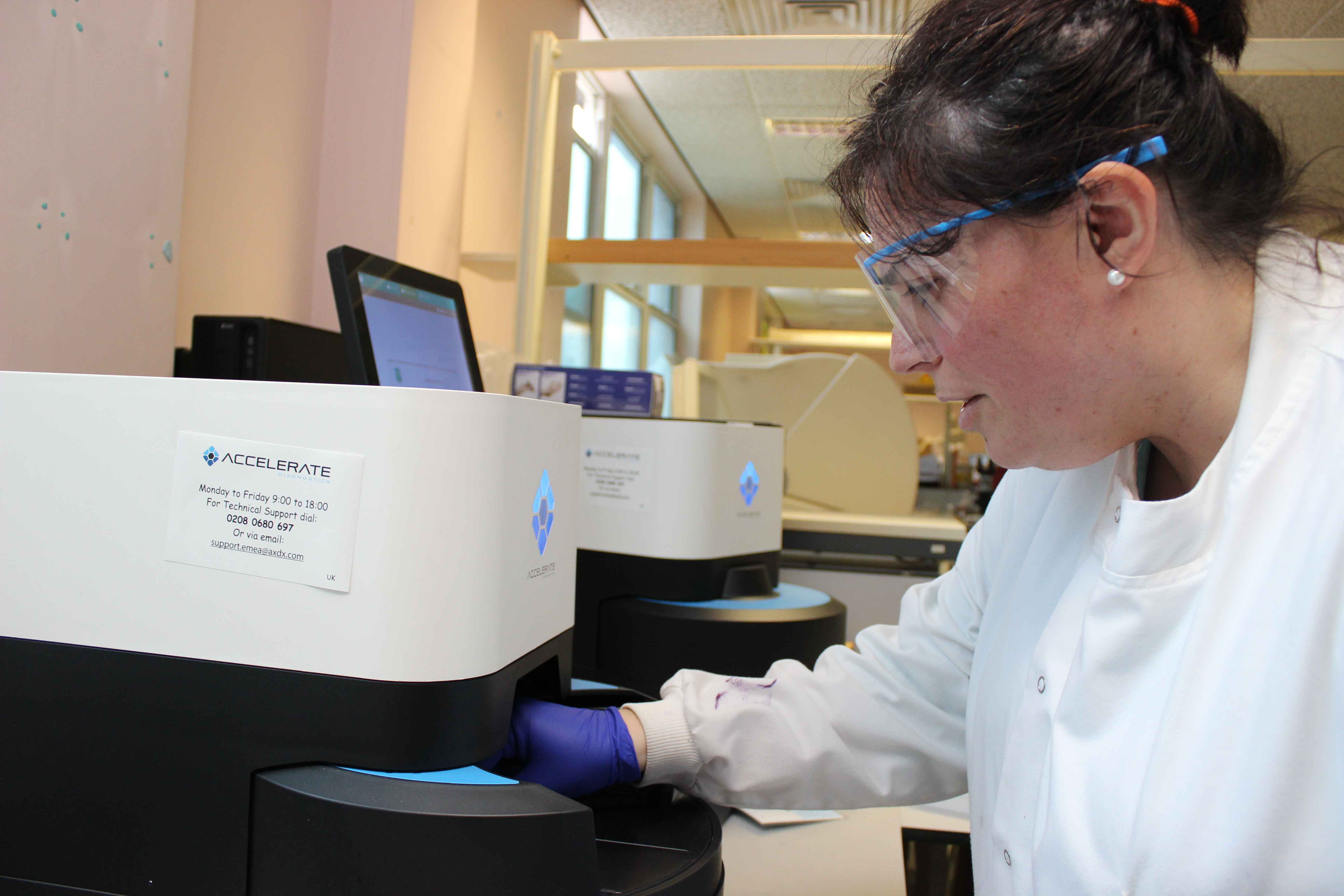 The microbiology team at Hampshire Hospitals NHS Foundation Trust, based in Basingstoke and North Hampshire Hospital, have proved themselves to be pioneers in diagnostic innovation, and it is having a big impact on their ability to adhere to AMR stewardship guidelines. The team sat down with David Duffy, Hospital Times' Editor, to discuss these solutions in greater detail.
---
Preserving the current crop of antimicrobials and fully optimising antibiotic therapy is crucial to fighting antimicrobial resistance (AMR). The Microbiology Department at Hampshire Hospitals NHS Foundation Trust has developed a series of innovative approaches to improve their preservation levels. Indeed, have been described as pioneers in their approaches to diagnostic pathology.
"One thing that makes this team so unique is our use of biomarkers," says Dr Kordo Saeed, Consultant Microbiologist and Clinical Lead. Dr Saeed insists that, while they are not the be-all-and-end-all indicator for a diagnosis, biomarkers can effectively supplement wider diagnostic investigations. "They allow us to make decisions  within clinical contexts, to watch and wait, and reduce unnecessary use of antibiotics without compromising patient care" Dr Saeed adds.
Since 2009, the Trust has been able to avoid one out of six antibiotic courses, without impacting patient safety.
The department has also undertaken extensive work with other novel diagnostics. "We have embraced innovation and been one of the forerunners to adopt molecular tests to replace traditional culture based techniques to reduce time to diagnosis," says Dr Nick Cortes, Consultant Microbiologist and Clinical Director of Pathology. According to Dr Cortes, time taken to analyse a stool sample has been reduced from two to three days to under six hours by switching to a molecular test. "You know almost straightaway how to direct a patient's treatment pathway, what antibiotics they require and, if need be, to prevent the prescribing of antibiotics all together."
---
The "gamechanger"
These types of solutions are exactly what is required if antimicrobials are to be preserved at a level that facilitates the mitigation of AMR. However, "the real gamechanger for us was the introduction of Accelerate Diagnostics," says  Stephen Kidd, Clinical Scientist and Molecular Diagnostics and POCT lead in Microbiology.
The Accelerate Diagnostics system is a solution that dramatically reduces the time required for Antimicrobial Susceptibility Testing (AST). This means that the team can rapidly identify exactly the type of antibiotic required in a matter of hours. "We are now detecting sensitivities in samples within six to seven hours of a positive blood culture, taking days off patients' treatment pathways," says Stephen Kidd.
Using this solution in conjunction with the array of other innovations and forward-thinking workflows the team have implemented, outcomes for patients with sepsis are being dramatically improved and reliance on broad spectrum antibiotics has seen drastic reductions.
---
No stone unturned
"We have incredible diagnostic capabilities now," says Dr Claire Thomas, Consultant Microbiologist and Director of Infection Prevention and Control, who says that this allows the team to individualise a patient's therapy with wonderful diagnostic certainty. The team are keen to stress what they can do with the time saved by the Accelerate.
"Something that is often neglected in the diagnostic process," says Dr Cortes, "is the pre-analytical phase." This refers to the process of getting the specimens to the labs.  Dr Cortes explains that these are processes which are assumed to be working efficiently, but this team is constantly looking to replace assumption with certainty.
"We used to be in the same position as many trusts, where you get a positive blood culture but you do not have an identification and antibiogram until two days later," says Dr Thomas. "Now it's within a day or even half a day." This gain in time allows for earlier, more targeted antibiotic treatment and other associated interventions (e.g. early isolation of patients with multi-drug resistant strains).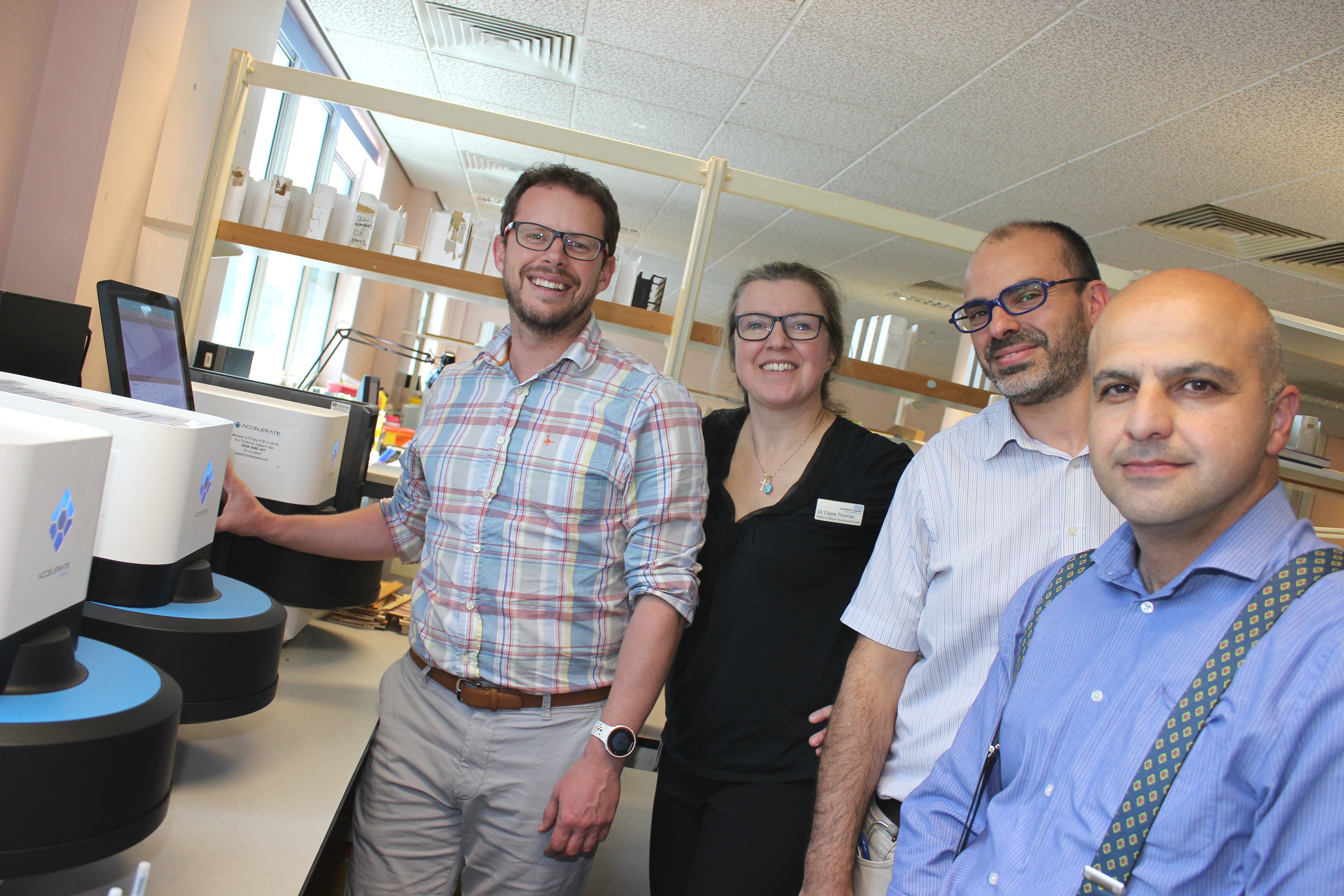 (The Hampshire Hospitals microbiology department leadership standing next to their innovative Accelerate Diagnostics machines. Left to right: Stephen Kidd, Dr Claire Thomas, Dr Nick Cortes and Dr Kordo Saeed)
---
Trust-wide engagement
For the Accelerate system to be a success, enthusiastic engagement is required from every level of the Trust. The microbiology team at Basingstoke have an attitude that fosters a sense of trust in their innovative and often novel diagnostic testing.
"People across the Trust understand the nature of these tests and work in collaboration with us to refine treatment pathways," says Dr Saeed, reflecting on how this culture of trust has been nurtured so effectively. In agreement,  Stephen Kidd says, "we have a visible presence on wards, and we engage with our clinical partners."
Stephen says that, "in other parts in the world, most notably in the US, there are huge levels of investment in diagnostic technology but an absence of a will to use  the rapid result outside of Microbiology." This, he argues, severely limits the clinical impact of new technology that could ultimately save lives.
The enthusiasm at ward-level is reflected at the upper echelons of the Trust. "I have been taken with the board," says Dr Thomas, a former consultant at Imperial College, "they have a sense of trust in our work that allows us to be 'blue sky' in our thinking."
Strongly agreeing with this sentiment, Dr Saeed says, "the board understand the importance the role of pathology has on the patient pathway, that is, for AMR stewardship and for achieving the sepsis Commissioning for Quality and Innovation (CQUINN)." However, he is keen to stress that without the highly capable and enthusiastic team of colleagues in the lab that they work with, none of this would be possible.
---
Looking forward
The team are still looking for new ways to improve solutions to deliver better patient outcomes. "New technology should never be considered as standalone; you need to be disruptive in your thinking," Dr Thomas says.
Currently, the team are developing ways of delivering diagnostic updates straight to the phone of a relevant clinician, allowing for the 24-hour monitoring of urgent specimens. "This type of digital interface has not quite caught up with advances in diagnostic technology," says Dr Cortes.
Based on the success in antibiotic preservation that the Basingstoke microbiology team have had, there can be no doubt that diagnostic stewardship is essential to adhering to AMR stewardship guidelines.
Whilst acknowledging that the technology required for these tests can be expensive, Dr Saeed says, "when you look at the impact that these things have further down the treatment pathway then they are actually quite inexpensive." Dr Saeed then went on to stress the almost immeasurable benefit of effectively preserving precious antibiotics.
Diagnostic stewardship is gradually being woven into AMR stewardship guidelines and the team are looking to build on this. They are constantly seeking to build evidence bases and database from their own solutions to improve diagnostic stewardship and help foster a culture of innovation across the NHS. "We do not keep things to ourselves," says Stephen Kidd. "We are a family in the NHS, and it is essential to share best practice."