Data Saves Lives – Can Data Catalyse NHS Cancer Recovery?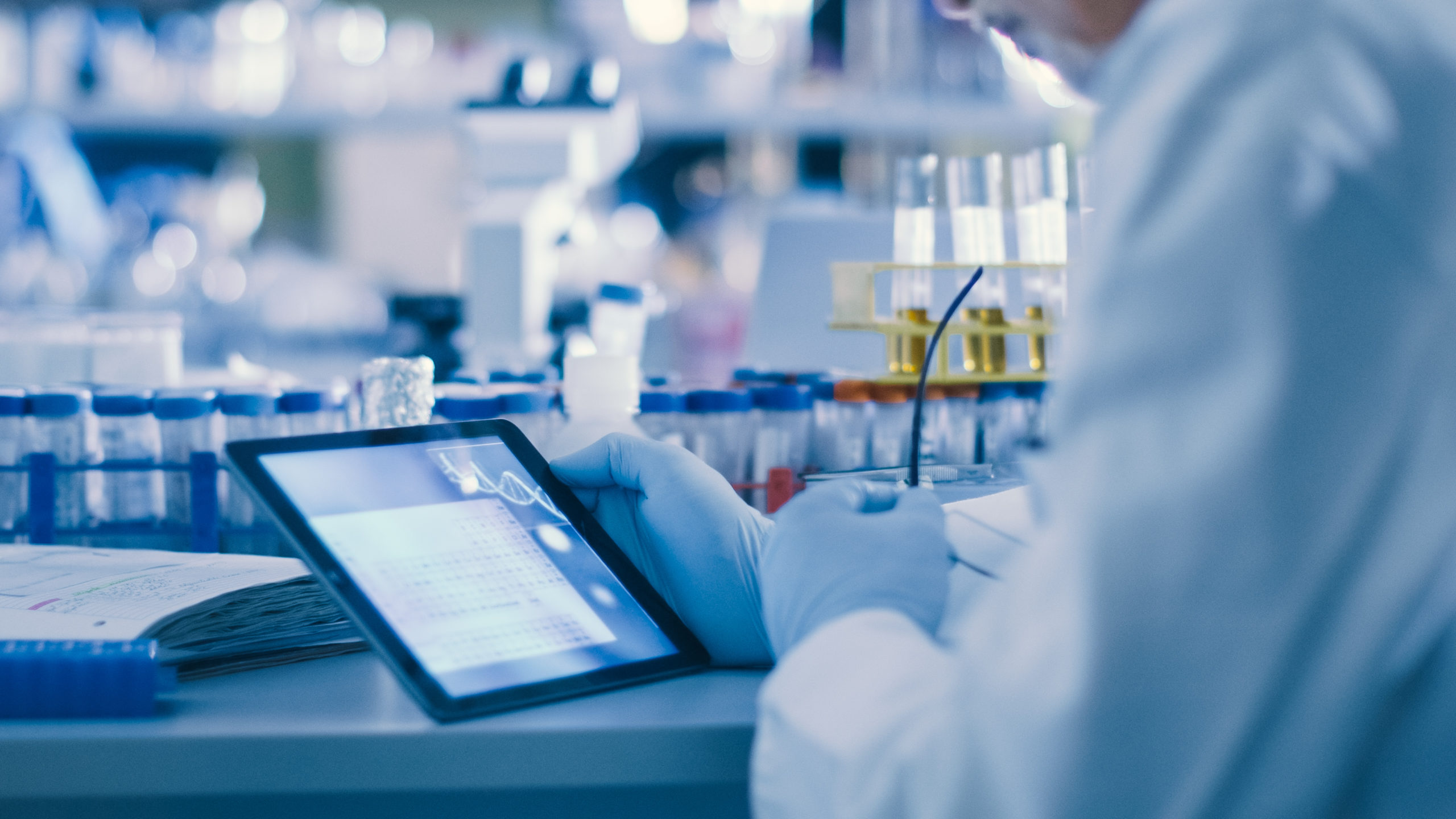 Will the promise of data to enhance patient outcomes and help the NHS through Covid-19 recovery come true?
Disruption to UK cancer services could result in 35,000 additional cancer deaths within the next year. Minimised or halted cancer screening activity and reduced referrals across all cancer types are resulting in delays in diagnosis, particularly of earlier stage cancer.
From referrals into hospitals onwards, disruption has been felt at every stage of the cancer pathway. Macmillan Cancer Support estimates that more than 650,000 people with cancer in the UK (22 per cent) have experienced disruption to their cancer treatment or care because of the Covid-19 pandemic.
Recent research by DATA-CAN, the UK's Health Data Research Hub for Cancer, in collaboration with University College London (UCL) Institute of Health Informatics, reveals ominous trends in cancer diagnostics. This found a 70 per cent decrease in urgent referrals and 40 per cent decrease in chemotherapy treatments during the initial phases of the pandemic.
The knock-on effects of delayed diagnosis and treatment are shrinking survival hopes for patients and placing additional strain on health services during an unprecedented period of disruption. It is vital that cancer services are put at the forefront of the restoration and recovery of the sector.
One in two of us will get cancer in our lifetime and improving cancer services is central to improving patient outcomes. Diagnosing cancer earlier, developing more efficient treatments, and improving access to innovative medicines are top priorities in the NHS Long Term Plan. The solution that links these issues together is data. 
---
Data in real time
Data permeates our world today. The promise of harnessing data to its fullest potential is unimaginably vast, but the ability to access it routinely and quickly to make informed decisions in healthcare still varies.
The potential is there for all to see. Real time data that are delivered immediately after they are collected has driven national responses to Covid across the world and countless lives have been saved as a result. The common purpose of limiting the disastrous impact of Covid has mobilised the NHS to strive for enhanced connectivity, increased access to research data, and improved operational understanding. The question remains whether this data-driven momentum can be sustained, or if UK health systems will revert to often archaic approaches to data usage.
The draft national strategy sent out for consultation in June 2021 sets out how the government intends to unleash the revolutionary potential of health and care data while maintaining the highest standards of privacy, ethics, and accountability. The strategy places the UK on a path to build on the lessons from the pandemic and put data at the heart of all clinical decision-making and planning.
The Cancer Data Network (CDN), developed to support DATA-CAN by founding member IQVIA, offers a data-enabled approach to treating cancer.  It does this through providing real time non-identified data to enable rapid identification of patients suitable for a cancer trial and frontline cancer care quality analytics, including real time insights on how treatments are performing in the real world, and how this varies across cancer centres in the UK. This data enabled approach was shared at a DATA-CAN Patient Public Involvement and Engagement workshop in July 2021, where 73% attendees were comfortable or very comfortable with their data being used for these purposes. 
---
The Cancer Data Network: Principles for enhancing care
Rigorous patient privacy and data protection governance.  The protection of patient privacy, patient wishes on whether their data should be used, and data handling regulation is of central importance.  Only authorised users are able to see data, with protocols and processes in place and closely monitored.  Any data that are extracted from the hospital are de-identified at source, and processed in conformity with UK and GDPR principles – only then is it made available for approved researchers to access for approved research purposes within an auditable environment. 
Speed and agility to benefit multiple stakeholders. Rather than replicating data processes, the CDN addresses the needs of many stakeholders throughout a hospital, as well as researchers' requirements. Data integration and visualisation are updated every 24 hours, enabling near real time data flow across the hospital. 
Designed with patients and the NHS. It is important not just to provide patients and the NHS with data solutions but to involve them in the development of these solutions. Patient and NHS advisers (from clinical, nursing, information governance and data backgrounds) provide critical input to the vision, technology, and information governance, ensuring the CDN offers fair value to patients and the NHS. 
Reduce the burden for the NHS. In addition to the development, deployment, and licence fees being covered by IQVIA, the CDN is designed to ensure that no manual input is required for it to operate. The data are  integrated and visualised within privacy-protecting technology without intervention. 
Ensure inclusivity. Cancer care is being challenged across the country, regardless of geographical region, hospital type or electronic medical record (EMR) platform provider used. It is important that the CDN is deployable across any NHS hospital throughout the UK.
---
Leveraging the network, hospitals can view and analyse data that are updated every 24 hours. This level of near real time data ensures that when data are analysed they are also relevant and immediately actionable.
Figure 1 illustrates the core solutions provided within the CDN. They enable member hospitals to improve cancer service delivery, match patients to clinical studies, identify unwarranted treatment variations in care across other member sites, and make high-quality health data available for research.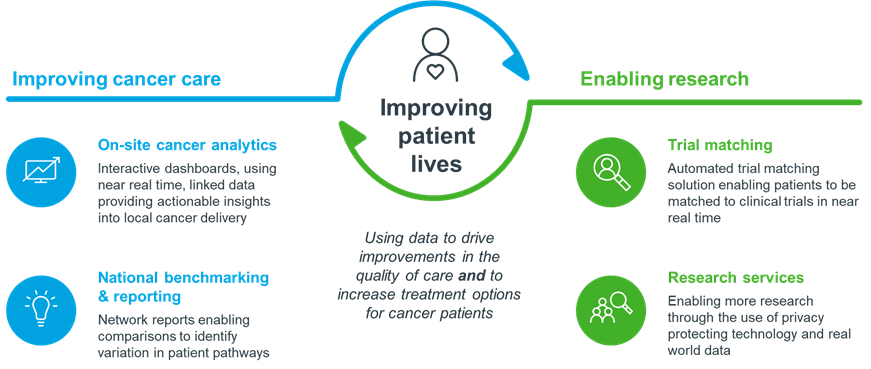 The world of cancer treatment is constantly changing. Early signs are promising for recovery in cancer screening and for the restart of research. New cancer treatments are being developed and our understanding of cancer continues to increase. At the heart of this is a desire to improve patient lives and ensure that all patients have the best chance of being offered the most appropriate treatment options to maximise their positive treatment outcomes. Data networks that are powered by real world data, if securely and appropriately shared, have the potential to make this happen.
While the pandemic has created many challenges and pushed back cancer services and patient outcomes across the UK, we hope that the evolution of increased real time data usage continues to improve patient outcomes. We believe we can use today's data to help today's patients, not just tomorrows.