Female doctors must be better supported through menopause to avoid exodus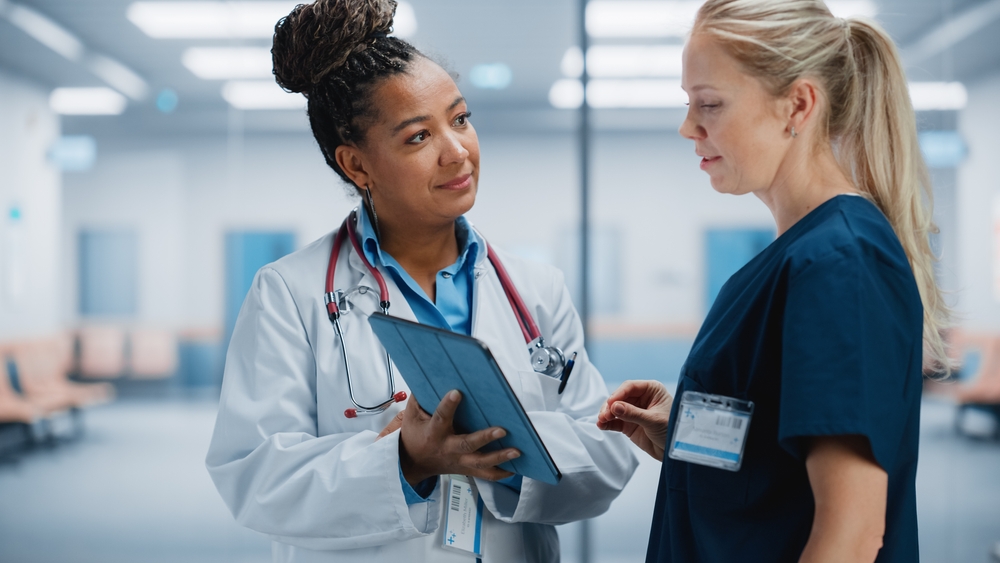 Female doctors must be well supported through the menopause to reduce the risk of a potential exodus of passionate and skilled clinicians from the workforce, according to Medical Protection Society (MPS).
---
In its paper, Supporting doctors through the menopause, MPS said around one in five female doctors in the UK are aged between 45-54, the age when menopause is likely to occur. Many could be impacted by symptoms such as anxiety, depression, poor concentration, brain fog, dizziness and insomnia, while doing their best to care for patients in challenging and complex environments.
MPS said it fears many of these doctors may leave medicine early without better mental wellbeing support, greater awareness from leaders and workplace adjustments – all of which will help these doctors to continue to perform at their best and stay in the workforce for longer.
An MPS survey of female doctors who have experienced menopause, reinforces these concerns. Only 14 per cent reported feeling supported by their employer/workplace and only 7 per cent felt supported by their line manager, while 76 per cent felt supported by family and friends.
28 per cent reported feeling supported by colleagues but 17 per cent say colleagues have been dismissive of their menopause symptoms, while 65 per cent did not know where to seek support for their menopause symptoms at their workplace.
36 per cent of female doctors who have experienced menopause have considered reducing their hours, while one in five (19 per cent) said they had considered early retirement due to menopause symptoms and the impact on their wellbeing.
The MBS paper, Supporting doctors through the menopause, makes the following recommendations:
All healthcare organisations should introduce flexible working arrangements for individual clinicians struggling with menopause, with policies and procedures to ensure they can seek support–such as making reasonable workplace adjustments, taking breaks or taking time off when needed – without fear of adverse impacts on their career or professional reputation.
Managers and senior leaders in the NHS and in private healthcare settings must be trained in the topic of the menopause, including the impact the symptoms can have on working females and their teams. Anyone who is suffering with menopause symptoms needs to be supported by their managers, to discuss any necessary changes to working arrangements.
Occupational health teams should be involved in a proactive way in planning and supporting clinicians going through the menopause in a proactive way to avoid them leaving the profession. This should include support for mental health and wellbeing.
MPS supports the recommendation from the Health and Social Care Select Committee that all new doctors joining the profession should be trained on the menopause, however they believe this should be extended to currently practising doctors.
Primary care providers should consider staff with menopause expertise when hiring new team members, as this will benefit patients, clinicians and practice staff.
Healthcare professionals working in the NHS or in private practice who are struggling with menopause symptoms themselves should seek support and professional advice on potential treatments and lifestyle measures. MPS also has a role to play – they listen to, and care for members, including offering support with their wellbeing, and have made their 24/7 confidential counselling service available for those struggling with the menopause.
Professor Dame Jane Dacre, MPS President, said: "It is striking that while most doctors report feeling confident in supporting and managing patients who are impacted by menopause symptoms, so many female doctors do not feel well supported at work when they are affected by these symptoms themselves.
"I recognise menopause and the associated symptoms vary widely; however, clearly there are a significant number of female doctors who are suffering in silence and require more support during this phase of their life. Brain fog, forgetfulness, poor concentration and insomnia can make any job difficult, but particularly so in a challenging and complex environment like healthcare.
"Many female doctors tell us they are concerned about their symptoms impacting on their performance, on colleagues' perceptions of their capability, or resulting in medicolegal issues. This causes additional stress. One doctor summed this up in our survey: there is nowhere to hide as a frontline clinician if you are having an 'off' day. You have got to be just as good, just as competent every day.
"Leaders and managers in the NHS and in private healthcare settings must be trained on the menopause and how the symptoms can impact on the wellbeing of some individuals and their teams. Those suffering with symptoms should feel comfortable to discuss workplace adjustments and seek mental wellbeing support. If there is a menopause workplace policy this should also be well communicated.
"Making improvements in this area is not only right and fair, it is also essential. If we do not destigmatise menopause, we may lose many skilled and passionate doctors during a time when the profession can ill-afford it. A supportive culture will alleviate additional stress, enable these doctors to continue to perform at their best for patients, and thrive in their careers for longer."
---
Anonymous quotes from doctors who took part in the MPS survey:,
"Brain fog and forgetfulness are the worst symptoms – I am just not as bright as I used to be. There is nowhere to hide as a frontline clinician if I am having an 'off' day. I have got to be just as good, just as competent every day, but I am not anymore. Very frustrating and somewhat worrying."
"I had to leave my practice two years ago after a prolonged period of poor mental health which I now realise was made much worse by my menopausal symptoms. I received no support from the practice, was not allowed to modify my surgery times to works at a slower pace, etc. I have now been taken on as a salaried doctor by another practice who have allowed me to set my own pace and have flexible working hours without question. Although I don't feel comfortable discussing my symptoms with the new practice after my previous experience, I am sure they would be supportive if I approached them."
"Regardless of trust policies, menopause is still not really discussed or accepted as a reason for a change in work adjustments. The support is in place, but it does not feel real. Hence, it is not accessed. Medical staff tend to just get on with things or be expected to just get on with things."
"My own experience of going through the menopause has a massive impact on my empathy and knowledge of supporting patients. As a partner in the practice, and even though we do not have a menopause policy, I feel I would be approachable and supportive of staff with menopause related symptoms."
"[My menopause] impacts on my ability to get through and recover from a 24/7 service week. My biggest concern is around increased forgetfulness, which could potentially lead to a medicolegal mishap."
"I could hardly function and knew my decision-making was impaired. As retirement age increases, post-menopausal women need support."
"The only matter where a woman can take time off for her reproductive health that is widely accepted is pregnancy – that's the reality."
"I know my clinical performance suffered due to brain fog but it has now improved again."
"I had no idea what menopause was like until I went through it. I have a medical-induced early menopause for cancer treatment and the symptoms are brutal. But everyone is busy and people just don't understand."
"I am surprised at times how unsympathetic female colleagues who are slightly younger than me but have not yet experienced symptoms. I have found much younger colleagues to me more understanding."
"Give me a manageable workload that will give me space to live and deal with my personal / health problems. If I have so much work that I simply do not have the time and energy to take care of my own health, I will break down while at work. A healthy work-life balance for all will save my boss and colleagues to [from working] around my hot flushes."