From Healthcare Assistant to Ward Manager – recapping Sarah Kray's experience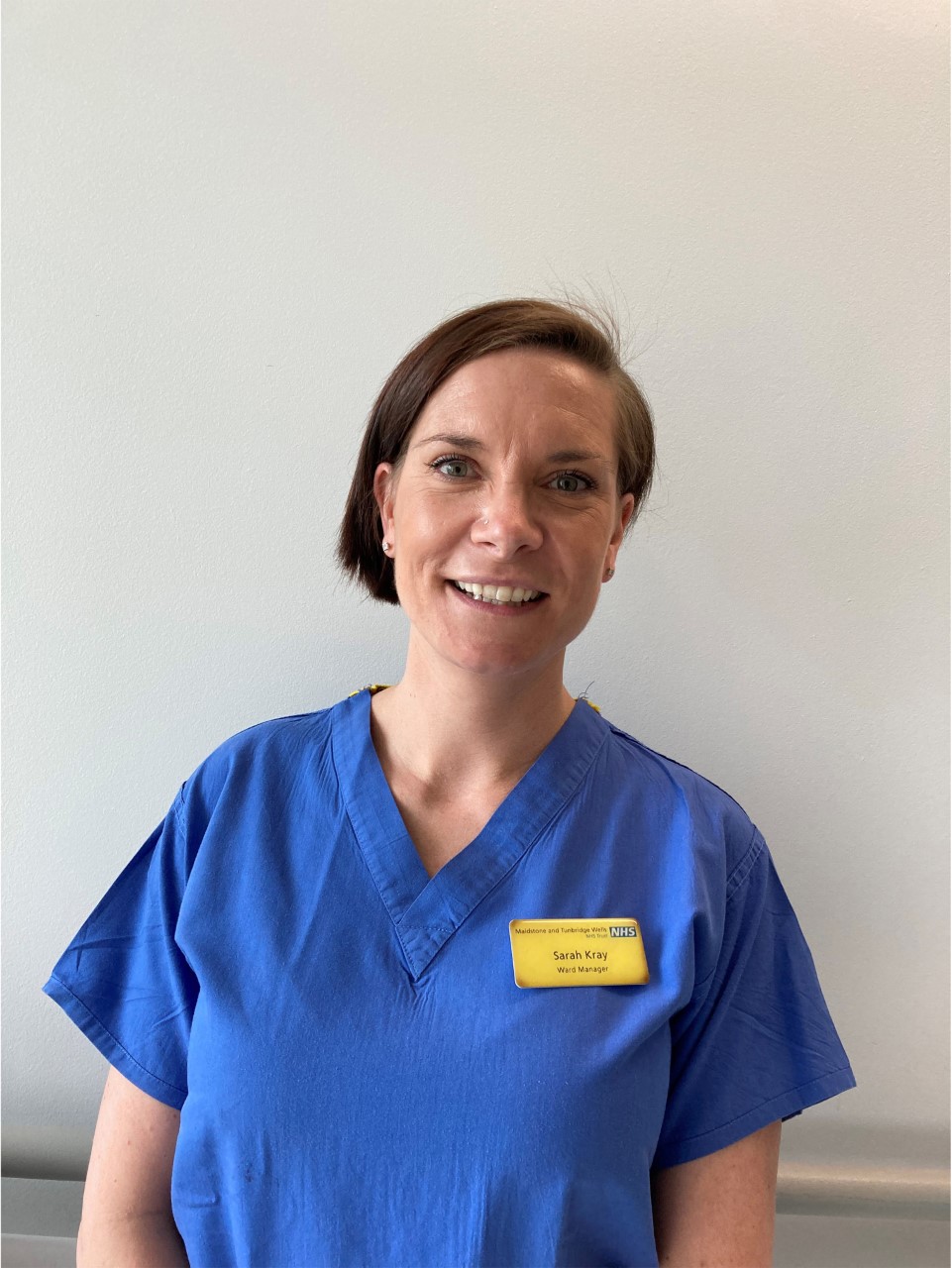 Sarah Kray joined the Kent & Sussex Hospital (now Tunbridge Wells Hospital) in 2005, when she was 19 years old. Now 35 and a Ward Manager, she is keen to highlight the excellent career support she has received from Maidstone and Tunbridge Wells NHS Trust to advance her nursing career.
---
Sarah has, in her words, "always loved hospitals" – a career in nursing was an obvious choice for her. She explains, "I had spent quite a bit lot of time in hospital when I was younger as I had problems with my ears, and I just loved the hospital environment. I had never thought of becoming a nurse until I saw a job advertised at my local hospital for a healthcare assistant and decided to apply."
Sarah's application was successful and she soon joined the hospital as a Band 2 Healthcare Assistant (HCA). She enjoyed the job thoroughly and realised that she wanted to build a career in nursing. After a year, the Trust encouraged her to do the NVQ Level 2 in Health and Social Care.
After attaining this qualification, Sarah continued with her role as an HCA until she took time off for maternity leave at the age of 21. She returned to work 25 hours a week, a job she could fit around childcare with ease. During this time, she also completed her NVQ Level 3.
Sarah recounts, "I am quite ambitious. After being back a few years, I decided the next step up the career ladder was to do my nursing training. Once again, my manager and the Trust were hugely supportive, plus having the two NVQ's helped, as I don't think I would have been accepted on the degree course without these."
She started the Adult Nursing Degree at Canterbury Christ Church University in 2012 and graduated in 2015. During her studies, she continued working at Maidstone and Tunbridge Wells Trust as a bank nurse, combining practical training with academic study.
Once she had finished, Sarah re-joined the Trust as a registered nurse working on ward 21 (an adult respiratory ward) where she'd already had previous experience of working on as an HCA. This is an area of nursing that particularly interests her. Sarah explains why: "Working on a respiratory ward is challenging but extremely rewarding. The patients I work with are very sick and in terms of the clinical skills needed, it's one step down from an ICU ward. We have patients over the age of sixteen who are having trouble breathing. They could have cystic fibrosis or asthma, or it could be someone with learning disabilities who is having problems swallowing which causes breathing issues.
"The reward for me is seeing these poorly patients coming in and caring for them until they are better and discharged. This is what I got into nursing to do and it is a real pleasure to be able to see patients improve. In a way it can be a bit of an adrenaline rush, as it is usually an emergency situation when they arrive and as team we have to work quickly, using all our skills, knowledge and training to stabilise them."
After two years of being a qualified nurse, Sarah, once again, felt it was time to progress her career; she became a junior sister on ward 21 in 2017. In 2019, she was approached by a matron of a different ward to do a secondment for six months as a ward manager. Sarah says this was the ideal training ground for her to ease into a management role.
She says, "The ward was for people who are medically fit to be released and are just waiting to be transferred out of hospital. It was more about providing basic care, rather than acute and it enabled me to learn all about being ward manager without the stress of working in an acute ward."
Following the secondment, Sarah assumed the position of Band 7 Ward Manager post in April 2020 and now manages 30 nurses and clinical support workers (formerly known as HCA's).
Her duties include creating staff rota, managing staff training and development, along with appraisals, sick leaves and annual leave etc. Sarah spends about a third of her time working on the ward too.
She says, "It is important for me to work with patients and to support and guide staff clinically. I did not do nursing to sit in an office. I am happy that I have the flexibility and I can help the nurses out when needed. I did shifts over Christmas where I could, when we were short staffed due to sickness absence for example."
Sarah is grateful that the Trust has supported her at every stage of her journey. She points out that she only qualified as a nurse seven years ago, is already at Band 7 and is considering the possibility of becoming a Band 8 Matron in the future.
She says, "The Trust offers staff amazing opportunities, and each ward encourages people to progress, learn more and develop their skills. We have several Professional Development Nurses who ensure that all nurses are up to date with their competencies and suggest training courses that they could attend to further their career."
The Trust puts all newly qualified nurses on preceptorship courses, and more experienced nurses have a two-week induction after joining. Staff have an online account where they can access all courses relating to healthcare provision so they can progress their careers as well as keep on top of any mandatory training.
Sarah highly recommends MTW as a great place to work. She says, "We're like a family and there are still nurses here that were here when I first started. The hospital is diverse with people from all over the place, including overseas nurses and we all pull together as one team.
"We look after staff and the Trust has great HR support, with each ward getting their own dedicated HR advisor. Training and development opportunities are superb, and you can progress as quickly or as slowly as you feel comfortable.
"For nurses either at the start of their careers or those who are looking for a new role and the opportunity to thrive in a supportive environment then it's hard to beat. I really can't see myself ever working anywhere else, and I'm so glad that I took that first step when I was unsure of what I wanted to do and climbed the nursing career ladder to where I am today."