Golden Jubilee Board welcomes two new members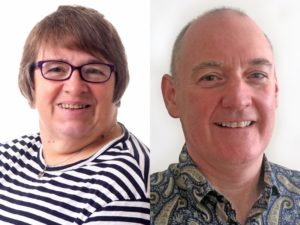 Two new members have been appointed to the Golden Jubilee Foundation Board.
Stephen McAllister, a former police officer and Linda Semple, who most recently held senior positions in the NHS and Scottish Government, were this week announced as non-executive Board members by the Cabinet Secretary for Health and Sport, Jeane Freeman.
Stephen, previously a Divisional Commander for Police Scotland, has extensive experience leading people through organisational changes from his time at Police Scotland. Since retiring from the police, he has worked on the boards of the Samaritans and Glasgow-based social enterprise Lifelink as a volunteer member.
Linda Semple was an Assistant Director in NHS Ayrshire and Arran for eight years, following a successful career in publishing, bookselling and journalism. She also worked in many NHS roles focusing on Health Intelligence, Health Economics and Quality Improvement.
Most recently, she was seconded into the Scottish Government where she ran a number of national improvement projects over the past five years, retiring in March 2018 as Head of Sustainability and Value.
On the appointments, Chair of the Golden Jubilee Foundation, Susan Douglas-Scott, said: "We are extremely pleased to welcome Stephen and Linda as part of our Board team.
"Their achievements and dedication in their careers, as well as their extra-curricular interests will bring so much experience as we move into a pivotal period here.
"It is such an exciting time to be part of the Golden Jubilee Foundation, which is at the heart of quality, research and innovation for the NHS in Scotland. With our expansion plans moving forward, our new Board members will be using their skills to ensure we continue to deliver safe, effective and person centred care as we treat more people across Scotland than ever before."
The appointments will be for four years running from 1 October 2018 to 30 September 2022, and are regulated by the Commissioner for Ethical Standards in Public Life in Scotland.