Innovating to reduce radiation doses in specialist cancer care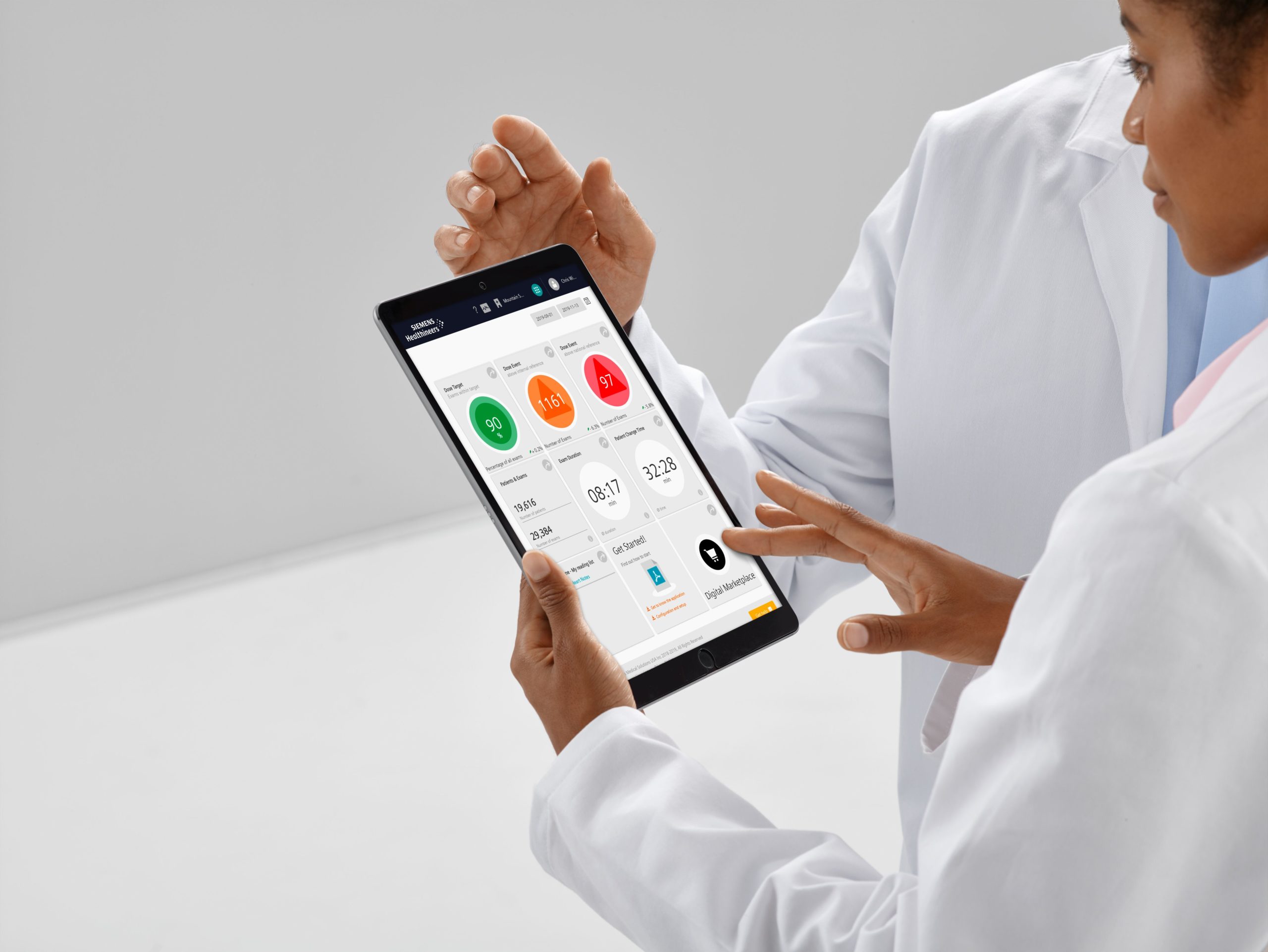 One of Britain's leading cancer centres has had great success in reducing levels of harmful radiation emitted from scanning equipment, Hospital Times spoke to Greg Baker, Online Solutions Manager at Siemens Healthineers, to find out how.
---
There are multiple facets to delivering precision medicine that values patient wellbeing above all else. One of which, and perhaps a historically neglected area, is in radiation dose management. But rapidly increasing usages of scanning equipment has prompted updates to regulation to encourage improved radiation dose monitoring, and hospitals are increasingly having to look at new ways to improve their auditing processes.
There are a number of ways that radiology departments already manage this, but typically these methods are very manual and time consuming. "The process for auditing radiation doses from scanners has historically been a very manual one, " says Greg Baker, a Clinical Radiographer by background who has worked in a host of NHS and private radiology departments and now works as Online Solutions Manager for Siemens Healthineers. The typical process for auditing radiation doses, outlines Greg, involves a radiographer entering doses into a Radiology information management system and then to audit that, staff will have to go into this system and draw these entries into a spreadsheet.
"To put this in perspective," says Greg, "radiation doses were rarely monitored at all in yesteryear, but demand for scanning equipment is rapidly rising and therefore having the ability to monitor applied radiation is crucial for optimum patient care and safety."
Fortunately, there is increasing interest to improve radiation dose management, in part due to regulations designed to set common standards for dose monitoring. Healthcare professionals are obligated to minimise ionizing radiation in line with the ALARA principle (meaning As Low as Reasonably Possible) and there are national reference levels that set standards in this area. The European Commission have also published a directive asking all member states to "ensure the establishment, regular review and use of diagnostic reference levels for radio-diagnostic examination."
In the absence of efficient means of monitoring radiation doses, adhering to these regulations is easier said than done. "Everyone wants and needs to be monitoring in this way, as it provides the safest possible care for patients," says Greg "but it comes down to the same old questions for the NHS: time and resource."
As Greg outlines, limitations on such resource reduces the scope of auditing. Out of the thousands of scans that a team may get through in a month, a radiology department would perhaps have to pick 50 or so as a sample set for the level of radiation doses given to patients. Clearly, this leaves much scope for larger doses going undetected and corrections to scanning procedures not being made. "Radiographers must know every time patients are being overexposed," says Greg, "so that they can establish whether there is a training issue with the relevant member of staff or even if there is a potential fault with the machine in use."
---
Simplifying radiation dose management
Naturally it is to innovation that clinical teams should look to evolve radiation dose management. Greg has been working at Siemens Healthineers on a new cloud-based innovation called teamplay Dose, hosted on the teamplay digital health platform. teamplay Dose offers a vendor neutral enterprise-wide radiation dose management solution that provides patient-centric dose monitoring across all equipment, allowing precise dose audits by a hospital Imaging optimisation team.
The system monitors dose levels across all radiography devices in near real time, allowing radiographers to accurately monitor dose events and easily identify dose outliers. Clinicians can drill down to individual procedures and applied dose and fully optimise radiation exposure to improve patient outcome. The intuitive platform simplifies reporting to highlight where workflows need adjusting.
As previously stated, radiation dose management is vital in ensuring compliance with nationally defined reference levels for applied radiation. teamplay Dose supports and provides easy access to dose data, displaying continuous dose performance evaluation, regardless of equipment, modality or vendor.
The Clatterbridge Cancer Centre NHS Foundation Trust have been harnessing teamplay Dose to great effect, reducing radiation doses in some CT examinations by 17 per cent. The trust is currently one of the UK's leading cancer centres, providing specialist cancer care to 2.4 million people in the North of England. This has enabled the trust to safely expand its precision medicine offering across their provision of a range of inpatient care, advanced radiotherapy, chemotherapy and other systemic anti-cancer therapies.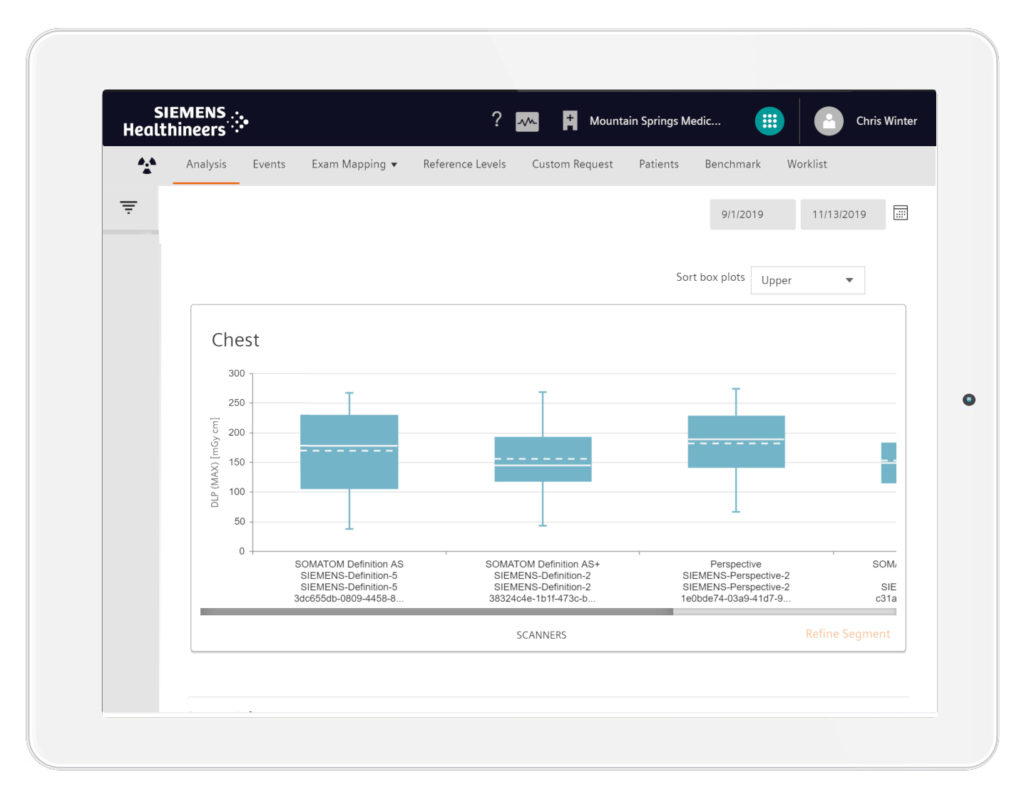 Through automatic, real-time dose recording and report generation, teamplay Dose identified an underlying issue in the patient dose distribution in the chest abdo-pelvis single series examinations performed on the Siemens Healthineers SOMATOM Definition Edge CT system – finding them to be unexpectedly higher than the chest abdo-pelvis contrast which has two overlapping acquisitions. An investigation was launched with a view to making a protocol alteration and optimising the exam. This has led to a 17 per cent mAs reduction from 180 to 150 with negligible loss of image quality.
"Having previously relied on PACS and CRIS for dose audits, Siemens Healthineers teamplay has allowed us to quickly download and process a huge volume of patient dose data so that our dose audits are much quicker and more powerful than before," said Colin Lee, Senior Clinical Scientist at the Clatterbridge Cancer Centre NHS Foundation Trust. Because of this, the trust is now able to audit more protocols, and spend more time investigating outliers and unexpected results as opposed to conducting data collection.