Item Products launches unique transparent stackable storage tray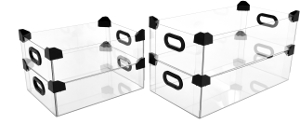 The UK's leading designer and producer of components for the packaging industry, Item Products, has launched a revolutionary concept in self-assemble stackable trays known as Clear-Stack—a lightweight, fully transparent, stackable storage tray. Being crystal clear it has widespread applications where items need to be readily identified and accessible.
Made from PET, the trays are supplied flat packed and are therefore cheaper to ship than regular moulded or pre-erected trays. In storage, the trays take up less space in their flat form therefore more stock can be accommodated. The trays, which come complete with corner fixings and soft carry handholds, are easy and quick to assemble. They can also be disassembled for storage and then reused again when required.
Clear-Stack has high impact properties, is fire resistant, printable and fully recyclable. The trays can be supplied in stock sizes or made to order. Ventilation and drainage holes can be also added to the tray if required.
Item Products managing director, Julian Cook, says: "We are excited to introduce Clear-Stack to the market. As an integral part of any supply chain, the tray ticks all the right boxes—enabling easy product identification, easy to store, easy to assemble, tough, recyclable and multi-functional. We are confident that Clear-Stack will appeal to a wide selection of retail organisations, healthcare, and businesses, as well as both office and home environments."
Item Products promoted its Clear-Stack product on stand D15 at the 2018 Packaging Innovations show at the NEC.
Visit www.clear-stack.co.uk to find out more.