New vascular centre to improve thousands of lives in North-West London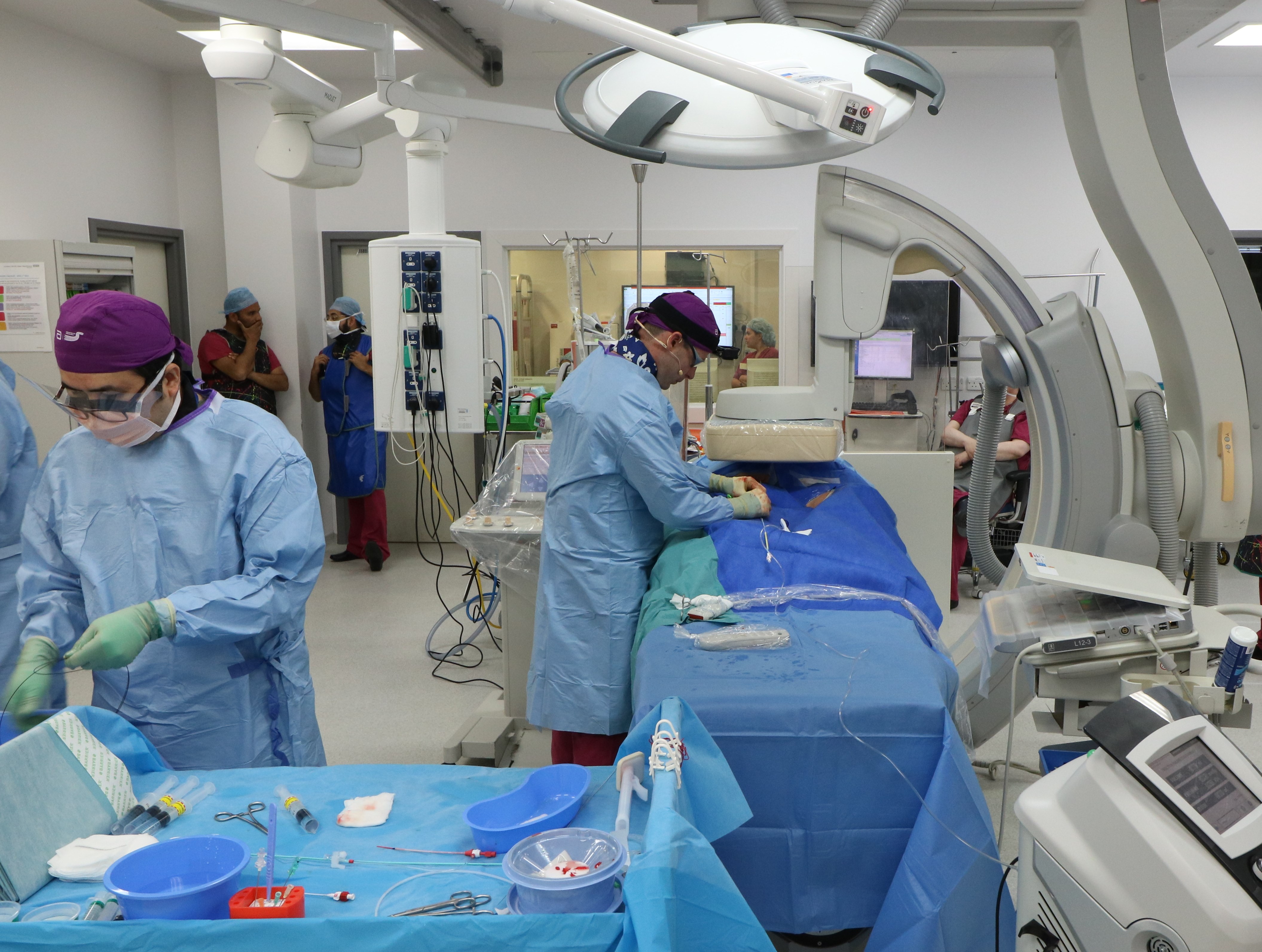 A new vascular centre responsible for looking after a population of more than one million people has opened its doors to London North West University Healthcare NHS Trust (LNWUH), one of the largest integrated Trusts in the country.
Mayors from the London boroughs of Brent, Ealing and Harrow officially opened the unit in Northwick Park Hospital which specialises in treating conditions affecting the body's blood vessels.
Common vascular diseases include aneurysms, blood clots, deep vein thrombosis, stroke, varicose veins and limb ischemia where blocked arteries can lead to amputation.
The West London Vascular and Interventional Centre is the first dedicated treatment centre in west London with a catchment area covering Brent, Ealing, Harrow and Hillingdon whose population collectively suffer higher-than-average levels of vascular disease.
Professor Martin Malina, who has overseen the development of the centre, said: "This is the first place in the UK to bring vascular surgeons and interventional radiologists together providing a 'one stop' service for patients under one roof."
Interventional radiology involves the insertion of a long wire into the arteries via a small puncture wound in the groin or leg. The clinician can then access any part of the body helping clear obstructions and deliver small devices like stents that reopen narrowed arteries and veins.
The minimally invasive technique reduces risks and means shorter hospital stays, lower costs, greater comfort and quicker recovery.
Professor Malina added: "We're training a new generation of vascular specialists who are skilled in both disciplines and hope this will set an example for the rest of the UK."
One patient to benefit is Gordon Sheridan who suffered crippling leg pains which prevented him riding for several years. Gordon, who keeps six horses on farmland in Pinner, could barely walk as constricted arteries reduced the amount of blood getting to his legs.
Gordon, 67, said: "My heart felt like it was going to pop out of my chest it was doing so much overtime. It was incredibly painful to walk any distance."
Gordon benefited from a minimally invasive procedure that involved inserting a wire into his groin to deliver two small mesh tubes called stents into the arteries at the top of each leg.
Dr Lorenzo Patrone, a vascular and Interventional Radiologist, said: "Arteries sometimes tend to clog up as we get older which means blood struggles to get into affected limbs.
"The stents force the arteries back open improving the blood flow and we're delighted to get Gordon back in the saddle. The operation wasn't without its risks and it could have ended in both legs being amputated. Gordon and his partner insisted on going ahead and I felt I needed to reward their faith in me and the team."
The £1.5 million centre was funded by London North West Healthcare Charity, the trust's newly formed charity.
For more information, please contact Steve Watkins on 020 8869 2235 or email steve.watkins1@nhs.net