Nottingham City Hospital goes live with the UK's first advanced radiotherapy CT scanner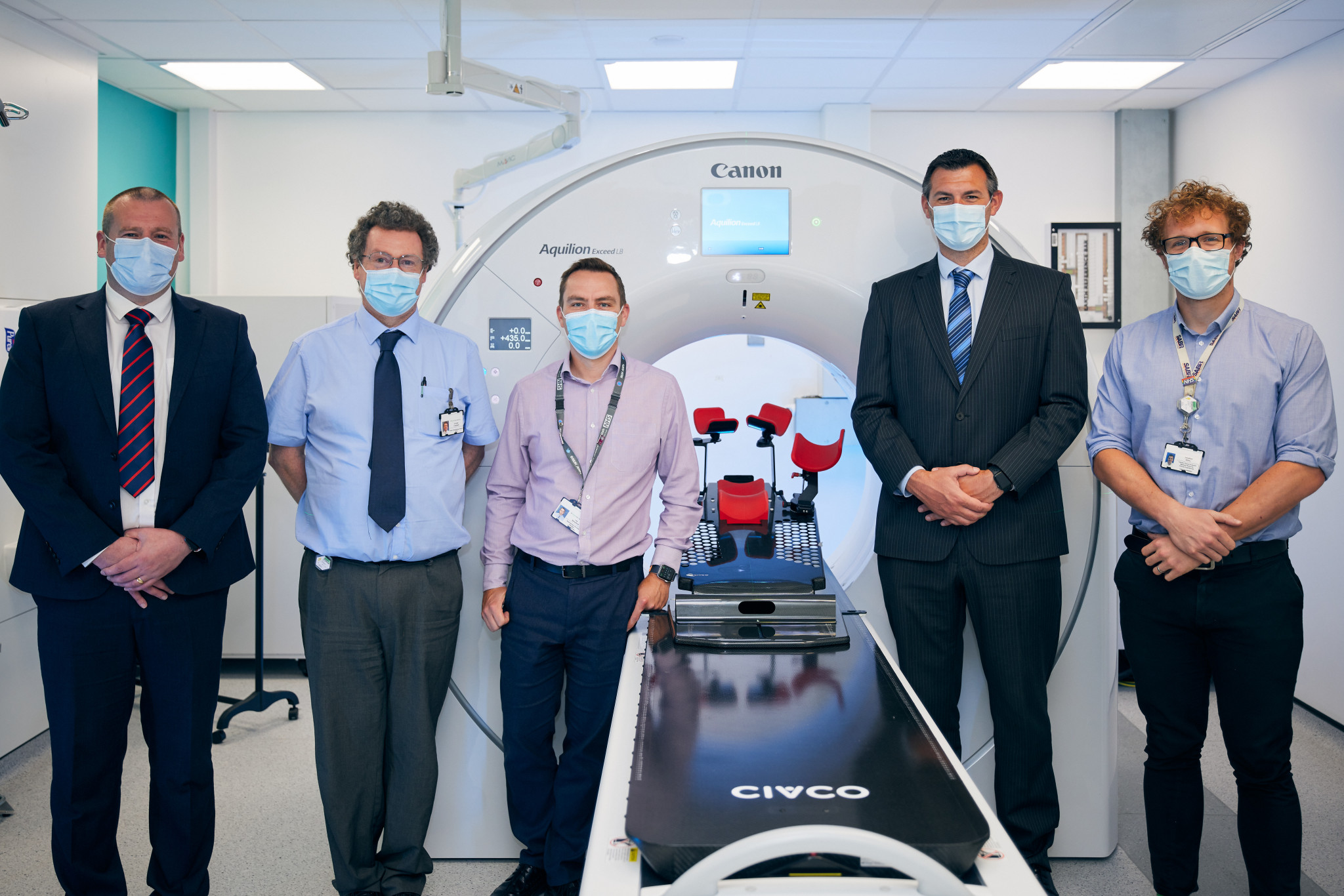 New imaging innovation installed to deliver sharp and clear imaging of tumours for individualised patient radiotherapy treatment planning, as cancer rates expected to rise.
---
In a bid to enhance the standard of cancer care delivered to its local population, especially with the increased momentum of proactive lung cancer screening programmes, Nottingham University Hospitals NHS Trust has invested in two newly launched AI-assisted CT scanners, which were developed specifically for advanced radiation oncology.
Once cancer is diagnosed, accurate radiation therapy planning plays a key role in positively impacting patient survival rates. Clear and easy imaging of tumour location, shape and size enhances the accuracy of treatment planning and review. The UK's first Aquilion Exceed LB CT from Canon Medical Systems UK, is now operational at City Hospital in Nottingham and is delivering quicker patient scans with better image quality and reconstruction times at a lower dose.
Lee Beresford, Radiotherapy Service Manager at Nottingham University Hospitals NHS Trust, said: "As a regional centre for Stereotactic Ablative Radiotherapy (SABR), we require high precision visualisation of tumours to ensure accurate treatment planning and to minimise damage to surrounding healthy tissue.
"We anticipate that this need will grow, as the NHS Targeted Lung Health Check programme focuses this year on past and current smokers aged 55 to 74 in our area. With one of the highest mortality rates for lung cancer in England, it is estimated that over 300 new cases of lung cancer will be identified earlier in Nottingham by the proactive health screening initiative and these patients will require radiation treatment planning".
Lee continues, "Our radiation therapy planning role will be buoyed by the new Aquilion Exceed LB CT as it will help us deliver more efficient and accurate insights for greater clinical confidence and, hopefully, improve survival rates. We have already seen improvements in radiotherapy scanning efficiency since the new Aquilion Exceed LB CT scanner went live which has enabled our team to improve the quality of time spent with patients. It is important to chat or discuss the procedure, as for some people it is the first appointment in their radiotherapy cancer treatment pathway."
The Aquilion Exceed LB CT has been designed to transform radiation therapy planning by introducing Canon Medical's Advanced intelligent Clear-IQ Engine (AiCE), a deep learning reconstruction AI-based technology. The AiCE reconstruction results are high quality images with minimal noise, high definition, sharpness and clarity for excellent delineation of tumour.
It also features Single Energy Metal Artifact Reduction (SEMAR), a software that reduces interference and artifacts from metal implants, to improve visualisation of the soft tissue and bone in target areas, along with a 90cm-wide Bore for more comfortable patient positioning, accurate simulation and the largest extended Field-of-View in the market.
Mark Thomas, CT Modality Manager at Canon Medical Systems UK, said: "The Aquilion Exceed LB CT improves the efficiency and accuracy of radiation therapy planning to enhance the delivery of oncology patient care through innovative AI-based technologies, high reliability and low energy requirements. It has been designed to dovetail with global healthcare aims of improving cancer care pathways by underpinning the next step in the oncology care continuum after a diagnosis – this is the accurate and quick planning of radiotherapy treatment."
The UK's first Aquilion Exceed LB CT is now live at Nottingham City Hospital, a second is due to be commissioned by autumn 2022.