Preparing the workforce for digitally driven healthcare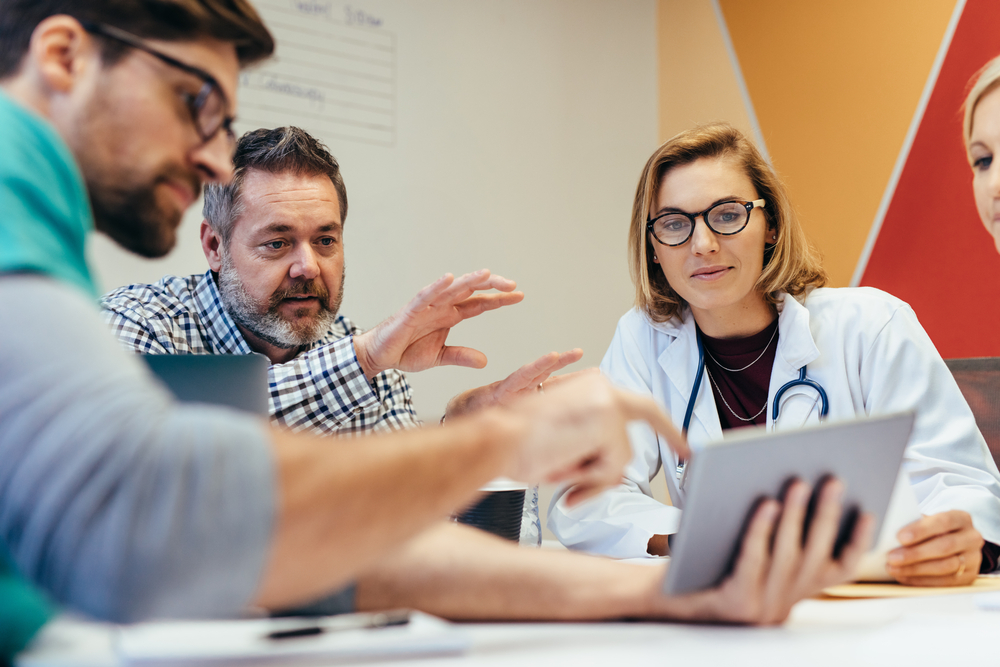 Creating a technologically advanced workforce in the digital age and how technology enhanced learning can enable new ways of training and technology integration.
---
Education and training are undergoing transformation in the digital age. As new technologies and ways of learning become available, the expectations of learners and educators are also changing to embrace digital ways of delivering care that meet the demands of a more technologically aware population.
Health Education England's (HEE) Technology Enhanced Learning (TEL) team is at the forefront of digital education, training, and workforce transformation in the NHS. We work with national, regional and local partners within a wide health and care community to enhance the effectiveness of education through the use of learning technologies and simulation-based approaches.
We specialise in technology enhanced learning and how it is used in education to support a technologically advanced workforce, enable the adoption of new ways of training and help the wider NHS to integrate technology into clinical care delivery.
The Covid-19 pandemic has had a significant impact on training and education, some of which was unexpected. These changes include the necessity to adopt new models of learning and teaching and the opportunity to use new technologies which can positively support the NHS.
During the pandemic, digital innovation played a significant part in both service and healthcare education and training delivery. HEE delivered 5.99 million sessions of online Covid-19 learning in the UK, also accessed by 115 countries globally. It is crucial that these digital advances are embraced, both as part of our collective Covid-19 recovery efforts, and in future reforms.
This will deliver HEE's fundamental aim – to ensure that the NHS has the skilled workforce required to deliver the care that is needed now and in the future.
---
"We are deepening our role in shaping, expanding and communicating the evidence base for digital learning"

Dr Neil Ralph, Head of Technology Enhanced Learning, Directorate of Innovation, Digital and Transformation at Health Education England
---
How TEL delivers digital education
The TEL team is part of the Directorate of Digital, Innovation and Transformation at HEE. We work with individual learners and educators, as well as strategic programmes and organisations, to help them meet their education objectives.
Our services cover four key areas: platforms and content development, simulation and immersive technologies programme, supporting and embedding TEL functions and an Academic and Advice Unit.
HEE's TEL platforms are familiar throughout the NHS. The elearning for healthcare hub offers more than 450 programmes of online learning which are accessible and free of charge to more than 2 million registered users across health and care. Online learning is rapidly becoming the method of choice for people needing more flexibility to work and study and balance both around busy lives.
Our latest platform is The Learning Hub, which is in Beta but already being used extensively as a platform for stakeholders to share and disseminate learning within and outside their organisations. There are already 68 live catalogues and the system now has over 4000 resources. This hub will be at the centre of an increasingly integrated and comprehensive online learning service for health and care as we continue to expand on the functionality of our platforms.
---
Simulation and immersive technology
Making sure educators and learners have equitable access to the latest technology is another key area of TEL's work to prepare the future and current workforce for digitally driven healthcare.
HEE is also investing in simulation faculty development programmes and providing on the ground support for technicians. Critically we work with the expertise distributed across the system and use our central role to bring them together, aiming to encourage collaboration and innovation.
The core of this is our XR Hubs which are a library of resources to educate, train and evaluate new opportunities for using extended reality – augmented, virtual and mixed reality – in healthcare education. HEE has brought together a range of XR devices and is loaning them to NHS organisations in both primary care and acute trusts. By creating a central resource repository, there is equal access to the latest technology for all NHS organisations, across all disciplines and specialties, which can be complemented by any local investment. The devices come with a range of pre-installed software but we have also created a catalogue of companies with applications including highly specialist content, to meet demand from users across the NHS.
Through this approach we can rapidly support thousands of XR enabled training interventions, facilitating innovation beyond the boundaries of the classroom and geography, at a scale and pace never before achieved. Feedback is already showing how use of technology is making a difference to learners, for example they tell us there is a superior experience from being able to observe virtually rather than physically, in surgery or ward rounds, where there may previously have been space and capacity restrictions.
The XR Hub model has been designed so we can learn from each application of the technology which will inform how it will further evolve and grow. We work closely with users to get the technology working, help educators to integrate it into their work and to gather evidence from each use and application which will inform our future strategy.
---
The future of digital learning
As well as our work to scale our simulation, immersive technology activities and our national online learning services, we are expanding our ability to connect directly into the frontline of education across the country through our Supporting TEL function. This means we can maximise the impact of our ability to help, by consulting with leadership and educators at a regional and local level. This support includes professional development for our educators and IT colleagues so they are equipped for a digitally enhanced world and can overcome barriers within the NHS education environment.
We are deepening our role in shaping, expanding and communicating the evidence base for digital learning. In the coming months and years we expect to see a significant expansion of technology enhanced learning and its integration into healthcare education. We believe it is integral that this is evidence based and that our ability to generate evidence keeps up so it informs real world applications.
Fundamentally, we will continue to collaborate, support and deliver technology and digital ways of learning across the health and care system which will benefit educators, learners and the populations we serve.
---
If you would like to speak with us or find out more about TEL's work in health and care, our services and how we can collaborate please follow us on Twitter @HEE_TEL or email tel@hee.nhs.uk.