RealWear Navigator®: The future of the healthcare workforce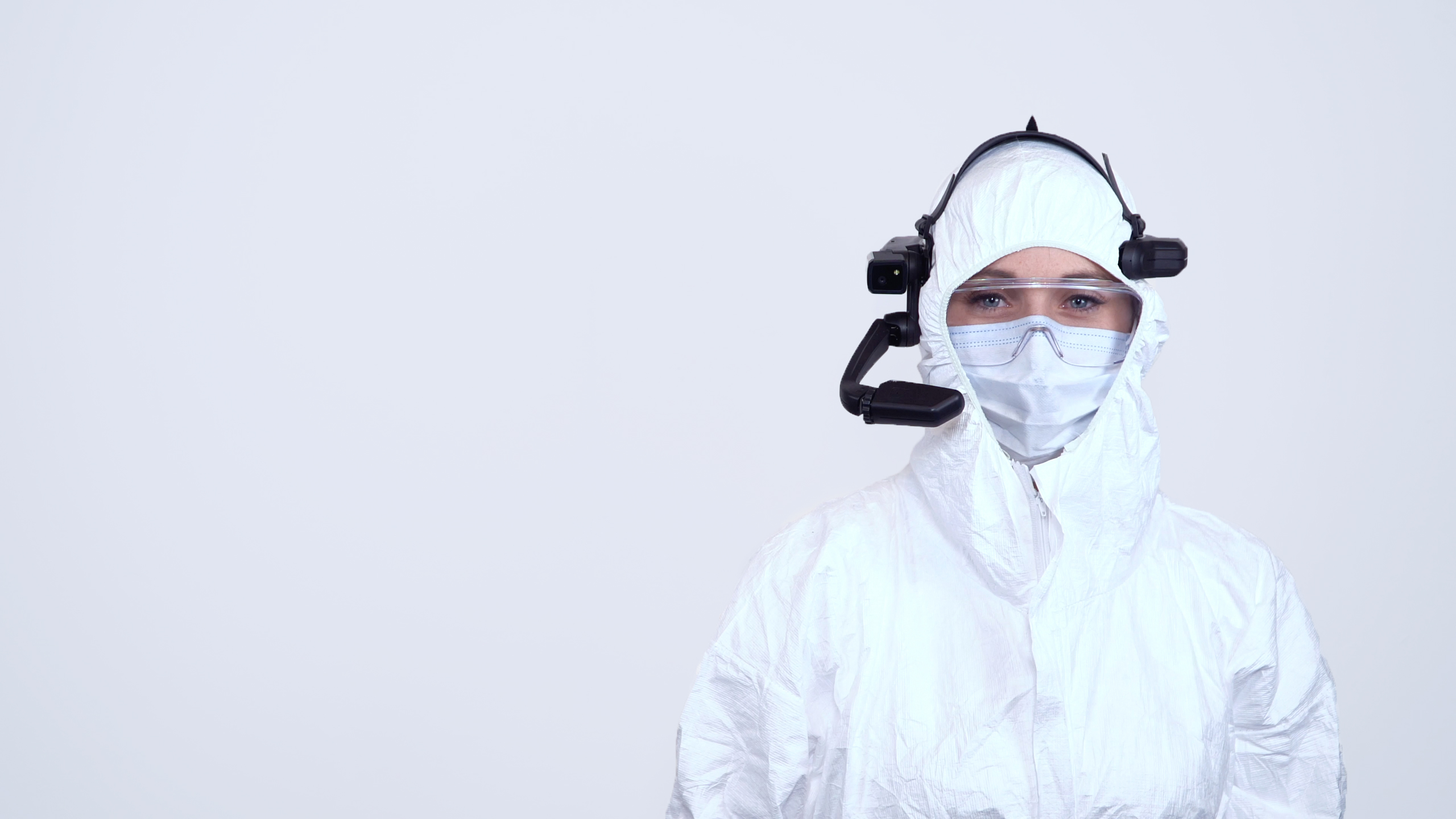 A head-mounted assisted reality device designed to meet the demands of modern industry, RealWear Navigator® 520 is a voice-controlled, hands-free solution that is revolutionising the medical frontline.
---
The healthcare industry has a broad range of use cases and regulations when it comes to technology. As head-mounted wearables are being deployed throughout the sector, it's becoming increasingly clear that there are stringent requirements. They need to allow users to keep their hands free and vision unobstructed and must offer various software tools to support their operations. Finally, they also need to be suitable for use in a variety of challenging environments.
A head-mounted assisted reality device designed to meet the demands of modern industry, RealWear Navigator® 520 is a voice-controlled, hands-free solution that is revolutionizing the medical frontline. It's PPE-compatible, and works with hard hats, face masks, and cleanroom straps.
RealWear's focus within extended reality (XR) is to provide a reality-first and digital-second experience. With user safety being of paramount importance, solutions are designed to keep operators' hands free at all times, without overlaying digital content directly into the user's field of view. Instead, content is presented on RealWear Navigator® 520's HyperDisplay, which sits just out of view so that they can simply glance down to access data – working in the same manner as a car's dashboard. RealWear Navigator® 520 is the company's flagship device. With its modular build, it allows users to enhance the device functionality by bringing in new modules including the Thermal Camera Unit.
RealWar Navigator® 520 – image courtesy of RealMax
RealWear Navigator® 520 is specifically designed for use in industry, providing frontline workers with rapid access to a wider multi-disciplinary team (MDT) and external organizations when moments count. The device enables practitioners to conduct their work in real-time, providing a unique opportunity for remote assistance and second opinions.
Victoria Sykes, a Macmillan Advanced Practitioner for specialist techniques and image-guided radiotherapy from Harley University Teaching Hospital, said: "The instant idea is to use RealWear's Navigator® 520 for frontline workers and give them rapid access to our network of response teams. We realise the life-saving potential of linking up to external organizations to service providers in the moments that count. Just the other day, we were asked to provide a video to correct a problem with our CT scanner. It would have been lovely to use this wearable device to go through that problem and solve it in real time."
RealWear devices have many applications in healthcare education and development and can provide students with remote access to a live situation while they are still in their academic learning environment, offering unrivalled access to rare and less common techniques. Since the COVID-19 pandemic, work experience opportunities have been significantly impacted for young people of school and college age.
To combat this, Dove House Hospice and St Mary's Health and Social Care Academy in Hull have developed a virtual work experience program using RealWear Navigator® 500 Series to equip students with the essential experiences, skills, knowledge, and resilience needed to excel in the medical profession. The program plans to introduce pre-reg non-medical students to work experience as the pilot progresses using a staggered approach to learning, with students having to pass through four tiers before moving on to the next.
RealWear Navigator® 520 has potentially sweeping implications for healthcare. With device deployment gathering momentum, it's set to become a part of the norm. RealWear's commitment to the industry and its unique set of requirements is reflected in the flexibility of RealWear Navigator® 520, and it's expected to have an increasingly significant impact in the years to come.
The Humber & North Yorkshire Health & Care Partnership is one of the organizations that has benefited from the deployment of RealWear Navigator® 500 Series. They have successfully used the wearable to provide remote assistance to staff in various environments, finding it to be an effective and reliable solution in delivering instant information to those who need it.
In conclusion, RealWear Navigator®520 is revolutionizing healthcare education and practice by providing hands-free technology, remote learning, and access to wider MDT and external organizations in real-time. It has the potential to improve work experience and clinical placement opportunities for students and provide better patient care in hazardous environments. It is likely to become an essential tool for the NHS and teaching hospitals worldwide.