Reimagining cardiac care in England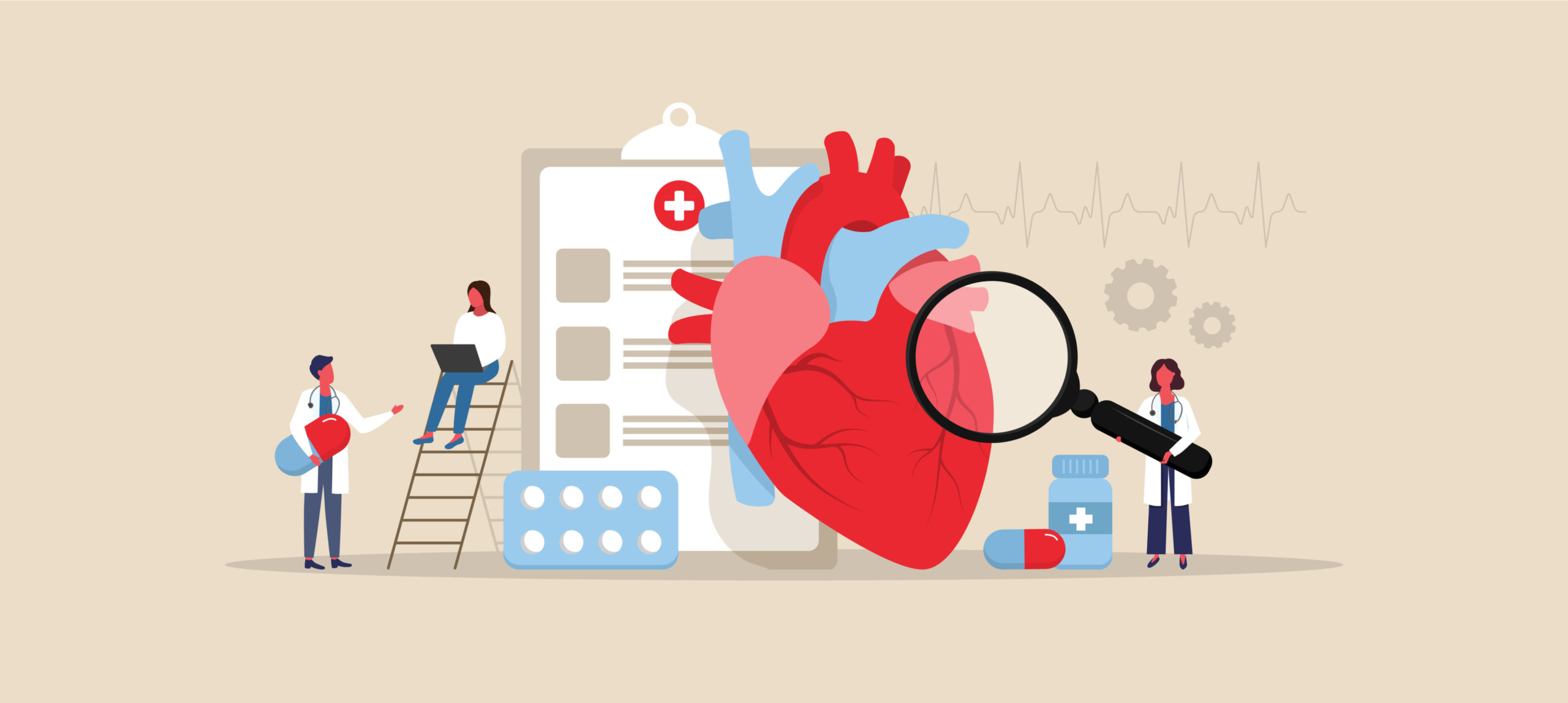 A conversation with Professor Simon Ray, Dr Tim Fairbairn and Dr Derek Connolly on a review of cardiology across England.
---
Earlier in 2021, the Getting It Right First Time (GIRFT) programme released its latest report on cardiology, providing recommendations on how diagnosis and treatment could be improved for patients across England.
Authored by two of the UK's leading cardiologists, Dr Sarah Clarke and Professor Simon Ray, the report features an in-depth review of England's cardiology services. It calls on healthcare networks to ensure stable chest pain pathways are consistent with NICE CG95 recommendations, which advocate a computerised tomography (CT)-first approach to diagnosing heart disease.
The report also suggested fractional flow reserve CT (FFRCT) – an artificial intelligence (AI)-enabled technology that uses data from CT scans to assess how blood is flowing through patients' arteries to identify any problem areas where narrowing is causing a significant impact – is also made available either on site or at a network level. The GIRFT report authors called for significant progress to be made towards this within a year.
---
What would you like the key takeaway to be from the GIRFT report?
Professor Simon Ray, Consultant Cardiologist, Manchester University NHS Foundation Trust
"The fundamental finding of the report is that cardiology services must be reconfigured to work on a network basis. While cardiology often operates within networks to some extent, there's absolutely a need to strengthen and emphasise this.
"All hospitals admitting cardiology patients should have a consultant cardiologist on call and daily consultant review of acutely admitted or unwell patients. There should be clearly defined pathways covering all common cardiology conditions that can be completed within the network."
---
What role do you think the NICE CG95 recommendations should play in cardiac care?
Professor Simon Ray
"A very important one. We hope to see networks being as compliant as possible with NICE CG95 recommendations, which advocate CTCA [CT coronary angiogram] as the first investigation for the majority of patients on the stable chest pain pathway. Networks should ensure that all hospitals have ready access, either on site or at a network level, to CTCA and to FFRCT, with all images reported by appropriately trained cardiologists or radiologists.
"Of course, this will mean significant change in the way patients are managed on the stable chest pain pathway, with a move away from the routine use of invasive coronary angiography as a purely diagnostic procedure. Where invasive angiography is performed it should be done by an operator trained in PCI [percutaneous coronary intervention] and invasive coronary physiology and imaging in a suitably equipped catheter lab."
Dr Derek Connolly, Consultant Interventional Cardiologist, Sandwell and West Birmingham NHS Trust
"We've been using FFRCT at Birmingham City Hospital for some years now and have seen a significant reduction in unnecessary angiography during this time. In low- to moderate-risk settings, we're able to confidently identify patients who can be managed medically and those who need invasive intervention and prioritise time in the cath lab for these cases.
"It also gives us the capability to diagnose incidences of coronary heart disease in a matter of hours, which has real benefits from a patient experience perspective. It essentially means that people can come in once and get their results the next day, potentially providing assurance they won't need any further invasive intervention."
---
How do you envision cardiology and radiology teams working together going forward?
Professor Simon Ray
"Historically there have been incidences where collaboration between cardiology and radiology has been somewhat stilted and where greater cooperation has been needed. Alignment between these two fields is vital for developing a smooth-running network of cardiac care so reporting is as rapid as possible and reduces any delay for patients. At many sites we visited around the country during the development of our report, we found that the best CTCA services were underpinned by good collaboration between cardiology and radiology. For me, a strong relationship between both specialties is absolutely a prerequisite as we start to set up network services."
Dr Tim Fairbairn, Consultant Cardiologist, Liverpool Heart and Chest Hospital
"Our relationship with colleagues in radiology forms the backbone of our CTCA service at Liverpool Heart and Chest Hospital. It helps us to develop the best possible image quality, which in turn gives us richer FFRCT findings and helps us to identify the severity of disease more accurately in our patients. Since adopting a CT-first approach with FFRCT, our departments have grown closer as it's more essential than ever that we're on the same page when it comes to interpreting findings and identifying areas for further investigation. We both have different skill sets to bring to the mix that, together, can help patients get the best possible care, sooner."
---
Following the pandemic, how do we tackle capacity challenges when it comes to CT scanning? And how can we ensure quality of service is consistent across the country?
Professor Simon Ray
"We know access to scanners has been an issue for many cardiology services, particularly as the health service tries to balance the pressing need to tackle its cancer screening backlog and provide scanning for Covid patients. The introduction of community diagnostic hubs [CDHs] is seeking to take imaging out of secondary care and put it into a community setting. CTCA is unlikely to be performed in many CDHs but the redirection of other work to the community should reduce the burden on in-hospital scanners and create capacity in the medium to long term.
"In addition, moving to a network cardiac model provides an opportunity to pool resources and allow highly trained clinicians and radiographers to work across the network, using all available infrastructure, and ensure that patients have access to rapid, accurate diagnoses.
"From a GIRFT perspective, the network-delivered CTCA future model is the best structure for achieving long-term success. Inevitably, this will need to be delivered as part of a seven-day service if we're going to start tackling some of the backlog. But, while there will be some considerable challenges in implementing these changes, I believe they're entirely achievable and can optimise patient care."
Dr Tim Fairbairn
"Interventional cardiologists have been sharing their expertise across cardiac centres for years and broadening this out to other specialties seems perfectly feasible. The network approach makes sense and doesn't mean that small centres will have to close or that patients will need to travel miles for care. In fact, it's the opposite. Giving these smaller services the capabilities to build their patient numbers means that they're able to tackle waiting lists in their regions and develop the expertise to deliver first-rate cardiac imaging. We've been helping other centres in our region to develop much larger platforms in recent years and it has shown great results."
Dr Derek Connolly
"The GIRFT recommendations are very welcome and something we'll be able to use with our managers to build services. For me, that's one of the primary ways to overcome backlogs and ensure that patients receive the same level of care, no matter where they are. AI and FFRCT have a really important role to play in this as the technology is helping us make treatment decisions more confidently. I think we're just scratching the surface of what it'll help us to achieve in the future."
---
Going forward with FFRCT
FFRCT technology is being increasingly used across the UK. In England, this is thanks, in part, to initiatives such as the NHS MedTech Funding Mandate, which prescribes the adoption of FFRCT in cardiac centres throughout the national network. Hospitals in Scotland and Wales have begun using the technology too, which allows clinicians to feel more confident in their diagnoses and treatment plans by reviewing the 3D models of patient arteries and gaining insights into blood flow.
Supported by the recommendations of the GIRFT review, clinicians are empowered to better tackle disease, diagnose coronary heart disease (CHD) quickly and improve treatment. And as we continue to embrace cutting edge technology that streamlines and enhances care, it will only improve patient outcome and experience.