Royal Society of Medicine launches its own debit card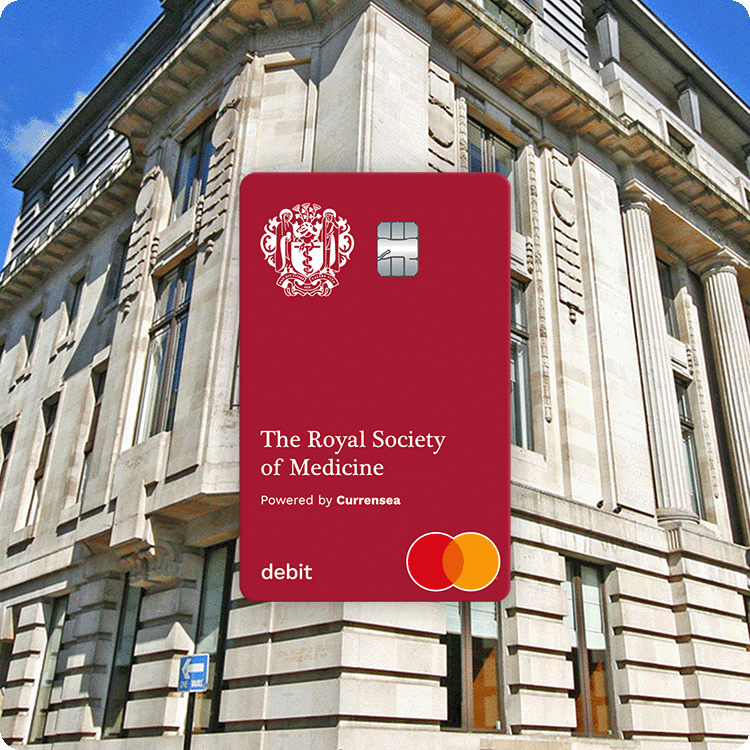 Royal Society of Medicine is partnering with fintech Currensea to provide a branded debit card allowing members to round up UK spending and donate to charity.
---
Royal Society of Medicine (RSM), a global membership organisation of 20,000 healthcare professionals, has launched its own debit card enabling members to make charitable donations each time they spend at home or abroad. This new fundraising stream and member benefit has been made in partnership with Currensea, which has created a card that links to existing bank accounts.
The card also acts as additional member benefit allowing members to save money when spending abroad by avoiding bank fees – can opt to donate some or all of these savings. RSM is the latest charity partner to offer branded cards through Currensea's 'powered by' programme, which allows charities to increase supporter engagement & boost donations
The new RSM card will be available to all its members and supporters who can now opt to donate to the Society when spending in the UK and overseas. Donations can be made by rounding up spending to the nearest 5p in the UK or from savings made on overseas transactions via this new branded card which allows card users to save at least 85 per cent – and up to 100 per cent – on every transaction abroad by removing the normal fees leveraged by banks and other card providers.
Members and supporters can opt to donate all or part of the savings they make when spending abroad. For example, a user spending $1500 while visiting the USA can choose to contribute 50 per cent of their savings – which would equate to more than £20 – while still saving money.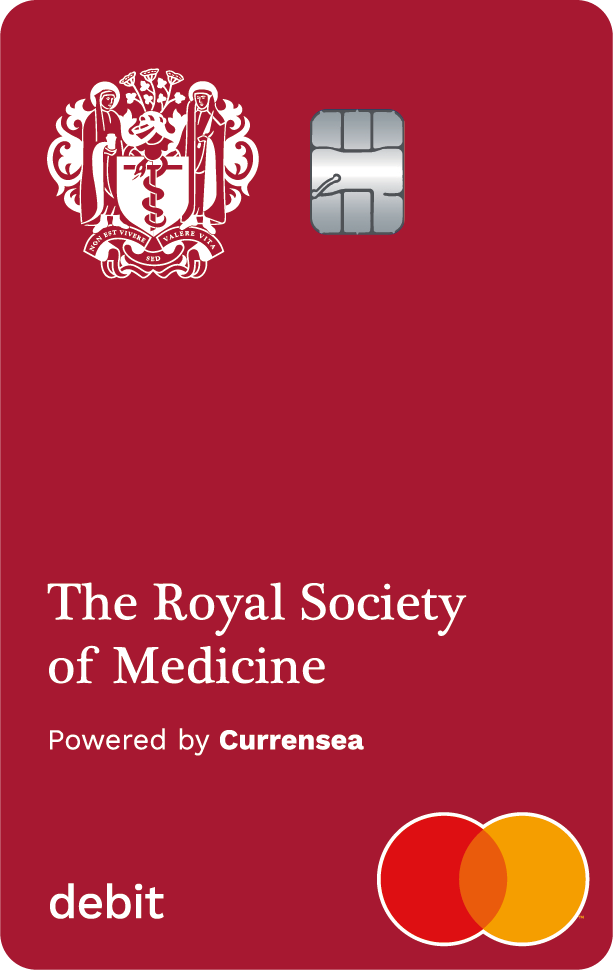 All of the donations made using the new Royal Society of Medicine card will support its mission to share learning and drive innovation across all areas of healthcare.
Alongside supporting the Royal Society of Medicine's charity work, the new card is also an additional benefit to members. Other benefits include discounts on a range of activities and products such as National Trust membership, gym membership, cinema tickets and Apple products.
The average charitable donation per card is £30. Over the last quarter, one of the charities offering its own card through its partnership with Currensea raised four times as much via donations from Currensea users compared to donations via Amazon Smile. Another charity has seen almost £700 in additional donations in the first month since the partnership began.
Discussing the new initative, Neville Carter, Director of Membership and Engagement at Royal Society of Medicine, said: "This is a simple way for members to save on overseas spending fees and support our charitable mission at the same time. We're looking forward to RSM direct debit cards being used all over the world!"
James Lynn, Co-Founder of Currensea, commented: "Not only will this partnership help support the fantastic work of the Royal Society of Medicine, it's also a unique benefit to members giving them more control over their money.
"Members can now support the Royal Society of Medicine when using the Currensea card at home and abroad. Rounding up transactions by 5p can make a huge difference given the Society's membership base of 20,000 members. The new card also allows users to avoid the high foreign exchange fees they typically face when spending on their bank cards abroad.
"Importantly, as the card connects directly to existing current accounts, users can simply opt to donate savings to charity instantly and automatically. Partnering with Currensea's powered by programme is an innovative option for charities looking to increase engagement with their existing supporters, boost donations and attract donors."
Royal Society of Medicine is the latest charity to partner with Currensea's unique 'powered by' programme, launched in 2021, which allows charities to issue branded cards to supporters and increase donations. Other partnerships include:
Royal Trinity Hospice – the oldest hospice in the UK
St Martin-in-the-Fields Trust – which works with many of London's most vulnerable communities
Rafiki Thabo Foundation – a charity which boosts access to education across Africa
Currensea's card allows users to access the best foreign exchange (FX) rates at only 0% to 0.5% above the FX base rate with high street banks typically charging 3-5% per transaction abroad.
The Currensea card uses secure technology called open banking – a secure data-sharing approach between financial institutions – to connect directly to someone's bank account with their approval, allowing travellers to make overseas transactions directly from funds in their current account, whilst avoiding high bank fees, and UK users to use the round-up function.
---
More information about the partnership can be found here: https://www.currensea.com/partner/royal-society-of-medicine