The evolution of ultrasound imaging to cope with high BMI patients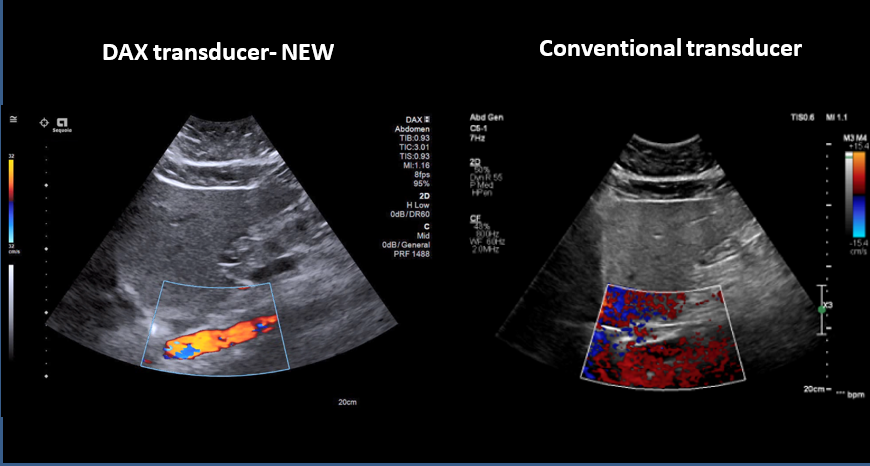 Harshal Vadera, Head of Ultrasound in GB&I for Siemens Healthineers, outlines how Newer ultrasound technologies are being developed to improve image quality in high Body Mass Index Patients (BMI) patients.
---
Would it surprise you if I were to say that the annual spend on the treatment of obesity and diabetes is greater than the amount spent on the police, the fire service and the judicial system combined?1 Or that greater than 60 per cent of all adults in the UK are overweight (i.e. BMI >25) or obese (i.e. BMI >30)?2 Probably not, since it is a well-documented problem and there are numerous initiatives in the UK aimed at tackling rising obesity rates in adults and children.
As a result, healthcare providers are spending increasing sums on adapting equipment and services to treat the growing high BMI patient demographic in their localities.3 The girth and weight of these patients is a challenge for imaging equipment and its ability to provide a definitive diagnosis.
Innovative solutions re being developed to mitigate this issue. In particular, ultrasound products are evolving to provide physicians with better, non-ionising and cost-effective tools to image obese patients.
---
Technical challenges in imaging obese patients
The challenge is two-fold. One, ultrasound is the most affected imaging modality as the thickness of subcutaneous fat and the sound-attenuating properties of fat present challenges especially at increased depths. 4 If a patient is unable to get a definitive diagnosis with ultrasound, they would most likely be referred to CT or MRI for additional imaging which would increase the associated costs and patient anxiety.
Two, the potential for increased work-related musculoskeletal disorders (WRMSD) as a result of the increased pressure the operator applies to the transducer when scanning high BMI patients. There is a section in the Guidelines for Professional Ultrasound Practice that relates to "Managing the high BMI patient".5
---
How is ultrasound evolving to provide diagnostic quality images in obese patients?
Companies like Siemens Healthineers are making obesity a focus when developing new ultrasound scanners. The newly released ACUSON Sequoia™ ultrasound system has a unique Deep Abdominal Transducer (DAX) which has been designed to scan to a depth of 40 cm. This is made possible by employing an advanced form of Multi-D beam formation that controls the beam thickness and beam formation in both transmission and receive phases.6 The DAX is designed to stay within the Mechanical Index (MI) limits mandated by regulatory agencies.

The DAX enables clinicians to obtain diagnostic quality images when conventional technology fails. First, we notice it is now possible to obtain 2D, colour and doppler information at much greater depths. This is critical when evaluating abdominal structures in the obese patient. Second, when assessing chronic liver disease in the high BMI patient with elastography we see improved penetration and better accuracy and reliability. Third, the DAX allows the clinician to perform contrast enhanced ultrasound (CEUS) exams much deeper with a high sensitivity for evaluating focal liver lesions. CEUS exams are traditionally limited in depth of penetration so this expands the clinical capabilities in CEUS.7
The innovative design of the DAX reduces the potential for work related musculoskeletal disorders (WRMSD). It is moulded so that the transducer casing fits the hand of the average operator and textured to improve grip. The cable has been redesigned to help reduce the strain and repetitive stress for the operator6, and lengthened to allow improved accessibility for scanning obese patients. The reduced curvature of the transducer means the operator can apply less pressure when scanning.
---
Conclusion:
Obesity not only poses health risks but also results in challenges in the delivery of healthcare. Siemens Healthineers is committed to expanding precision medicine with innovations like the DAX on the ACUSON Sequoia to obtain high-quality, reliable images on the high-BMI patient in an ergonomic and economic way.
---
References
"Health Matters: Obesity and the Food Environment." 31 Mar. 2017, https://www.gov.uk/government/publications/health-matters-obesity-and-the-food-environment/health-matters-obesity-and-the-food-environment–2
Baker, Carl. "Obesity Statistics." Commons Library Briefing – UK Parliament, 6 Aug. 2019, https://researchbriefings.parliament.uk/ResearchBriefing/Summary/SN03336
Uppot, Raul N. "Impact of Obesity on Medical Imaging." HealthManagement, 2014.
https://healthmanagement.org/c/healthmanagement/issuearticle/impact-of-obesity-on-medical-imaging
Modica, Michael J, et al. "The Obese Emergency Patient: Imaging Challenges and Solutions." RadioGraphics, RSNA, 4 May 2011, https://pubs.rsna.org/doi/full/10.1148/rg.313105138
"Ergonomic Practice Including Managing the High BMI Patient." Guidelines For Professional Ultrasound Practice, Society and College of Radiographers and British Medical Ultrasound Society, 2019, pp. 21–22.
https://www.sor.org/sites/default/files/document-versions/2019.3.10_scor_bmus_guidelines_amend_mar_2019_final.pdf
Siemens Medical Solutions USA, Inc. ACUSON Sequoia BioAcoustic Technology. 2018. Web.
"Ultrasound Is Transforming Care Delivery for the Bariatric Patient." Imaging Technology News, 9 July 2019, https://www.itnonline.com/content/ultrasound-transforming-care-delivery-bariatric-patient
Abalain-Castela, Christine, et al. "Obesity the Health Challenge of the 21st Century." SCOR, 2018, https://www.scor.com/sites/default/files/final_scor_inform_obesity_en.pdf