The opportunity of a lifetime: To progress a nursing career in the UK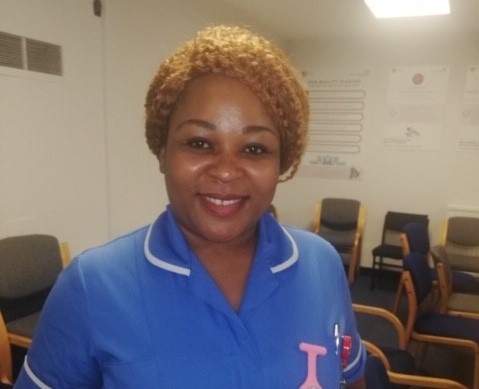 Brenda Dlodlo, Kettering General Hospital, was originally recruited as an International Return to Practice Nurse and is now a fully registered Nurse in the UK. Here Brenda describes her experience of training to work as part of the NHS.
---
Kettering General Hospital is trying to stem its nursing shortfall by recruiting nurses from overseas. I'm one of 11 trainee nurses who joined in October 2019 as part of the hospital's programme for recruiting overseas nurses. I moved here from Zimbabwe, as did another nurse who started at the same time as me, along with nine others from India.
I trained at the United Bulawayo Hospital in Zimbabwe in the country's second largest city. Following my nursing training, I worked in a health centre, providing primary health care for five years. I later did a midwifery diploma and worked as a registered general nurse and midwife before leaving Zimbabwe last year.
When the opportunity came to relocate to the UK to work, I leapt at the chance. The UK's NHS is renowned as being one of the best health services in the world to work in as a nurse, so I was very keen to make the move.
I was eager to learn and wanted to further my professional development and experience a different way of working. I also have a four-year-old daughter and wanted to better myself so I could provide her with greater opportunities in life.
I started working at the hospital just two days after I arrived in the UK. I worked initially as a healthcare assistant while studying for the Objective Structured Clinical Examination (OSCE). This is the route to becoming a registered nurse with the Nursing and Midwifery Council (NMC), which is necessary for overseas nurses to work in the UK.
All overseas nurses must sit this exam within 12 weeks of arriving here. This exam tests our skills and knowledge and ensures we have the correct aptitude for working in the NHS. If nurses don't pass first time then they can try again, but they must pass within eight months or otherwise their sponsorship will be cancelled and they will have to return to their home countries.
It's a high pressure environment for nurses from overseas, as we must work hard to pass this exam while also adjusting to living and working in a new country.
My experience of moving here has been good, although I was quite scared when I decided to come and wondered if I was doing the right thing. I left my four-year-old daughter with my mother back in Zimbabwe, and that was a hard thing to do. To help settle into life in the UK, overseas nurses are given free accommodation for the first two months, which helped. They are then helped to secure permanent accommodation after this.
The staff at Kettering could not have been more helpful and kind. In fact, the hospital staff have been supportive during the entire process, from the moment I applied for the role back in Zimbabwe, to arriving in the UK.
My first encounter with the hospital was with Human Resources team, a member of which came to meet me at the airport. In my first few days they helped me settle and start to understand more about the British way of life. I had only ever travelled to Dubai before coming here, so everything was a new experience.
They even gave us a tour of the city and told me where I could buy African food. All the nurses I work with are great and have welcomed me into the team. The experience has really lived up to my expectations and the staff have made relocating here a very smooth process.
There have been some challenges though. Nursing in the UK is very different from that back home. The working practices are different, as is the advanced equipment that nurses use here, but I am thoroughly enjoying learning new ways of doing things and interacting with patients.
Each day is different and it's a steep learning curve, as the UK is so advanced compared with Zimbabwe. However, I am happy I made the move for my career and my daughter. I hope to stay here working as a nurse for as long as I'm permitted, and I hope to build a new life for us both.
I'd highly recommend other nurses from overseas consider this type of opportunity. The NHS needs nurses and is very welcoming and supportive. This really has been the opportunity of a lifetime for me.