Time to think differently about boosting capacity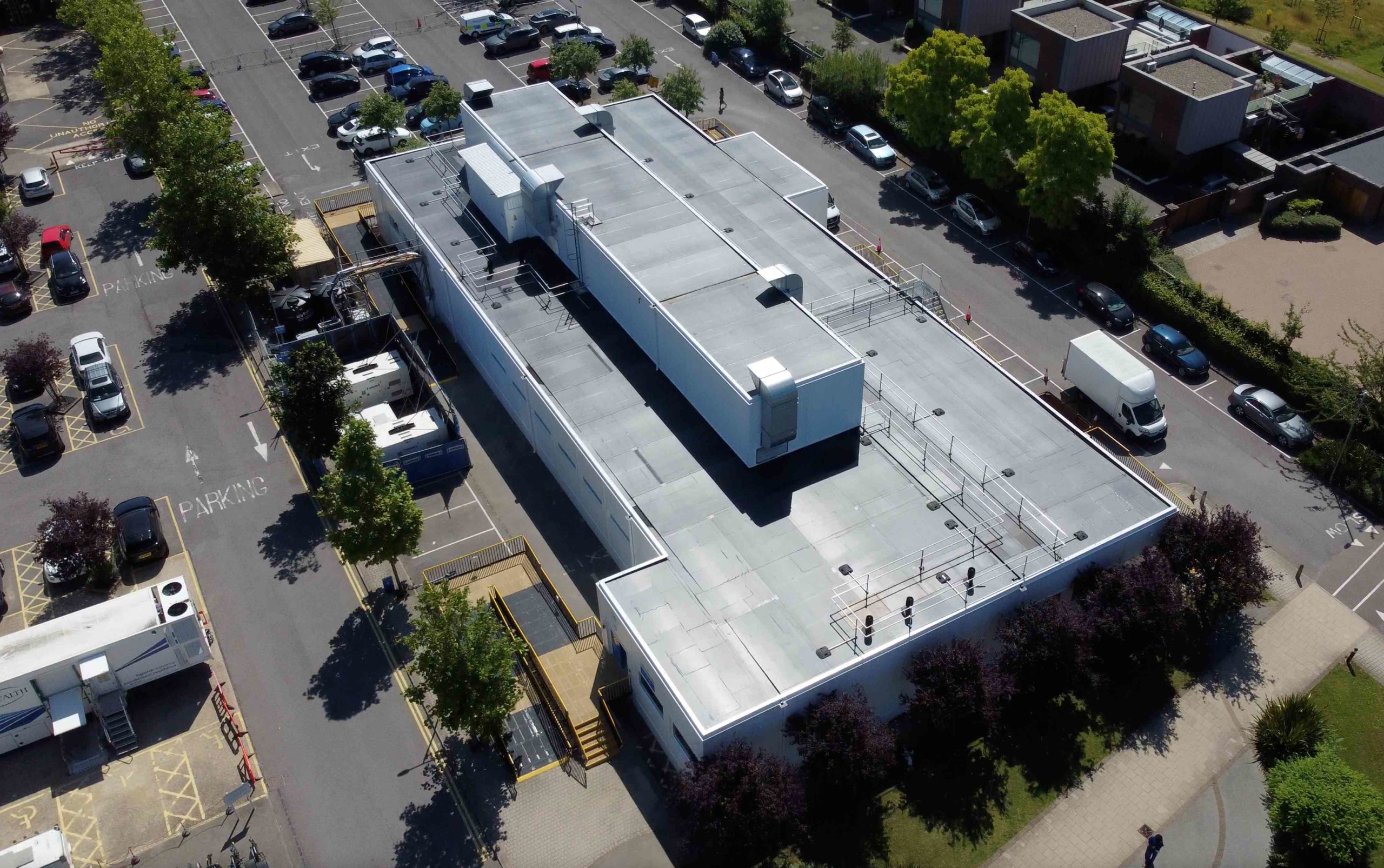 Flexible healthcare infrastructure offers a range of options for managing the healthcare estate effectively and increases the ability to adapt to sudden changes in demand or disruptions to service delivery, without lengthy lead-times and significant capital expenditure.
---
The pandemic has revealed serious limitations in UK health provision in key areas. This is particularly true of the NHS built environment, the dated nature of which has hindered responses to Covid-19 in several ways. Trusts have found it difficult to divert oxygen flows to new parts of their facilities, wards have been ill-equipped to repurpose in rapid time and spare capacity has been in short supply throughout the estate.
Central to recovery and renewal from Covid will be a thorough examination of the NHS built environment and a reprioritising of health and care infrastructure within wider health policy.  It is safe to say that much of the healthcare infrastructure in this country is pretty inflexible.
Vanguard's mobile and modular healthcare facilities have practically been in total demand since the pandemic hit as NHS trusts rapidly looked to expand capacity and separate patient flow to protect patients from Covid. Trusts have come to us for a host of reasons; but underlying the specific nature of each of these requests has been the recurring theme of an inflexible estate that offers no spare capacity.
What sets Vanguard apart from other providers is that our offering is not restricted to infrastructure, we are specialists in healthcare and our team is made up of healthcare professionals and experts who have multiple years' experience of how-to best design and implement a solution and maximise the utilisation of assets. All supported by our clinical team of ODPs and Registered Nurses who are available to provide additional staffing to facilities
Capacity issues plaguing the NHS are nothing new, but it is often more than just a build-up of demand. We have found that many Trusts we work with do in fact have the additional capacity within their estate, but it is in the wrong place. Put simply, the lack of ability to repurpose and redesign space means that potential capacity is going to waste when the NHS needs it most.
Many buildings in the NHS estate are over-specified for a particular use, making them inflexible and difficult to repurpose when demand changes. This has proven to be disruptive throughout repetitive waves of coronavirus and is creating additional barriers to tackling what are already daunting backlogs in elective care across the sector. During the first wave of the pandemic, Vanguard was able to repurpose a number of existing mobile operating theatresin to fully functional HDUs in a matter of days.
It is not just about the quantity of capacity that you may have; more fundamentally it is about the quality of that capacity. What can you do with this space? How quickly can it be repurposed? These are the sorts of questions trusts should be asking and thanks to our multifaceted approach to enhancing capacity, we have been able to build physical solutions as well as supplying the staff needed to utilise it.
Decisions relating to infrastructure are often left to NHS Trusts on an individual basis, and this more fragmented approach restricts the profile of healthcare infrastructure than it has in some other health systems. Without a more coordinated, strategic approach to health infrastructure in the UK, I think there is a huge risk of repeating past mistakes.
This is particularly pertinent in the context of the UK government's plan to build 40 new hospitals. Hospital builds take time, and it is more than likely that, before completion, clinical practice and technological capability and requirement will have advanced to a significant degree. Ensuring that a "hospital" doesn't become immediately obsolete is important when you are building 40 of them in a relatively short space of time.
Reconfiguration, flexibility and re-optimisation – these have got to be principles that permeate throughout the government's build programme – and I think that many in the sector would like to see a much greater emphasis generally on modern methods of construction (MMC) running through the UK healthcare infrastructure.
Recovery of the healthcare sector absolutely requires MMC, and that is why you have seen two new modular procurement frameworks (that I am aware of) come out this year with the LHC and the NHSCS frameworks. They would not have done that had they not anticipated hugely increased demand for MMC.
---
Facilitating new models of care
Flexible infrastructure is likely to play an increasingly important role in healthcare estate considerations over the coming years, and so it should.
Our solutions-based approach has facilitated a rapid response to new challenges. For example, we have designed solutions that involve using a crane to place an operating theatre on the roof of an existing building, or onto a specifically designed steel frame for first-floor adjacency. Our experts are on hand throughout the development process to answer questions and provide support and advice.
Modular solutions, like those we offer, can do more than boost capacity; they can help develop entirely new models of care. Community diagnostic hubs are a particularly relevant example, especially those on sites that are easily accessible and with room for patients to sit while waiting. Patients also feel safer because the hub is not inside the hospital.
Many of these modular solutions do not necessarily have to be "temporary". If properly maintained they can augment health estates for years and, given the limitations in mobility exposed by the pandemic, it could be just the quick fix the NHS needs to boost capacity long term.
---
---
Creating capacity to tackle waiting lists
Flexible healthcare infrastructure can help hospitals respond to clinical capacity challenges and prevent waiting lists rising further in areas of particular concern such as elective care. According to the government's own models, the number of people waiting for NHS hospital treatment could more than double to reach 13 million by the end of the year.
There are other benefits to implementing a mobile or modular elective care facility. You might need extra capacity to cope with temporary spikes in demand, to test the case for a new service development, or for continued service provision during a refurbishment project or an unplanned event.
The new facility can be up and running very quickly, patients can remain in the existing clinical pathway and within the boundaries of the hospital's estate, and existing staff can be utilised. It provides a more flexible option for managing the healthcare estate and reducing the backlog without a need to increase the capital budget or outsource patient care.
Ultimately, the secret to implementing such a project successfully is to choose the right delivery partner. Using a specialist healthcare provider with an understanding of the specific requirements for operating theatres ensures compliant and effective clinical environments. A flexible healthcare project must be a two-way process from beginning to end, and the provider needs to be prepared to listen and adapt to each individual hospital's needs.
---
How to get started
The process to mobilise a fully compliant mobile or modular operating theatre or care facility is surprisingly straightforward. It is essentially a six-stage process, which starts with assessing each hospital's unique requirements and then exploring suitable options within that context to ensure fastest and most effective outcome.
As a first step, a thorough scoping exercise should be undertaken. This will involve a visit to the site, during which a team of clinical, technical and logistics experts link up with hospital staff to gain a detailed understanding of the site requirements, as well as existing clinical practices and workflows.
A comprehensive scoping survey should include a review of access to the site, the site's topography, service connections and supply, telecoms/IT, and drainage system, as well as a review of any clinical adjacency needs and specific compliance requirements. An understanding of the type of procedures that will take place in the facility and the equipment needed will also be necessary.
Once the review is complete, a detailed design proposal focused on the unique needs of the hospital can be produced. This will include the identification of potential locations and recommendations about any additional infrastructure or enabling works that may be needed. For best results, the proposals should optimise the utilisation and activity levels of the proposed facility.
It is important to work together, and to engage clinical, technical and management teams in the design from the outset. A good way to do this is to arrange a visit to a hospital site already hosting a mobile or modular operating facility to see real-world examples of how flexible solutions can integrate with existing infrastructure.
Touring a similar facility to the one that is being considered and speaking to staff using it to find out about their experience of the delivery, installation and commissioning process, will provide a better understanding of what the optimal solution would be and how it would work in practice.
---
Essential requirements
As a starting point, a relatively flat concrete pad, car park or other area of hard standing with sufficient space for the planned solution is needed, but as long as a stable and broadly level base can be achieved, and there is suitable access to the site, a flexible solution can be installed.
In some cases, an interface between the facility and the existing site, such as a link corridor, steps or a ramp, can be constructed.
The requirements will differ depending on the solution chosen, but connections to utilities such as water, drainage and electrics are essential, along with telecoms and IT connections, although a generator can be used if the electrical supply on site is difficult. Mobile and modular facilities are fitted with fire, smoke, gas, nurse call and security alarms, which can be standalone or integrated with the hospital's own systems.
---
Tailoring the solution
Following the site survey, a comprehensive report is produced in partnership with the hospital, to include computer-aided design (CAD) drawings, a step-by-step delivery guide for the chosen solution and recommendations for link corridors, storage and utilities connections.
While mobile facilities have a standard footprint, layout and equipment, the final solution is almost always tailored to the individual needs of the hospital. Modular facilities are built completely bespoke, but we will carry out a similar consultation process with a site assessment and individual recommendations.
We will provide an account manager focused to understand the challenges the hospital is facing to support with business case preparation, procurement routes and project planning, while a clinical manager is available to advise on patient flow and to assess the impact the project will have on patients and staff. A technical expert also assesses the site and infrastructure provision and works with the hospital to find a suitable location.
Often the optimal solution is created using a blend of mobile, modular and fixed infrastructure, in a variety of configurations. For example, a mobile operating theatre may be combined with a modular building containing a reception area and waiting room, a separate ward or staff welfare area. A full turnkey project, including groundworks and the supply of additional infrastructure such as link corridors, storage and staff welfare facilities provided by the flexible healthcare supplier, is often the choice of estates departments.
---
Installation and commissioning
Before delivery, an operational delivery meeting is held with key members of the hospital's various teams, so that work practices and responsibilities for the entire project can be agreed in detail. These include specifics around clinical practice, induction and training, governance, air-sampling and water-testing protocols, fire procedures, facility management, delivery method and timescales.
Delivery and installation must take place at a time convenient to the hospital to minimise the impact on staff and patients, and the schedule should allow sufficient time for any alterations to traffic flows or street furniture, trimming of trees or any other alterations that may be necessary to support efficient delivery. The installation of a mobile facility takes approximately three to four hours, while modular facilities are assembled on site and require a longer period to be assembled.@Once the facility is installed, a thorough commissioning process will be undertaken to test all systems, utilities and services. Typically, the commissioning process takes two weeks. The first week involves testing the facility and its systems, including water and air, while the second week focuses on clinical practices and the induction and training of staff who will be working in the new facility.
---
Using the facility
Support may be needed in the initial stages of using the new facility, and to this end we assign a clinical contracts manager to each facility for the duration of the contract. They will be on site during the commissioning period and provide support at the initial stages of the contract, as well as conducting a monthly audit to ensure compliance with policies and procedures.
Regular meetings and open channels for feedback are important. Requirements can change quickly – as they have during Covid-19 – and adjustments may be needed during the contract, or unforeseen events may occur. Both clinical and technical support is available 24 hours a day, seven days a week.
Performance monitoring is also crucial, and facilities are monitored against an agreed set of key performance indicators (KPIs) for the duration of the project. We also work closely with the host hospital to analyse metrics such as procedure numbers, case mix, patient satisfaction, incidents, infection rates and staff satisfaction, and suggest improvements. An online portal allows clinicians, estates teams and hospital management teams to quickly review key documentation, including facility drawings and dimensions, processes, instructions and emergency contact details.
---
Vanguard Healthcare Solutions is a trusted partner of NHS Trusts and Health Boards, and staff are experienced in consulting on service reconfiguration to achieve optimal benefit.
www.vanguardhealthcare.co.uk