'7 in 10' doctors see no end in sight for strikes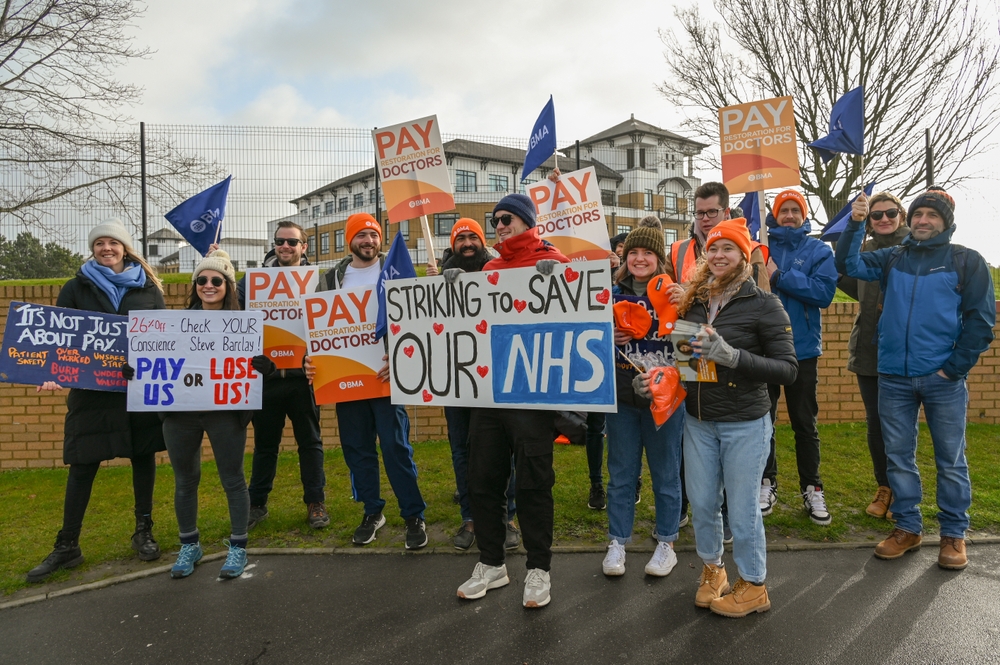 A survey of GMC-registered doctors conducted by Doctors.net.uk finds that majority believe strikes to continue at least until next general election, with little optimism for near-term compromise.
---
Most doctors see no immediate end to strike action in England, and do not think their support will wane over time, according to a survey of more than 7,000 doctors.
Doctors.net.uk surveyed members across the UK for their views on what might happen next in the long-running dispute with the government over pay. The questionnaire listed five possible scenarios and doctors were asked how likely they thought each one was.
The scenarios are listed below in order of most likely to least likely, as predicted by respondents.
Scenario 1: Strikes continue indefinitely, or at least until the next general election
Nearly 7 in 10 doctors (69 per cent) predict this is either 'very likely' or 'probably' going to be the case, compared with just over 1 in 4 (26 per cent) who think this is 'unlikely' or 'very unlikely'.
Yet, the health commentator and former NHS trust Chairman, Roy Lilley, thinks the longer the strikes go on for, and the more patients are impacted by postponed appointments, the more likely public opinion will come into play. "When push comes to shove, junior doctors will lose public support," he said.
Scenario 2: The government agrees to negotiate, despite saying its last offer was 'final'
More than half of doctors (58 per cent) think there is a good chance that negotiations will resume, but just over a third (37 per cent) are less optimistic. One doctor responding to the survey said: "Unfortunately both parties have taken extreme positions making it difficult to find a just compromise."
Scenario 3: Strikes will stop but other action, such as working-to-rule, will be used
Professor Gregor Gall, an industrial relations researcher, thinks other forms of action are likely to be used but not as an alternative to walkouts, which he said "generate more pressure and a higher visibility for the action". However, 46 per cent of doctors anticipate that this scenario could happen.
Scenario 4: The mandate for industrial action expires and is not renewed because of a lack of support from union members
Overall, doctors are confident that unions will be able to maintain sufficient support from their members to sustain prolonged strike action. About a third (32 per cent) think there is a chance support could dwindle, but the majority (61 per cent) think that is doubtful.
Scenario 5: The BMA backs down
More than 7 in 10 (72 per cent) do not see this happening. This view is supported by Professor Gall who thinks after trainees in Scotland voted to accept a pay offer, which includes a 12.4 per cent uplift for 2023-24, the BMA is unlikely to stop its campaign in England.
---
Current support for strike action
Nearly 4 in 5 (78 per cent) said they currently support strike action, with most saying their support would not diminish even if strikes were to continue. Just over 1 in 5 (22 per cent) said they do not support it.
Doctors typically lose pay when they go on strike, so the survey asked if financial reasons could impact how they feel. It also asked if moral or ethical issues could erode their support. Nearly 6 in 10 said both aspects would be unlikely to affect how they feel, but more than a third (37 per cent) do think those pressures could change their position.
Chance of fresh negotiations?
In July, the Prime Minister said the 6 per cent pay rise offer (an average uplift of 8.8 per cent for trainees) for 2023-24 was "final" and the government would "not negotiate again on this year's settlements".
However, Lilley told Doctors.net.uk that he predicts there will be movement on discussions. He said: "I would be surprised if a conduit hadn't been opened and there weren't talks happening probably about a three-year pay deal."