A 'more efficient health estate' for better patient care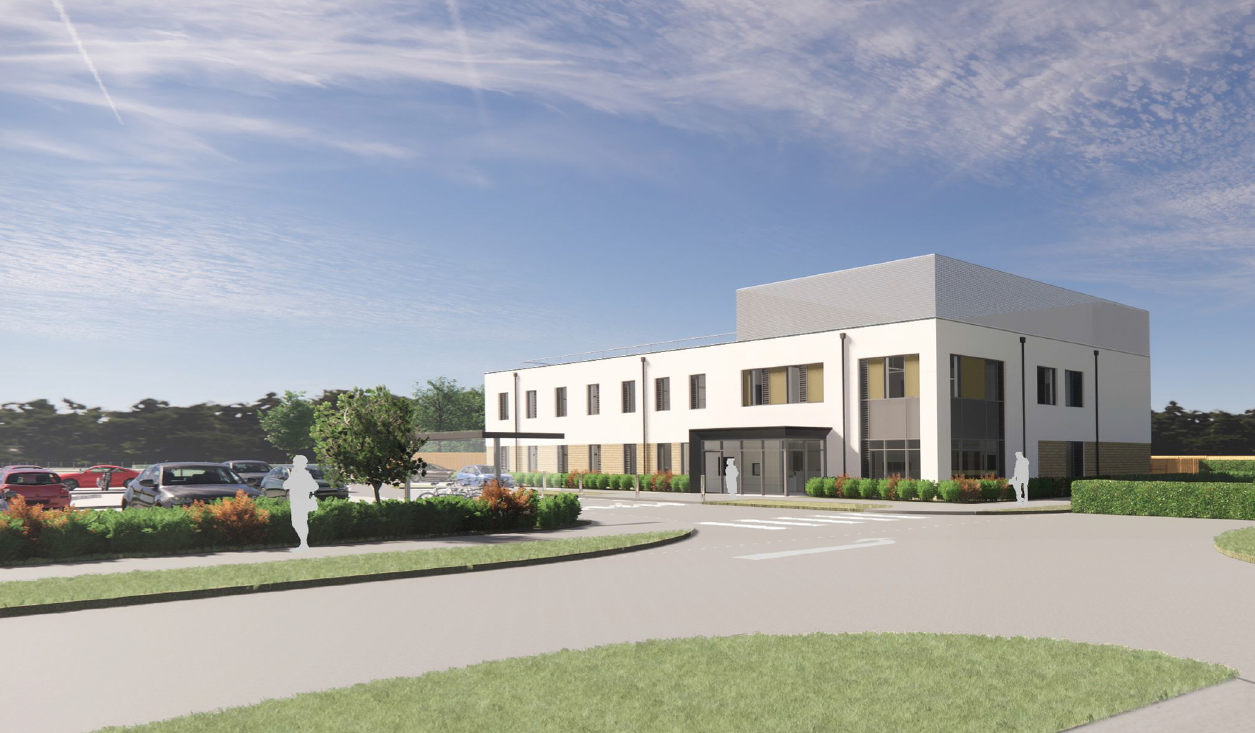 How urgent demands for healthcare space are being met through the use of innovative digital solutions. (Pictured above: future design for Devizes Health Centre)
---
Efficiency in the NHS is important and the healthcare estate is no exception. Efficiency helps save money that can be invested elsewhere to improve care delivery, benefitting both patients and NHS staff. A way to achieve this within the NHS estate is through optimisation. This can entail creating capacity through new developments or reconfiguring existing places to meet the ever-changing demand for space across the NHS.
---
Reconfiguring clinical space
Throughout the pandemic we have been working alongside the NHS to help them meet urgent demand for space, whether it be through rapidly adapting buildings to protect other patients and NHS staff from Covid-19, converting occupied sites into vaccination hubs, or recommissioning vacant or underused space to create additional bed, testing and vaccination capacity.
For example, at a community hospital in Devon, we were tasked with identifying and mobilising additional space to support the Covid-19 vaccination rollout, all in the space of two weeks. This meant quickly assembling our project team, as well as a network of external contractors, to repurpose former ward space into clinical areas for use as a vaccination clinic for three GP practices. ​
Working with the local primary care network and clinical commissioning group, our facilities management team juggled installing LED lighting upgrades​, replacing carpets in clinical areas with vinyl flooring, completing multiple deep-cleans and even erecting a marquee to provide shelter for patients awaiting vaccination. It is vital that urgent demands for space are met swiftly and, through identifying the potential of unused space and collaborating with the local health system, this can be achieved.
---
NHS Open Space
Optimising the health estate is a challenge that we will, of course, continue to face beyond the Covid-19 pandemic. As such, it is vital that we continue to anticipate patient need and provide innovative solutions so that the public can get the most out of the NHS estate.
One such solution is NHS Open Space. Launched in April 2019 following a two-year pilot, NHS Open Space helps to make the most of unused space across the NHS. The idea for NHS Open Space came about when we analysed our sites across England and saw that some of our spaces were not being consistently occupied. NHSPS sought to change this, so we came up with a simple solution: if space is not being used to full capacity by existing NHS occupiers, we should make it more readily available for other NHS bodies and wider health and wellbeing services to rent. Not only does this make better use of the estate and mean communities can access more services from one local hub, but it also helps generate money that can be reinvested directly back into the NHS. This has been particularly important in the past year when funding has never been so essential for the health service.
The spaces available across the country range from clinical space and activity rooms, to meeting rooms and offices. Importantly, anyone from a clinician to a physiotherapist or a fitness instructor can rent the space. The spaces can be hired on an hourly, sessional, or daily basis, providing flexibility and choice for users. Once on site they can be sure of clean, safe and ready-to-go rooms every time, with trained staff available to help. The online booking platform gives NHSPS and NHS commissioners clearer data on how our spaces are being used, which helps us to proactively manage the NHS estate and make more efficient use of it.
The scheme has been hugely successful, and what started with 20 sites in 2019 has now increased to more than 700 clinical and non-clinical rooms across 100 sites nationwide, which are available for hire. So far, more than 1,000 users have made more than 125,000 bookings, accounting for over 700,000 hours of patient-service delivery and we are excited to continue expanding our scheme to include more sites across England.
---
Sustainability in the health estate
Sustainability must also be considered when increasing efficiency across the health estate. The NHSPS portfolio accounts for roughly 10 per cent of the NHS estate, we have a major role to play in supporting the health service to reach its goal of achieving net zero carbon by 2040. For example, in April last year, our entire building portfolio moved to 100 per cent renewable electricity. The move to a flexible trading strategy and the negotiation of new energy supply contracts has meant this was achieved at no additional cost to our tenants. Operating costs have in fact been reduced, and we are on track to achieve a 12 per cent cost saving, equating to about £8.5 million, over the first two years. This is money that can be reinvested in the NHS. The move will also offset more than 37,000 tonnes of carbon dioxide a year.
In addition to switching to 100 per cent renewable electricity, more than 50 of our sites so far have been upgraded to LED lighting. Between 2019 and 2020, the upgrade of 30 sites to LED lighting resulted in a saving of £549,000 and the equivalent of 830 tonnes of carbon dioxide.
While reconfiguring vacant or underused space across the estate is often the most efficient solution, with the growing population and increasing pressure on the NHS we also need to create capacity through new developments. As such, the Government has committed to building 40 new hospitals, all of which must be net zero carbon buildings. This means that carbon reduction must be considered from the outset.
We have accepted this challenge and are reviewing how we can make our new health centres and GP surgeries net zero, with Devizes health centre being our first net zero health centre to be constructed. Devizes is an integrated care centre that will provide space for Wiltshire CCG to offer primary care to the community. It is awaiting final-stage design sign-off, which seeks an energy performance certificate rating of A+, going beyond BREEAM 'excellent' to be net zero in operation.
---
A future of efficiency
A more efficient health estate will help the NHS to better serve patients. During the pandemic, we have had to rapidly transform space to ensure that it is safe for patients and that they can continue to access health services. As the pandemic relents, patient need will inevitably change. At NHSPS, we are primed and ready to help the health service adapt, optimising the estate to meet these needs, in a sustainable and efficient way.