A new national vision for pathology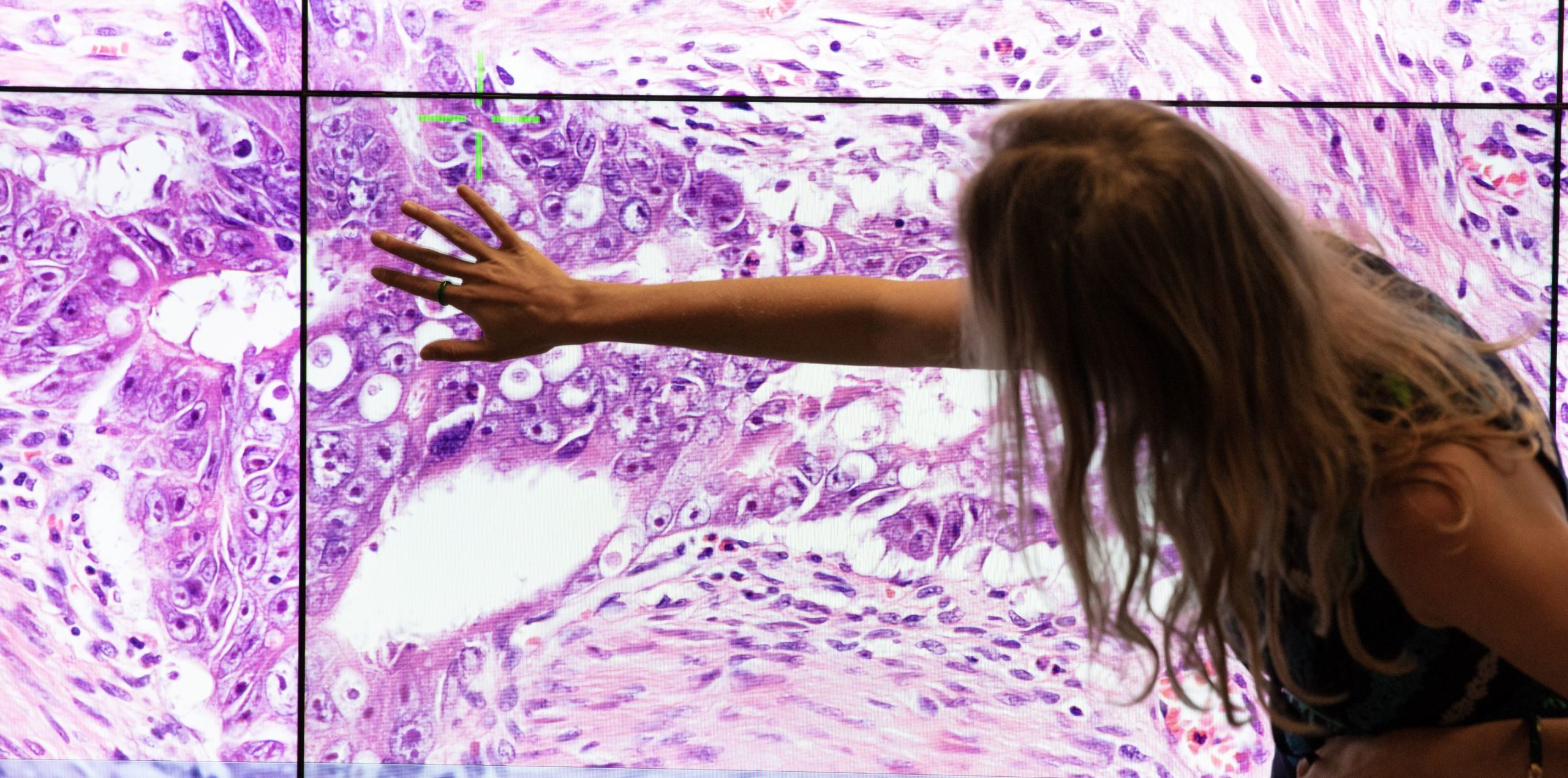 Following hugely successful regional deployments, the digital pathology team in Leeds are setting new boundaries for UK diagnostics.
---
Two years ago, the pathology team at Leeds Teaching Hospital NHS Trust embarked on a journey towards a fully digital pathology service. Microscopes are becoming something of historical artifacts for pathologists in Leeds, who can now view ultra-high-definition images, processed by state-of-the-art scanners, on screens from anywhere in the world.
Digital pathology, otherwise known has whole slide imaging, allows for glass histology slides to be viewed digitally as opposed to underneath a microscope. This has not only revolutionised pathology service for Leeds, which processes more than 300,000 digital slides every year, but has the potential to set new precedents for what pathology can offer modern medicine.
Like other specialist fields, pathology is contending with the concurrent challenges of rapidly increasing demand and an ever-dwindling pool of resource. According to Cancer Research UK, the year-on-year volume of cellular pathology requests increases by an average rate of 4.5 per cent and yet the number of trained pathologists has only increased by 1.2 per cent. To make matters worse, 32 per cent of cellular pathologists in the UK are over the age of 55 and are expected to retire in the next five years. Thus, digital pathology has the potential to improve workflow and pool resources across hospitals.
"Five years ago, digital pathology was considered a niche topic that would perhaps raise pointed questions from the pathology establishment," says Dr Bethany Williams, Educational and Training Lead at the National Pathology Imaging Co-Operative, based in Leeds, and the world's first digital pathology fellow. Today, the situation is very different, in no small part thanks to the work of the Leeds pathology team. "Today you simply cannot talk about pathology without talking about it in a digital lens," adds Bethany.
In many ways, the timing of this deployment could not have been better. Digital pathology has become an invaluable offering throughout the pandemic, allowing specialists to view and exchange slides remotely on personal devices and negating the need for precious specimens to by physically transported across the country.
This is still very much novel technology using rapidly redeveloping high-tech scanning equipment. Therefore, rigorous risk assessments are required to facilitate safe pathology practice at home while also not overstretching the technological capabilities of this new technology. Regardless, the pandemic has accelerated the need for innovative approaches for pathology and, fortunately, the machinery is already there for widespread deployment. This work is developing fast.
---
Snowballing innovation
The deployment in Leeds and the surrounding region was only the beginning. In 2018, Leeds Pathology became one of five UK research and innovation centres of excellence in digital imaging, accumulating a total of £33 million in public funding and an additional £11.4 million from industrial partners. This backing will build on the already highly successful regional deployment of digital pathology imaging and apply it on a national scale.
Work is already being scaled to provide digital pathology services across three NHS Improvement networks, connecting 15 NHS trusts and serving a population of more than six million people across the north of England. This will connect 238 pathologists and process 2.4 million images every year. The team are now building towards a project that can make the UK a truly world leading nation in pathology innovation.
Scalability has been built into all corners of this project. With the establishment of a national vendor neutral archive, pathologists across the country will be able to view slides that have been processed by any piece of scanning equipment. The implications for such scalability could be far reaching – vendor neutrality opens the door for unique data sets to be created and allows for a wider range of artificial intelligence (AI) tools to provide groundbreaking insights.
The national programme will centre on two core workstreams: paediatric pathology and sarcoma. Both of these areas have suffered greatly from specialist workforce shortages (there are five specialist bone pathologists in the UK) and represent some of the most highly specialised areas of tumour diagnosis.
"Both of these networks will allow for safe and secure referral of valuable specimens from network points across the country. These will feed into the harbour points of Great Ormond Street (for paediatrics) or the Royal National Orthopaedic Hospital (for sarcoma)," says Bethany.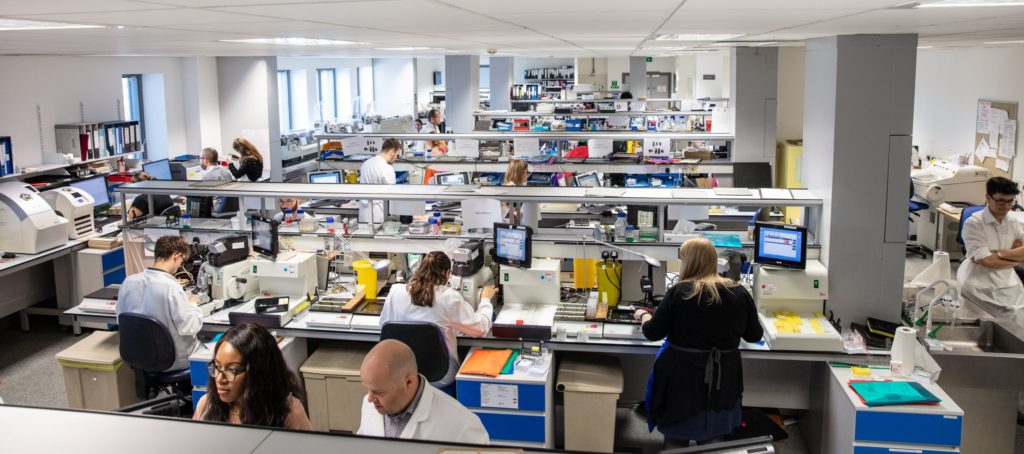 ---
Pushing boundaries for UK diagnostics
At every step of this project's journey, there seems to be a new door or avenue through which further innovation can spread. The wealth of imaging data generated can feed and train new AI tools that could prove to be a game changer for diagnostics in modern medicine.
As these networks area established, they will connect experts from across the country, providing a "fantastic opportunity for highly specialised educational exchange," says Bethany. A key part of the project lies in the establishment of a new national digital pathology knowledge and training centre, offering hands-on workshops for pathologists, biomedical scientists, researchers and computer scientists.
"We want to build a workforce within the NHS of doctors and scientists who are skilled users of digital pathology and of AI tools, and are able to feedback to industry and academia to direct and drive research and innovation across the country," says Bethany.
The terms 'unprecedented' and 'pioneering' are often overused when describing new healthcare technology, but it is hard to think of substitutes when describing the level of progress made in Leeds. The implications of this groundbreaking work could shape the future of UK diagnostics and, with backlogs in procedures growing more ominous by the day, this dramatic expansion of our diagnostic capabilities cannot come a moment too soon.