Advanced PACS Display launched by Bender UK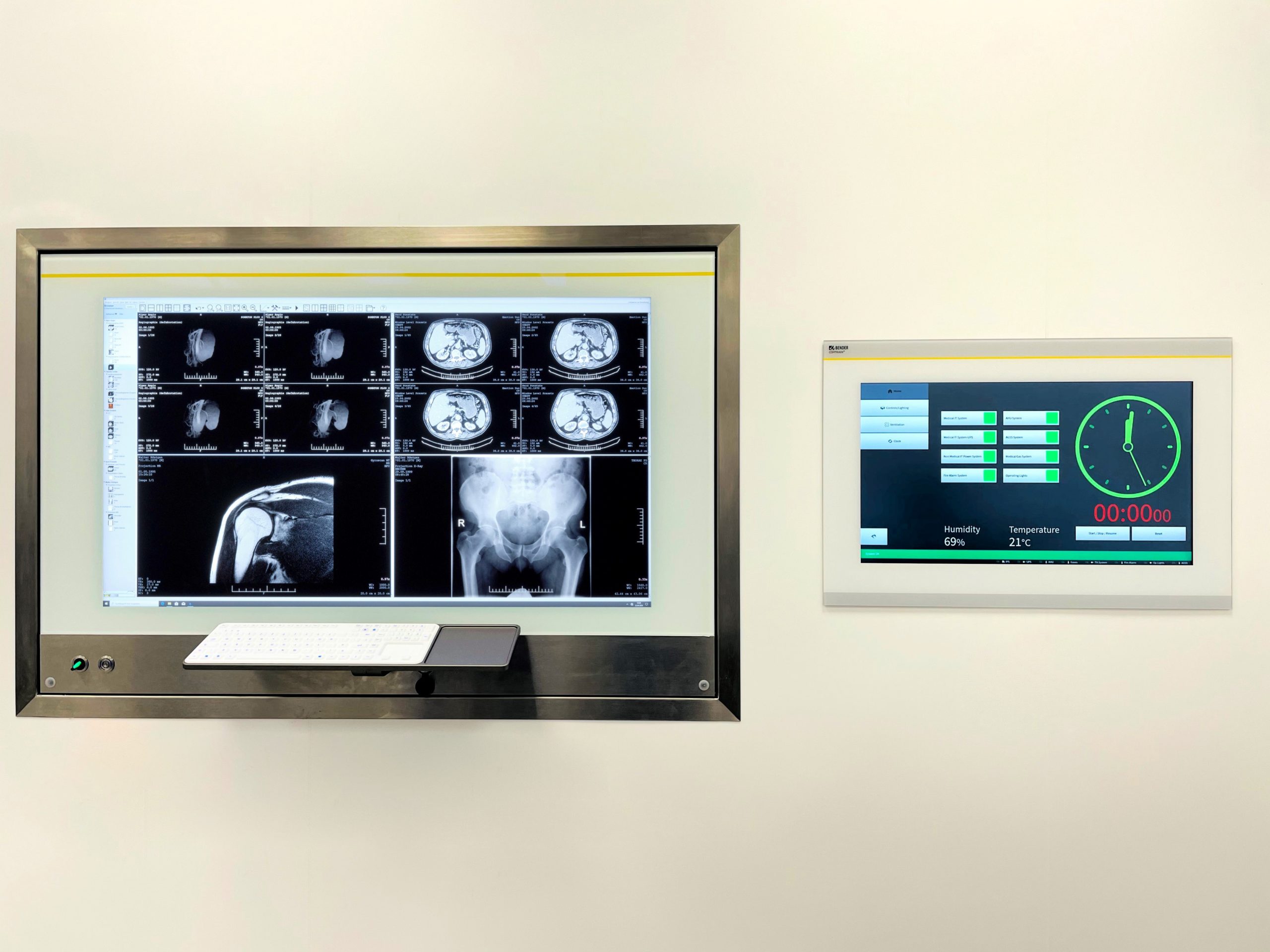 Bender has launched a new, premium PACS Console for use in operating rooms and critical care areas. The PACS Console employs proven display technology to deliver superior quality images to clinicians viewing scans, images and hospital records.
This new display complements turnkey and integrated theatre solutions already supplied by Bender UK throughout the UK and Ireland. They fit seamlessly into walls and infrastructure alongside Bender CP9 touchscreen theatre control panels, ensuring a consistent look and feel within the operating room.
The flush fit glass displays are available in sizes from 21 to 55 inch, with 4K resolution in 27 inch, 32" 43" 49" and 55" sized monitors. All consoles can be configured as single or dual systems which can be linked to slave displays.
---
Key attributes include:
6mm-thick anti-reflective, anti-glare and anti-fingerprint glass screen with dust free cleaning properties that stays cleaner for longer. IP65 rated.
Separate backbox incorporating PC technology with fan-less cooling – reducing the turbulence of potentially harmful bacteria in the theatre. Low voltage boards consume less power and emit less heat.
Consoles can be pre-set for DICOM, connect seamlessly with Merivaara operating lights and a variety of medical imaging input devices and systems.
The design compliments Bender CP9 glass touchscreen control panel for theatre design symmetry.
Customised options include RFID readers barcode scanners, Wi-Fi and Bluetooth connectivity.
Comply with EM60601 and relevant healthcare OR displays standards
---
Modular in design the new PACS has a separate display screen and backbox configuration meaning any maintenance updates can be carried out away from the front panel, without compromising theatre availability or hygiene.
Ricky Barker Head of Healthcare at Bender UK said: "Our initial customers have been delighted with the performance of these new displays. Investment in HD and 4K monitors means clinical staff are presented with the sharpest quality images possible. Choosing a premium PACS console, combined with a quality installation are the main steps to delivering optimal image quality to the end-users where it matters most.
The separate back-box and front fascia is a relatively new concept for Bender theatre technology which our end-users appreciate. The two-part installation delivers extra benefits for the hospital as it is more flexible to maintain and limits the amount of theatre access required."
Bender UK offers expert guidance and technical support to define and select a suitable configuration of PACS Console and complementary CP9 theatre control panel. The healthcare team has the experience and expertise to ensure the goals of surgical teams are met, and the highest quality images are presented to clinicians to improve patient treatment and outcomes.
A comprehensive suite of clinical and power solutions for today's modern hospital requirements including AV solutions, theatre control technology, LED operating lights, operating tables, services pendants and Medical IT Power are available from Bender UK.
For more information email internalsales@bender-uk.com or call 01229 480123.