Why a one-size-fits-all approach could be the future for hospital construction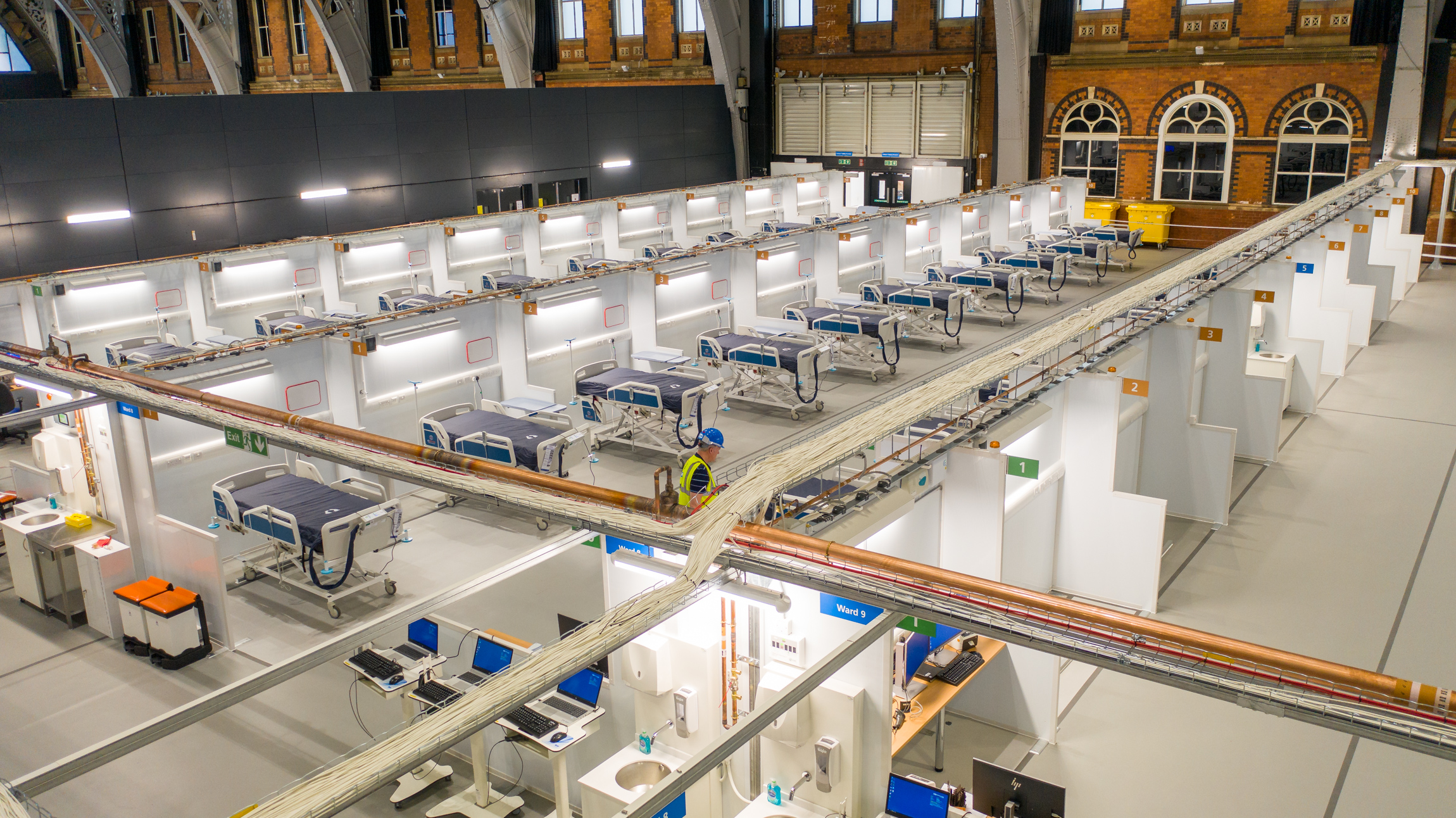 Patrick Morrison, Pre-contract Manager for healthcare at NG Bailey, explores why modern methods of construction are key to the future success of construction in hospitals.
---
The UK Government has been given the green light to build more than 40 new hospital projects across the country, the largest hospital building programme in a generation. 30 projects are expected to be built during the next decade, with six already being given the go-ahead.
This is an ambitious programme and in order to achieve it, NG Bailey and our colleagues across the sector need to re-think our approach to how we design and build new hospitals. This is where modern methods of construction (MMC) come in.
---
Why now?
The Nightingale Hospitals, developed as part of the Government's pandemic response, are just one example of where MMC comes into its own. In an unprecedented set of circumstances, NG Bailey and partners across the sector were able to construct five field hospitals across the country in just a matter of weeks.
A big part of this delivery was offsite manufacturing which enabled us to design, manufacture and install complex services infrastructure serving over 2,000 new hospital beds in less than four weeks from a standing start.
---
Creating standardised solutions
While the Nightingale hospitals may be a unique example, they demonstrate what is achievable when there is a real, immediate demand. The project highlighted that when it comes to delivering multiple large-scale facilities, there are a lot of benefits to creating a 'kit of parts'. This means standardising offsite solutions so that they can be manufactured offsite and slotted together.
Currently, traditional installation techniques are used to progress designs from concept through to the spatial coordination stage. This means that key architectural design decisions are sometimes made against outdated engineering principles, which ultimately increases time needed on site and costs for the client.
However, if we work collaboratively to agree a standardised 'kit of parts' for hospitals, we can ensure that everything produced will not only be compliant, but will also deliver best value for the project because things don't need to be re-designed every time.
At NG Bailey, one example of the 'one-size-fits-all' approach is the work we delivered at the Aberdeen Royal Infirmary's new £115 million emergency care centre.
For this project we manufactured all the corridor service modules offsite, complete with plasterboard head-partitions. This allowed all the service penetrations from the corridor into the clinical rooms to be made in a factory environment to a much higher standard of quality than could have been achieved on site.
Adopting this standardised approach meant that we significantly reduced the labour hours required on site which created a safer working environment, as fewer people were required. It also led to faster installations, with a 40 per cent reduction in hours for the primary corridor services and dry-lining installation alone, which in turn saved time on the overall project programme.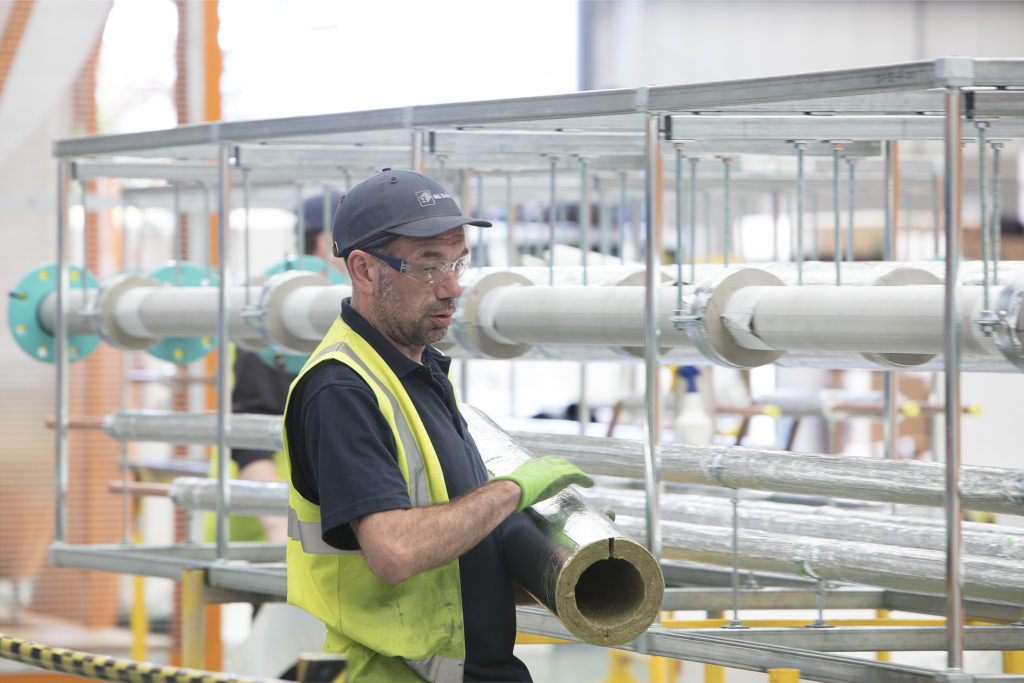 ---
Minimising disruption
The benefits of MMC are well documented, but the time, cost, quality and safety improvements which offsite manufacture bring should not be taken for granted. This is especially true for projects where the biggest challenge is ensuring minimal disruption to patients and staff on site.
Our work at the Chesterfield Royal Hospital presented challenges of working on a live hospital site. We provided new state of the art operating theatres for the hospital and were able to use a phased approach to refurbish their existing surgical department, ensuring adjacent theatres could still function while the upgrades were being made.
The hospital was updating its 40-year-old operating theatres to create cutting edge facilities. Our work on the project took several years to complete and involved some complex logistical challenges. Using our BIM, we demonstrated and coordinated new services through the existing services structures, ensuring that new services could be both efficiently installed and easily maintained.
At points we were working across the corridor from where live operations were taking place, so patient and staff safety was of paramount importance. Our use of MMC meant there were no unplanned disruptions to the daily operational functions of the hospital and patient care was maintained throughout.
---
Creating a sustainable future
While cost and time efficiencies are naturally important considerations for clients, designing more sustainable hospitals is also high on the agenda. The UK Government has committed to reaching net zero carbon by 2050. This means significantly reducing emissions and the NHS has therefore committed to reaching net zero as soon as possible.
MMC and offsite manufacturing will undoubtedly play a big role in the aim to be net zero carbon as the techniques mean there are fewer people working on site, this also means reduced numbers of people driving there daily. Offsite also reduces the number of deliveries required to site and there is less waste during production as services are designed to be more efficient and more complex modelling; factory quality control also means errors are reduced.
For the University Hospital of North Tees new energy centre, we were able to remove more than 6,000 labour hours and 180 site deliveries through our use of offsite, saving 10 tonnes of carbon. The new £14 million energy centre we designed, manufactured and installed is also more reliable and utilises modern and more efficient plant and equipment, reducing the Trust's future energy consumption and carbon footprint.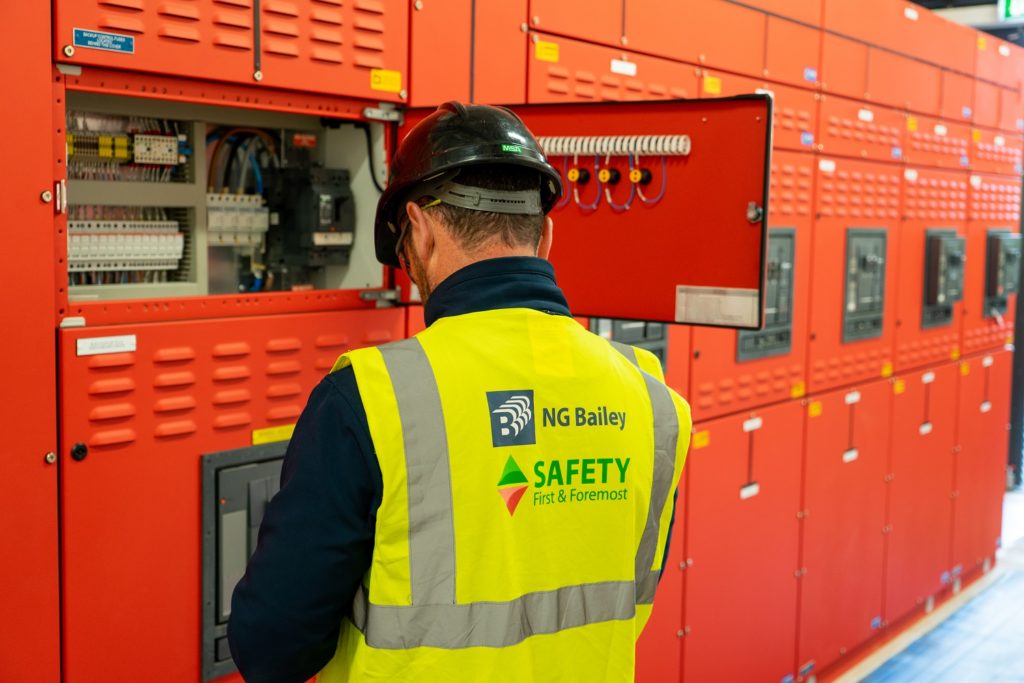 ---
Delivering hospitals over the next decade
If we are going to stand a chance of achieving the Government's ambitious proposals, on time and to budget, we need to be thinking seriously about an organised, standardised 'kit of parts' approach.
Currently we do not know how long the pandemic will have an impact on our daily lives for, but what is certain is that this global pandemic will have a lasting legacy in how we approach new hospital builds. We are already starting to see a demand for more flexible space which could accommodate a future pandemic. There is a greater onus being placed on critical care and any new major hospital will need to have a strategy and resources in place to become key care centres for a future outbreak.
Hospitals may need to have facilities nearby which could be turned into an extension to deliver further care. A more robust and increased services infrastructure is another key consideration as some patients with Covid-19 require specific care, which means there is a much greater demand placed on services such as medical gases and ventilation systems.
It's clear that MMC will continue to play a significant part in the future of the healthcare sector and with the Government committed to adopting it for the future hospitals programme, as an industry we need to think seriously about adopting a forward-looking 'kits of parts' approach. At NG Bailey we will continue to pioneer modern methods of construction, using our technical expertise to help meet the demand for high-quality hospitals.