All-female winners at Our Health Heroes Awards 2022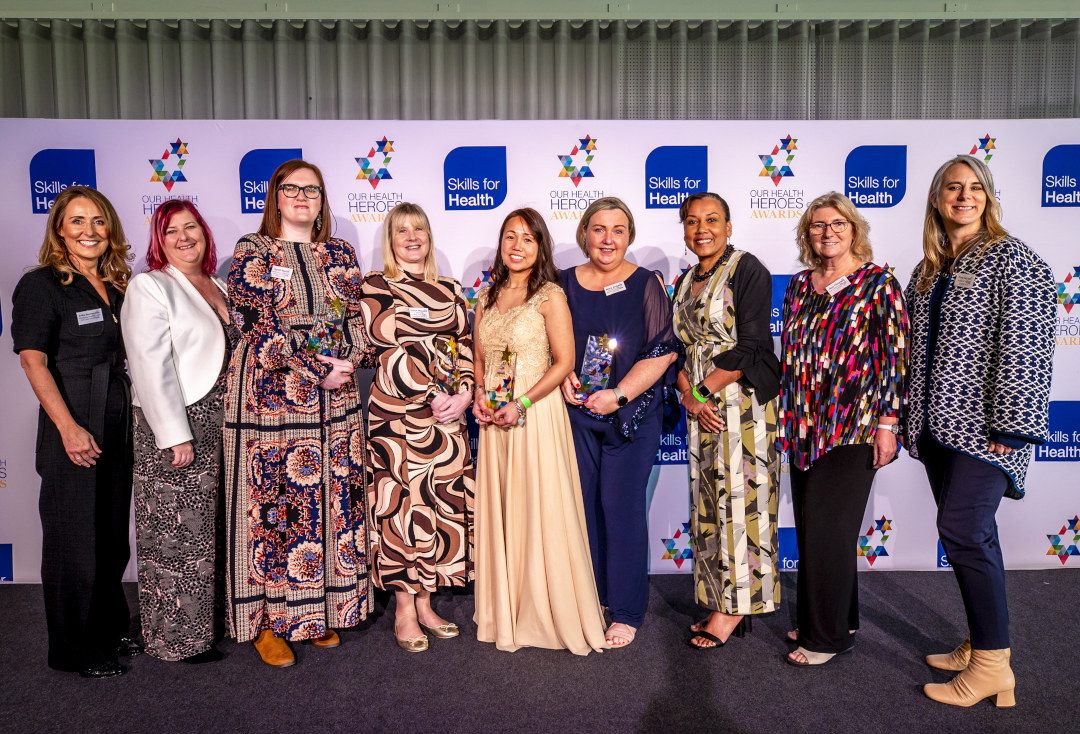 For the first time ever, an all-female group of healthcare workers has made a clean sweep of the individual award categories at the sixth-annual Our Health Heroes Awards, delivered by Skills for Health.
Sharon Maywood, Sarah Martin, Mary Jackson and Ediscyll Lorusso were crowned this year's winners at a glittering awards ceremony held in London, which was also attended by the Secretary of State for Health Sajid Javid.
With more than 3000 votes between them, the all-female health care heroes were named Apprentice of the Year, Operational Support Worker of the Year, Clinical Support Worker of the Year and Lifetime Achievement award winners respectively, despite stiff national competition.
Peterborough City Hospital Nurse Sharon Maywood beat breast cancer to complete her studies and become a fully qualified registered nurse in 2020. She comments:
"To be recognised and celebrated is very humbling. We've all worked hard the last couple of years, but it always nice to be recognised for the hard work you put in."
44-year-old St George's Hospital nurse Ediscyll Lorusso secured nearly 60% of the vote – winning the public over with her impressive track record of achievement since migrating from the Philippines. The Gastroenterology Specialist said:
"At the age of 44 I'm very honoured just to be amongst the great nominees, let alone win. I'm really thankful and grateful to receive this award. I'd like to express my indebtedness and appreciation to my friends, family and colleagues who helped me throughout this journey."
In addition to the individual award winners, healthcare teams from across the UK were honoured for their tireless hard work and dedication to improving patient care and saving lives.
Among them was Oxford University Hospitals NHS Foundation Trust (OUH), who scooped the 'most promising OD & people' award for their innovative approach to employee wellbeing during the pandemic. Jo Phillips, Director of Culture and Leadership at OUH, said:
"I'm so proud to be here today to receive this award on behalf of the truly inspirational project team. The team have demonstrated such passion, dedication and flexibility in their collaborative approach to make a positive difference to the wellbeing of our people."
Speaking at the event, Secretary of State for Health, Rt Hon Sajid Javid MP, was full of praise for the finalists and all our health care heroes. He said to the audience: "Today's ceremony offers a brilliant way to recognise people from all parts of health and care, including those people who don't always get the limelight that they deserve. You are here because you show health and care at its best; just as health and care shows this country at its best. Thank you so much. The nation is in your debt."
Our Health Heroes Awards is sponsored by Health Education England, UNISON, NHS Employers, SFJ Awards, Bevan Brittan and Chamberlain Dunn. To watch a livestream recording of the event visit: https://www.skillsforhealth.org.uk/about-us/our-health-heroes-awards/