Efficient water delivery is vital for healthcare climate resilience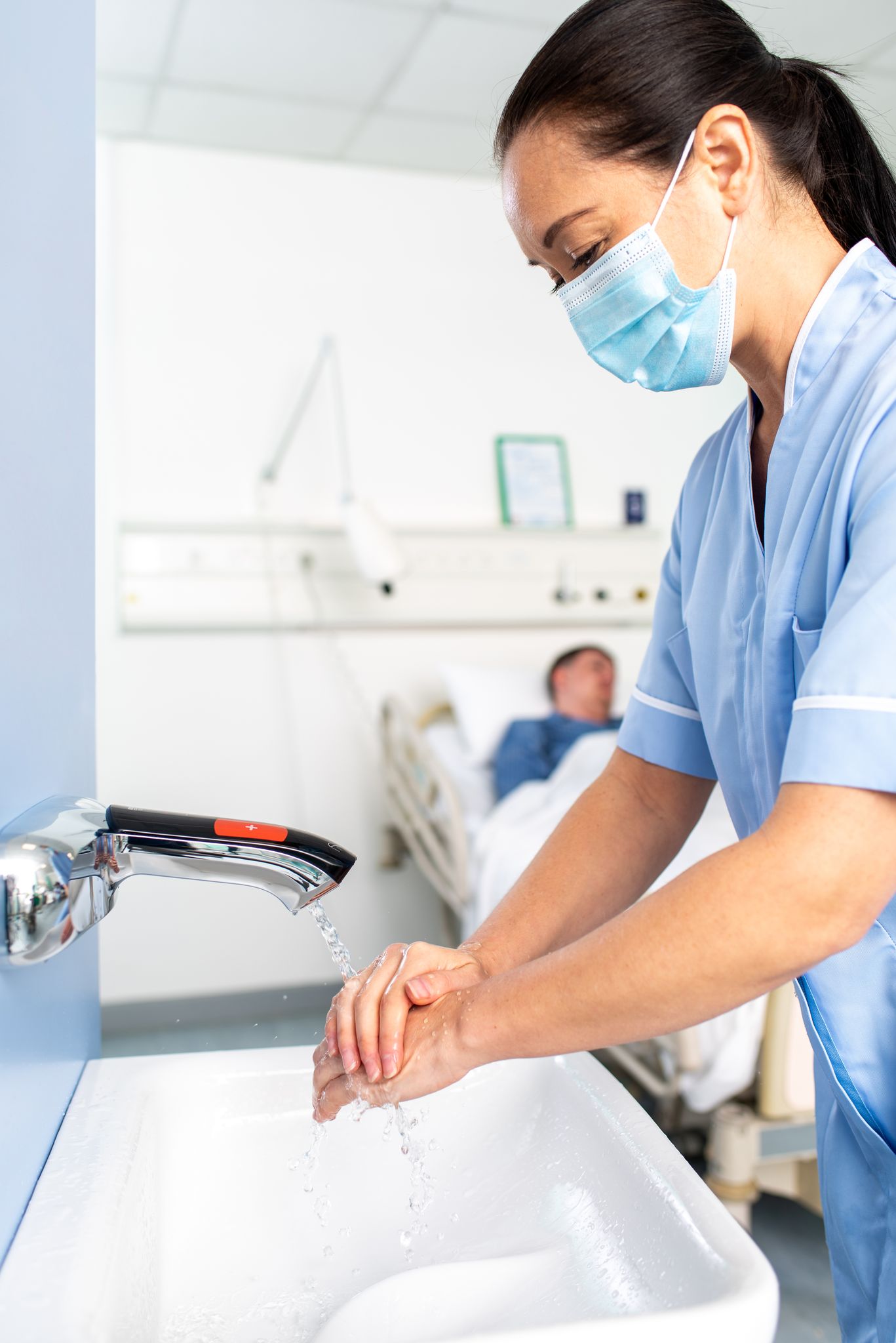 Saving water and conserving energy while keeping patients and professionals safe is a crucial aspect of building climate-resilient and low-carbon sustainable health systems. Specialist water control providers such as Rada are working towards this ambition.
---
Up and down the country, the Government is modernising hospital buildings and investing in new equipment and technology to improve patient care. At the same time, the health service is facing enormous pressures, from Covid-19 and the elective backlog to climate change. We are also rapidly reaching the limit at which water and other energy resources can be sustainably delivered to healthcare settings – and demand must be managed. Prioritising water delivery systems that improve water and energy efficiency sits at the heart of these challenges.
We all have a duty to minimise unnecessary water usage, which is why we at Rada are constantly reimagining ways to save water and conserve energy. Part of the Kohler Company, Rada has been at the forefront of designing and manufacturing water controls engineered to improve water and energy efficiency for more than 80 years. We are proud to have helped many hospitals across the country introduce smarter ways of safely and sustainably managing water usage through our Intelligent Care range.
Intelligent Care is the first tap of its kind to support the NHS and other healthcare providers to meet some of our greatest health priorities – including reducing healthcare-associated infections and tackling climate change. Replacing outmoded systems with Intelligent Care can transform water management in healthcare settings, delivering improved outcomes for patients and healthcare professionals and supporting the NHS to meet its ambition to become the first net-zero health service.
---
"If NHS estates are to play their full role in tackling climate change and water scarcity, innovation must be embraced in water delivery" David Merriman, UK National Sales Manager, Rada
---
Minimising water and energy usage in healthcare settings
Water delivery solutions are at the frontline of patient care in healthcare environments across the UK – but the increasing pressures on water supply require a fresh approach. The NHS is one of the UK's largest consumers of water, using approximately 50 billion cubic litres of water per year.i When delivering patient care, hospital staff use 10 times more water than the average office worker, at an annual cost of £60 million.ii The NHS estate also makes up 15 per cent of the NHS total carbon emissions profileiii. If NHS estates are to play their full role in tackling climate change and water scarcity, innovation must be embraced in water delivery.
The 2021 policy paper Delivering a net zero NHS recognised the importance of improving water management in healthcare settings. Intelligent Care can support such settings to better manage their water usage by pre-programming temperature run times to the optimum length. This minimises water and energy usage caused by overuse or waiting for water to reach the right temperature. This thermostatic technology delivers the critical added benefit of keeping users safe by ensuring water is delivered at a safe and reliable temperature, securing better handwashing outcomes and reducing the risk of scalding.
Significant water savings can also be realised by automating duty flushing processes. Intelligent Care provides the valuable option of only duty flushing taps that have not been used, meaning water wastage and opportunities for human error can be minimised while helping to ensure that water systems are free from harmful bacteria.
---
Digitalising healthcare estates and facilities
The Government's commitment to build 48 new hospitals by 2030 represents a major opportunity to transform NHS infrastructure and reduce the environmental impact of healthcare systems. Central to this is embedding innovative digital technology in the NHS and ensuring healthcare settings are as connected and efficient as possible. For this to happen, the innovation that has been successfully integrated in patient care must be applied to all aspects of the NHS estate, including the critical area of water delivery.
Amid the current push to embed digital solutions throughout the NHS, water delivery systems have the potential to play an important role in supporting healthcare professionals to improve environmental and financial efficiency across estates and facilities and keep patients protected from infections. To support this, Intelligent Care has a sensor-operated, non-touch control, which reduces the spread of water-borne pathogens, encourages users to comply with hand-hygiene procedures and minimises water wastage. This directly supports the NHS in its ambition to use innovative technologies to improve patient outcomes with a reduced impact on the climate.
By digitising and automating compliance processes, Intelligent Care also makes it easier and quicker to monitor water and energy usage, which is essential for estates to complete mandatory sustainability reporting. This is crucial for healthcare settings looking to meet sustainability targets and drive year on year reductions in water and energy usage, while freeing up staff time to spend delivering the best patient care and driving resource efficiency in other areas.
---
Now is the time to act
It has never been more importation to reduce the environmental impact of healthcare systems. This was recognised during COP26, when the Government and 40 other nations signed up to the COP26 Health Programme and pledged to build climate-resilient and low-carbon sustainable health systems. To do so successfully, it is vital that the safe and sustainable delivery of water is prioritised. Through our Intelligent Care range, we are uniquely placed to help our partners shape the future of healthcare design, delivering long-term sustainability for hospitals, the health service and the overall health of the country.