Golden Jubilee National Hospital's first heart transplant patient marks her 10th Anniversary of the Gift of Life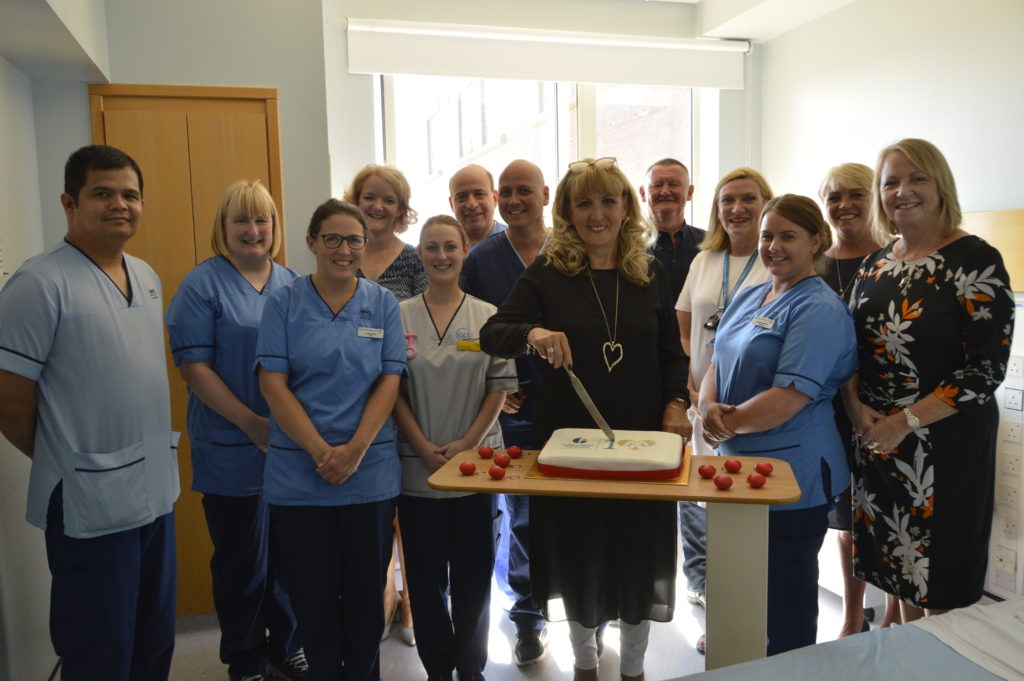 A former patient made an emotional return to the Golden Jubilee National Hospital this week to help staff celebrate a very special anniversary.
Georgina Burt, from Falkirk, was the first patient to undergo a heart transplant at the Golden Jubilee National Hospital back in July 2008. She returns every year to personally thank staff who saved her life.
This year it was an extra special occasion because it's both the 10th anniversary of her transplant and of the Royal Opening of the Heart and Lung Service at the Golden Jubilee National Hospital.
On 3 July 2008, the service was officially opened by Her Majesty The Queen, accompanied by His Royal Highness The Duke of Edinburgh as part of NHSScotland's 60th Anniversary celebrations.
And, 10 years to the day it officially opened, the first recipient of a life-saving heart transplant was back to greet nursing staff and help mark the 10th Anniversary of the Heart and Lung Service- and the 70th Anniversary of NHSScotland.
Georgina's transplant was necessary because she had been suffering for a number of years from Cardiomyopathy – a condition which causes the heart muscle to become enlarged, thickened or ridged.
When her condition deteriorated rapidly, she was transferred to the Golden Jubilee Hospital where she was maintained on circulatory support until a suitable heart became available. At the time she was only given a 10 per cent chance of survival.
And it wasn't until she was well on the road to recovery that Georgina found out that the transplant was the first ever carried out in the Golden Jubilee facility.
Georgina recalls: "I was becoming more breathless and couldn't be bothered with anything. Once I got up and put my make up on, I'd convince myself I was fine, but I wasn't.
"I might have to take anti-rejection medication every day and go back to the hospital regularly for check-ups, but I wake up every day and I'm thankful for what everyone has done for me."
Her visit to the hospital also fell on the week of the 70th Anniversary of the NHS, an organisation Georgina is indebted to for not only saving her life but prolonging it.
She added: "I will never forget that another family lost a loved one to allow me to have a second chance at life; I'm always emotional when I think of my donor and their family."
She added: "When I come back to the Golden Jubilee National Hospital it's like coming to visit my family. They're just perfect!"
Jill Young, Chief Executive of the Golden Jubilee Foundation, said: "Georgina's visit on the 10th Anniversary of the official opening of our Heart and Lung Services illustrates the importance of the Golden Jubilee National Hospital within the NHS in Scotland and the difference it makes to thousands of patients and families every day of every year.
"For the last 10 years we have been home to the regional and national heart and lung services, meaning that anyone who needs a bypass, heart valve, or complex lung surgery will be treated here.
"In addition, we have a number of national services based at the Golden Jubilee Foundation as well as Scotland's heart transplant unit.
"We were delighted to welcome back Georgina 10 years after her transplant and thrilled to see her again."