Two-fifths of private hospitals 'require improvement' on safety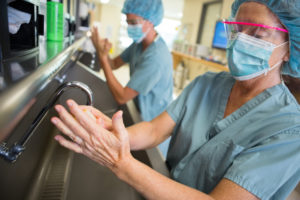 Just over 40 per cent of England's private sector acute hospitals need to improve their processes for ensuring that the care they provide is safe, according to the Care Quality Commission.
The regulator said that while the majority of the 206 hospitals it inspected provide high quality care for their patients, 41% were rated as 'requires improvement' in regard to their safety processes.
This needs to be remedied through the implementation of robust governance procedures, it added.
The watchdog's annual report of independent acute hospitals, published on Wednesday, also revealed that as of January, 62% of those inspected were given an overall rating of 'good', while a further 8% were outstanding.
CQC inspections focus on five key areas to rate a hospital's performance. These are how safe, caring, effective and well-led they are, alongside how responsive each provider is to people's needs.
The analysis found that most patients have 'prompt access' to effective treatment and experience personalised care from highly skilled and caring staff. Of the hospitals inspected, 89% were rated as 'good' on the measure of how caring their services were, while 11% were found to be 'outstanding' in this area.
However, when examining the safety of care, inspectors found that a lack formalised governance procedures meant that hospitals were not effectively monitoring the work of consultants operating under 'practice privileges'. This is where a consultant works in a hospital but is not a direct employee.
Checks to ensure clinicians were only working within their agreed scope of practice were not always taking place. This meant that there was a risk that poor practices were not always picked up or challenged correctly.
Inspectors also saw that safety procedures were not always fully embedded – for example, where surgeons were not following every step of the World Health Organisation surgical checklist.
As many independent hospitals provide services that are either partly or completely funded by the NHS, they are playing an increasingly key role in delivering healthcare services across England.
Responding to the CQC's analysis, the NHS Partners Network clinical director Dr Howard Freeman said: "Where the CQC has identified areas for further improvement in independent hospitals it is encouraging that it has found that 'providers have been quick to respond to inspection findings', with over half of the independent acute hospitals re-inspected improving their rating."
The full report can be viewed here