Millions of discarded PPE items to be recycled under new partnership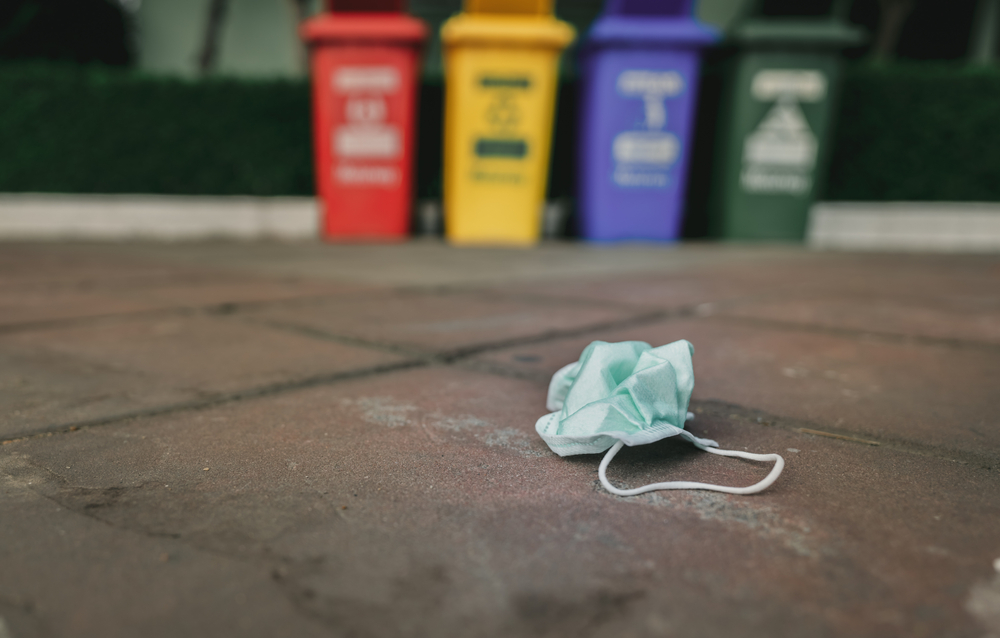 Millions of items of PPE discarded in hospitals could be recycled into new products for the NHS, under a new partnership being launched by Imperial College Healthcare and the PPE manufacturer Globus Group.
The partnership will explore the possibility of recycling discarded products such as facemasks, operating theatre clogs, plastic bed pans, medical scrubs and prosthetic finger joints, and will be hoped to offset the huge amounts of waste produced by the NHS each year.
---
A waste problem
6 billion items of PPE (equivalent to 28,000 tonnes), including around 1 billion masks, are distributed in the NHS for use by doctors, nurses and hospital staff in the UK every year, the majority of which is not recycled.
Hospitals' plastic waste has increased dramatically during the Covid-19 pandemic as PPE usage has soared. At Imperial College Healthcare alone, over 9.8 million Type IIR surgical face masks were used across a 13-month period during the pandemic.
Imperial College Healthcare and Globus will are set to explore solutions to this problem by bringing together the Trust's healthcare expertise and resources with Globus' experience in manufacturing and innovation.
---
A green solution?
This new collaboration, which will run for 18 months, will see the Trust and Globus develop a new pilot scheme to explore how to efficiently collect used single-use plastic facemasks across the Trust's five hospital sites. It will also evaluate the potential for the plastic materials to then be processed and the raw materials recycled and repurposed into new products for use in the NHS.
The project is co-funded by Imperial Health Charity, which provides grant funding to support initiatives at the Trust, and Globus Group, with the long-term aspiration of scaling up circular economy initiatives across the Trust's hospitals and eventually rolling it out to tackle waste across the rest of the NHS.
Commenting on the initiative, Dr Bob Klaber, Director of Strategy, Research & Innovation at Imperial College Healthcare NHS Trust said that "this partnership with Globus Group is one of the first to address the growing issue of plastic waste in hospitals across the NHS, arising from the Covid-19 pandemic. With increased PPE usage becoming the new normal in hospital settings, managing waste is a problem that isn't going away. It's more important than ever that across healthcare we're doing everything we can to reduce our environmental impact.
"The project will explore the feasibility of efficiently collecting and recycling masks used in our hospitals. If the proof of concept can be demonstrated and shown to be effective then the model could be adopted more widely."
Globus Group CEO Haraldur Agustsson said that "as a longstanding and trusted manufacturing partner to the NHS, we're standing shoulder-to-shoulder with colleagues to deliver the sustainable, net zero future we all want to see. Sustainability, environmentally green materials and recycling projects to deliver a circular economy approach sit at the heart of Globus' future strategy and we're proud to be working with Imperial on this project."
The new partnership is the latest step in both organisations' commitment to delivering sustainable waste reduction. Imperial College Healthcare launched its Green Plan last year which set ambitious targets to reduce waste and achieve net zero carbon in line with the wider NHS Net Zero 2045 target.
A well-established manufacturer of a variety of PPE, Globus has produced up to one billion medical masks and 300 million FFP respirators per year for healthcare trusts across the UK since the onset of the Covid-19 pandemic.
Globus Group announced in January that it has committed to reaching net zero carbon emissions by 2027. As part of this commitment, the company will ensure all of its European-made products launched after 2024 are net zero and will develop and implement a robust product life cycle management process with more than half of its customers.