Mitigating a deadly crisis through innovation and integration
Joe Conte PhD, Executive Director of the Staten Island Performing Provider System, writes for Hospital Times on how the opioid phenomenon has evolved in the US and ways in which the challenge has been effectively met by an innovative provider system.
---
In the US today, two million individuals are dependent on prescription opioids. In just the last two years over 100,000 people have died from an overdose, a rate six times higher than in 1999. That equates to 130 deaths every day.
Most of the increases in overdose deaths over the last three years involve heroin and are related to the surge in the mixing of heroin with illicit fentanyl. The pressure on Emergency Rooms (A&Es) and ambulance and police services are extraordinary, as are the associated costs.
According to the Centers for Disease Control, from 1999 to 2017, a staggering 700,000 people died from a drug overdose, with 70 per cent associated with opioid misuse. The trends listed below reveal a shocking trajectory of the problem.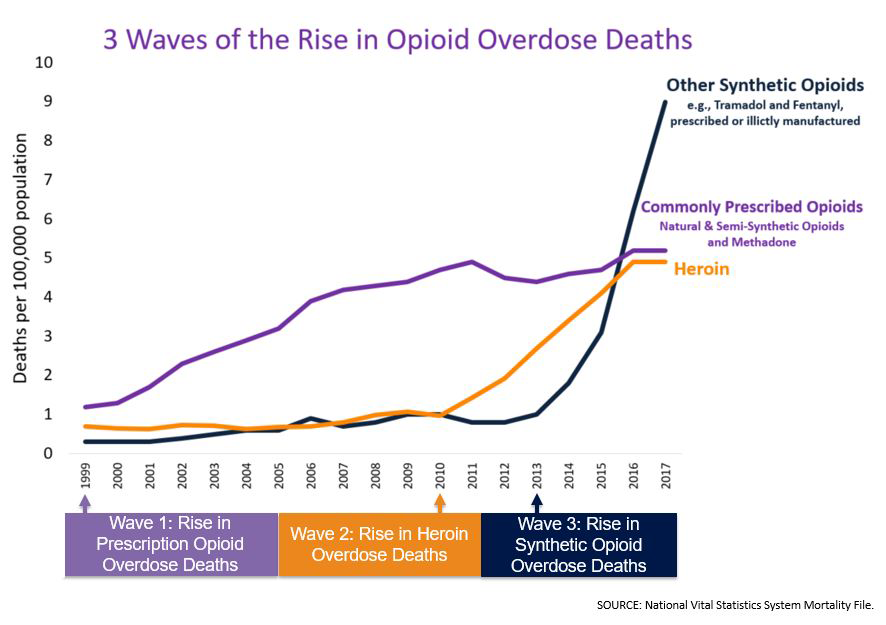 ---
The evolution of a crisis
This crisis was fuelled by two major factors. The first was a regulatory mandate that resulted in a practice change opening the door to the other, an insidious effort by big pharma to capitalise on these changes by marketing seemingly more addictive prescription opioids.
The regulatory change that impacted clinical practice involved pain being identified as a "fifth" vital sign in 1999. This change was initiated by an accrediting body that oversees all hospital and institutional health care providers in the US. The requirement for compliance with the agency standards accelerated the acceptance of this concept, which although humane in principle, was misguided in implementation and naïve in terms of the associated potential addiction risk. It could be said, therefore, that this substance abuse crisis was caused by the healthcare industry itself.
The need to treat pain rapidly opened the door for the commercialisation of new opioid formulations and intense marketing efforts to increase profits. A study recently published in the Journal of the American Medical Association (JAMA), showed that pharma companies spent $39.7 million marketing opioid medications to 67,507 doctors in the US between August 2013 and December 2015. These drugs are now at the centre of dozens of lawsuits against manufacturers and distributors.
The challenge faced by healthcare providers responding to this crisis requires a comprehensive and integrated strategy using every lever in the medical, behavioural, technological, social and governmental realms. This was the genesis for establishing the Staten Island Performing Provider System (SI PPS), an approach that has gained national recognition in the US and beyond.
---
An innovative, integrated approach
The scourge of opioid misuse has hit Staten Island harder than anywhere else in New York City, a veritable hotspot in the addiction epidemic. Between 2013 and 2016, Staten Island's rate of 23.5 opioid deaths per 100,000 was one of the highest of the five boroughs in New York State according to the state Department of Health. This is the backdrop for the emergence of SI PPS as a national model for tackling this addiction epidemic.
The SI PPS is an integrated network of over 75 providers formed under the auspices of the Medicaid Redesign Program.  A system of care framework, illustrated below, has been applied across multiple domains including criminal justice, medical, behavioural and social service organisations, workforce, higher education and local government with a view to mobilising all sectors to confront the opioid epidemic.
The SI PPS coalition-building leadership provides the support necessary to implement operational strategies identifying gaps in resource, programmes and data while focusing on assets in the community and transforming information into action.
The underpinning of the model is a sophisticated business intelligence platform. The system ingests data from multiple sources and targets opportunities to intervene and create innovative programmes that saturate high risk locations with services, substance use specialists, OD reversal kits, care coordination and targeting of providers with high risk patterns of opioid prescribing.
These initiatives have lowered our mortality rates from being the highest of the five boroughs of New York City to the lowest within two years. Data visualisation allows the PPS to identify areas of acute overdose concentration and origins of the highest number of ambulance calls. By April 2019, 1,551 overdose saves were made by administering naloxone.
The expansion of Medication Assisted Treatment (MAT) and detailing to increase the number of waivered providers that can treat addicted individuals in GP offices has resulted in nearly quadrupling the number of patients actively engaged in MAT programmes annually.
Today, over 75 individuals who are experienced Peer Recovery Coaches have been trained, certified and deployed in behavioural health, medical and criminal justice settings. These individuals have in turn successfully engaged thousands of patients in recovery. It is estimated that over $60 million dollars in cost savings have accrued from these multiple efforts and with continued scaling the total can reach multiples of that figure.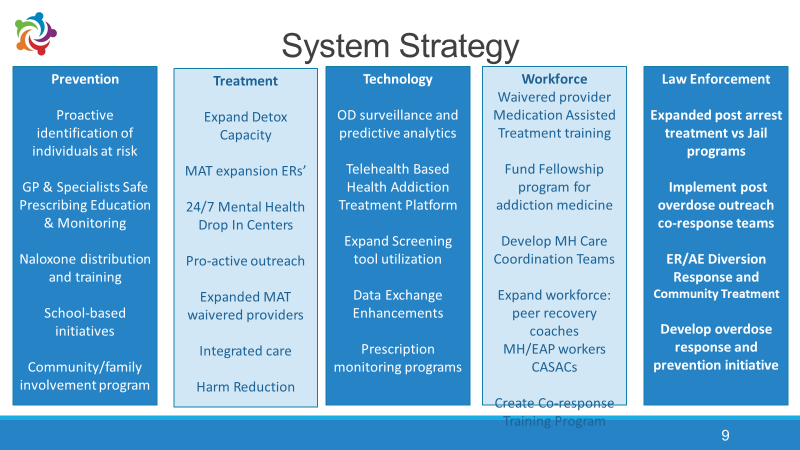 Lifesaving outcomes
The initiatives of the coordinated System Strategy are helping drive reductions in overdose deaths and preventable hospitalisations for behavioural health conditions, improving access to Medication Assisted Treatment in all settings. By using sophisticated analytics, including data on opioid prescribing patterns, overdose saves in the field and hospital use is declining and recovery engagement is on the rise.
Workforce transformation including recovery peers and criminal justice innovation has added an important dimension to this effort. Our website focused on the opioid/addiction initiative www.sidrugprevention.nyc is a community resource to patients and professionals.
Finally, a halo effect has resulted in a 62 per cent drop in Potentially Preventable Emergency Room Visits (PPV) and a 58 per cent reduction in Behavioural Health-Related Emergency Room Visits (PPV BH). At present, partners in multiple cities throughout the US have entered a collaborative to scale these efforts, identify common best practices and carefully monitor results.
The opioid misuse crisis that has emerged in the US is a fascinating case study in the medical, societal and commercial aspects of how pain and addiction intertwined to create a challenge of epic proportions.
While a crisis of this scale has not yet manifested itself in the UK, opioid prescription and therefore dependency is on the rise at an alarming pace. The NHS will need to work in conjunction with all key stakeholders in public health. The story of SI PPS provides essential lessons in developing this comprehensive and effective integrated approach.
---
For further information about this innovative initiative, please click here.