NHS Natural Health School wins 2018 Wellbeing Charity of the Year award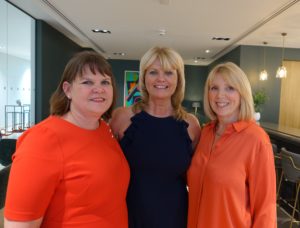 The Janey Loves Platimum awards has chosen the NHS Natural Health School – part of Harrogate and District NHS Foundation Trust – as the standard bearer for health and wellbeing across the UK.
The School, based out of the Sir Robert Ogden Macmillan Cancer Centre at Harrogate District Hospital, was announced as a winner at the highly anticipated GO! Organic Festival, Battersea Park, London, on Saturday 8 September 2018.
The Janey Loves Platinum Awards celebrates natural health and wellbeing and is organised by Janey Lee Grace, the bestselling author and BBC radio presenter who specializes in organic products and natural beauty.
Winners of the award are selected after extensive 'real life' testing by a judging panel of respected experts. The Wellbeing Charity of the Year Award celebrates the work of charities to provide natural treatments and therapies, this offers an exciting opportunity to raise awareness of the innovative work being conducted at the school.
The NHS Natural Health School is the first of its kind in the UK, until now there has never been a NHS-approved complementary therapies school. Also offered here are ITEC Level 3 Diploma training courses in Aromatherapy, Reflexology and Holistic Massage as well as a large range of short courses and professional development for therapists wishing to treat cancer and palliative care patients.
Sarah Grant, Health and Wellbeing Manager at the Sir Robert Ogden Macmillan Centre, said: "We are delighted to receive this fantastic award for our NHS Natural Health School. It is wonderful that the School is being recognised on a national stage.
"Thank you to Janey Lee Grace and everyone involved in the Janey Loves Platinum Awards, for recognising our commitment to raising industry standards and enabling the development of the next generation of complementary therapists.
"This new venture has been funded through charitable giving and we are sincerely grateful to the generosity of those who have and continue to support the NHS Natural Health School."
The NHS Natural Health School is currently taking bookings for its NHS Certificate in Complementary Therapy. This course offers a Cancer and Palliative Care pathway only, with further pathways to commence in March 2019. More information, including entry requirements and course content can be found at www.nhsnaturalhealthschool.co.uk, where information on upcoming short courses can also be found.