Portsmouth Hospitals University Trust expands community breast screening capacity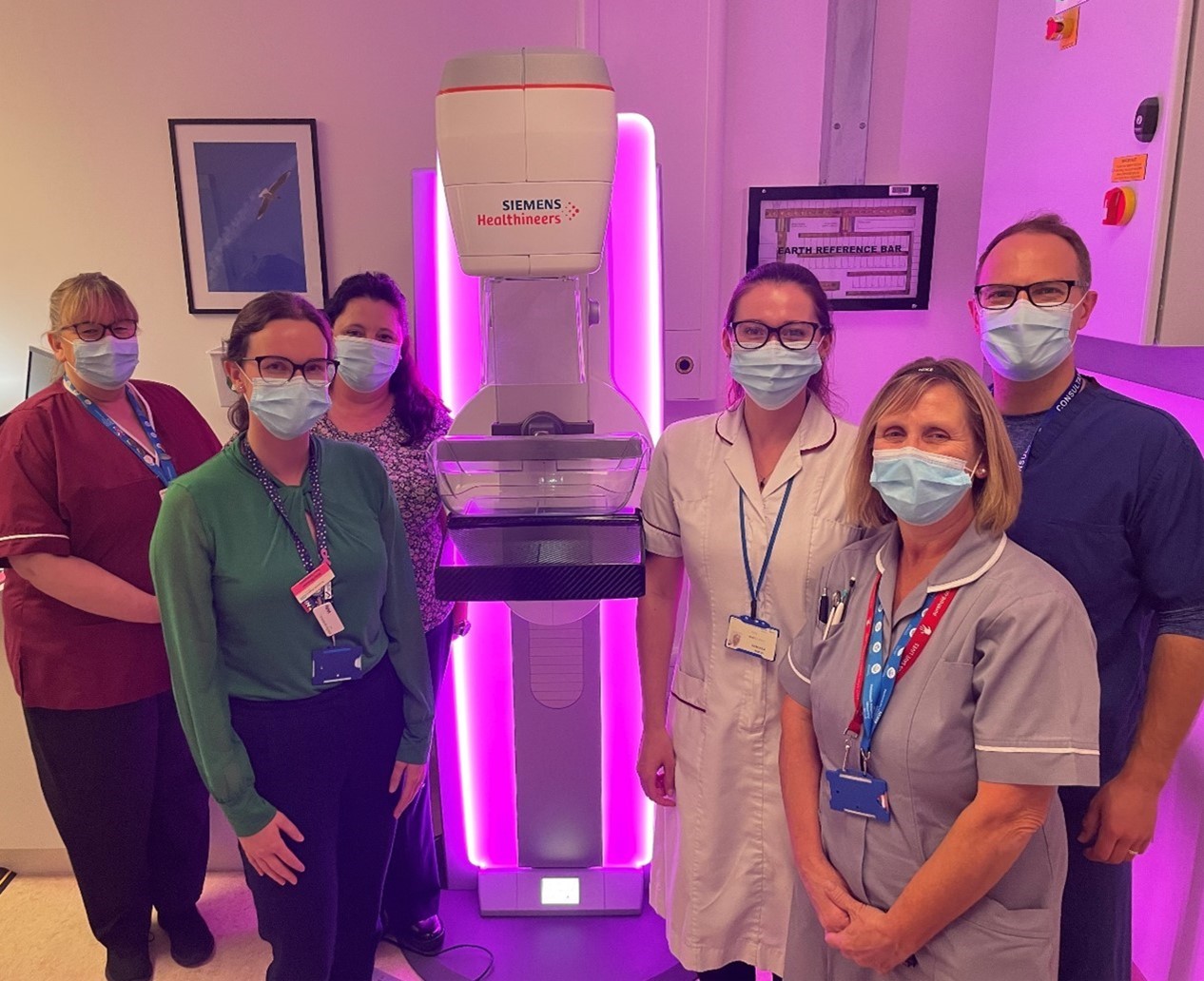 Five new mammography systems have been installed across community and hospital settings in the Portsmouth area to provide extra breast screening capacity post-Covid.
Image caption: [Left to right] Clare Fouracre – Senior Radiographer at Portsmouth Hospitals University NHS Trust, Victoria Bremner – Breast Superintendent Radiographer, Shelley Mitchell – Mammography Product Specialist at Siemens Healthineers, Rebecca Church – Consultant Mammographer, Yvette Vokes – Radiographic Departmental Assistant, Dr Robert Dickens – Consultant Radiologist with the MAMMOMAT Revelation at Portsmouth Hospitals University NHS Trust.
---
Portsmouth Hospitals University NHS Trust has expanded its symptomatic and breast screening services with the installation of five MAMMOMAT Revelation mammography systems from Siemens Healthineers across community and hospital settings.
Covering Queen Alexandra Hospital and Oak Park Community Clinic, the Trust now benefits from the addition of new mammography systems, equipped with features designed to overcome diagnostic challenges, enabling accessible screening for all demographics of women within the community with the addition of extra-time clinics at static sites for those patients with restricted movement.
Following the installation of the MAMMOMAT Revelation mammography systems, Portsmouth Hospitals University NHS Trust are now able to offer increased capacity for extended time appointments during clinics at their new static site for clients in wheelchairs or with restricted movement. The MAMMOMAT Revelation is designed to perform mammography on most patient demographics, with features including a wide range of vertical movement, a thin detector cover and a small footprint.
These design modifications enable mammographers the ease and confidence to perform mammograms on patients and clients at static sites based within community settings. These community settings are hoping to see an increase in patient/client appointment uptake due to the added convenience.
The MAMMOMAT Revelation from Siemens Healthineers allows mammographers to see more at low dose, reducing unnecessary radiation exposure for breast tissue in routine breast screening patients. With plans to achieve up to 48 appointments per day at their community site, the systems will be used for both non-symptomatic and symptomatic patients, as the Trust works on recovering the breast service post-Covid.
Equipped with 50° Wide-Angle Tomosynthesis, the MAMMOMAT Revelation overcomes challenges presented when imaging breast tissue and is providing high and consistent image quality at Portsmouth Hospitals University NHS Trust. The 50° Wide-Angle Tomosynthesis has the highest depth resolution and mass detectability on the market, which allows the breast tissue to be imaged with minimal overlap.1,2 The tomosynthesis images allow for improved clinical decision-making regarding the further investigation or care for patients at the Trust.
"The mammography team at Portsmouth Hospitals University NHS Trust has quickly taken to the MAMMOMAT Revelation due to its user-friendly interface, reliability and image quality," states Victoria Bremner, Breast Superintendent Radiographer at Portsmouth Hospitals University NHS Trust. "We're eager to see the impact that the system's features will have on patient uptake in community settings due to the added convenience of extra-time clinics for patients in wheelchairs or with restricted movement."
"Improving accessibility to breast screening services in local communities for women is vital in the early diagnosis of breast cancer and in supporting better patient outcomes," states Joanne Barry, Business Manager for X-ray Products at Siemens Healthineers. "We're pleased to see that the features of the MAMMOMAT Revelation have had productivity benefits, enabling the operation of extra-time clinics for patients with restricted movement in community settings and improving patient experiences."
---
1 Maldera et al. (2016): Digital breast tomosynthesis: Dose and image quality assessment. Physica Medica, pp. 1-12
2 Scaduto et al. (2018) Impact of angular range of digital breast tomosynthesis on mass detection in dense breasts," Proc. SPIE 10718, 14th International Workshop on Breast Imaging (IWBI 2018), 107181V (6 July 2018); doi: 10.1117/12.2318243