Purple AI: Creating Efficiencies with 'Intelligent Healthcare'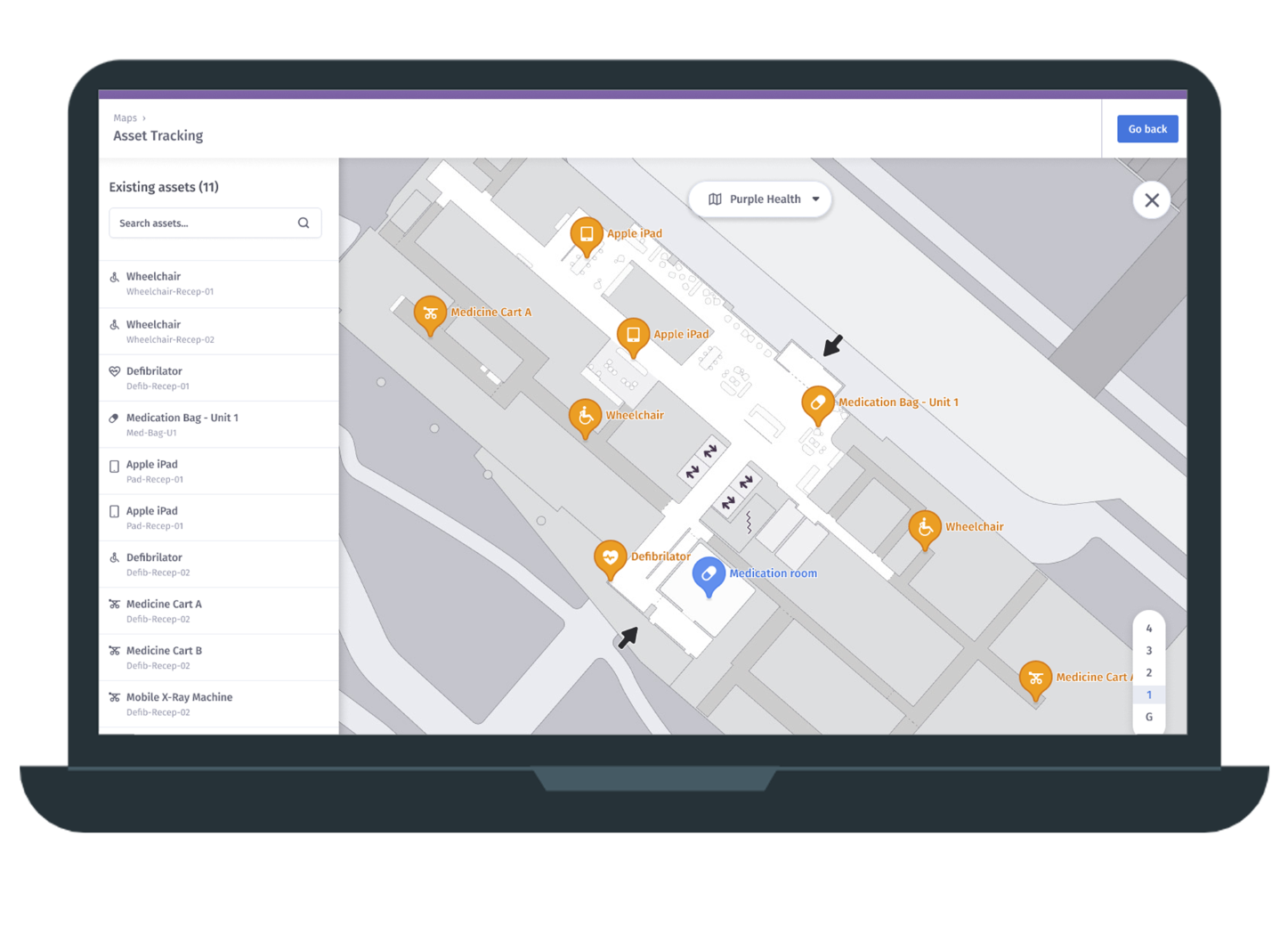 Manchester-based technology company, Purple, is playing a vital role in the digitalisation of the NHS and wider healthcare system with its innovative 'Intelligent Healthcare' solution. Gavin Wheeldon, Chief Executive Officer, discusses the smart technology so desperately needed to create efficiencies.
---
2022 was undoubtedly another year of weathering the storm, as political instability, the cost-of-living crisis and Russia's invasion of Ukraine delayed the UK's post-pandemic recovery.
But for the nation's NHS and healthcare systems, the storm has been raging for some time, and will continue until drastic action is taken. Spending on healthcare has increased, with core sums expected to reach £176.4 billion for 2023/25 and many are calling for extra funding to be released.
A big injection of cash, however, looks unlikely. Budgets across the UK came under scrutiny as 2022 drew to a close, with tax hikes for all and significant cutbacks due. The government has promised to protect the NHS from such cuts and this is welcome news to many within the healthcare sector, but this alone won't save it.
---
The tech making a difference
What the healthcare sector so desperately needs is to free up budget without cutting crucial corners – and at Purple we do just that by using intelligent technology to create significant efficiencies for healthcare institutions.
While it might sound complex, Purple's smart solutions are actually incredibly simple and deliver ROI and real, meaningful value by increasing day-to-day productivity, reducing loss or misplacement of product, and improving patient experience.
Purple's new service app, 'Intelligent Healthcare', is proudly at the forefront of digital innovations in the healthcare industry. With vital services ranging from real-time location for healthcare employees, digital wayfinding for patients and asset tracking on medicine and products, Intelligent Healthcare provides the most comprehensive, flexible and proven solutions. Our vital tech allows healthcare providers of all sizes to easily adapt their existing tech to meet the growing needs of their patients and speed up processes in the meantime.
---
Creating efficiencies in healthcare
According to the UK government, increasing employee productivity by just five minutes could save the NHS £280 million a year, yet each nurse spends the equivalent of 40 hours per month searching for equipment. Bridging this gap is our digital wayfinding tech. Combined with the wider Intelligent Healthcare solution, this asset tracking and navigation tool not only allows health experts to monitor and track exact locations of vital equipment, but also provides direct navigation routes to ensure swift and efficient access to these items at all times.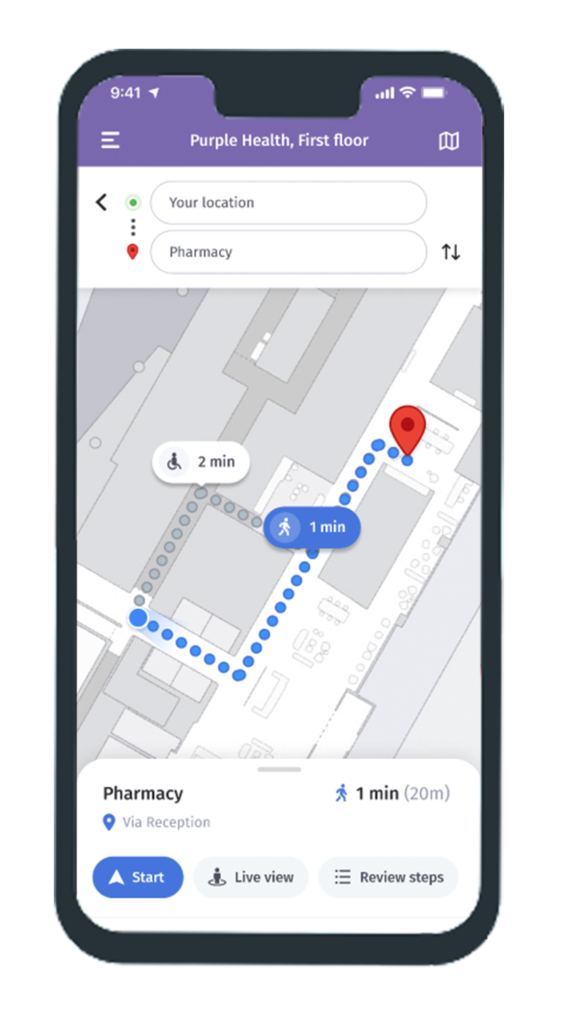 Alleviating unnecessary stress for employees will be crucial for the sector to recruit and retain staff, whilst enabling employees to offer the very best service, achieve job satisfaction and meet rising demands.
---
A smooth transition for nurses
In September 2022, NHS nurse vacancies reached an all-time high of almost 47,000. In the same breath, NHS agency spend also increased by 20 per cent, according to Nursing Times. With this comes a real influx in temporary (and new) workers flooding into hospitals and healthcare environments. To relieve the mounting pressure on these individuals – and the teams they're supporting – it's vital that they have the tools they need to hit the ground running and truly fill the skills gap that is widening every day in the healthcare sector.
A smooth transition is made much easier with Intelligent Healthcare. Hospital buildings and healthcare facilities can, for example, be situated in extremely large buildings which are easy to get lost in – and more recently, emergency facilities have been popping up in new and unfamiliar locations to tackle Covid-19. With the Intelligent Healthcare app, however, healthcare bodies can provide staff and visitors with access to a map of a building and it even allows the user to plot routes to specific locations.
Purple's LogicFlow alerts also ensure alternative routes are always available in periods of high emergency and it allows immediate and real time communication direct to a users' phone, for example, 'if x happens, do y'.
For patients, the technology could save lives. If a monitored patient leaves a specific area – or geozone – an SMS message will be sent to the senior nurse. Six in ten Alzheimer's and dementia patients tend to wander, and here is just one of many invaluable applications of this technology.
---
The future of healthcare is digitalisation
Giving the NHS the best possible chance means embracing digital innovation. Taking the small but necessary steps will enable vital transformations and help the NHS overcome the growing number of hurdles.
With a record high of 7.1 million people currently waiting for hospital treatment in the UK, it's with no doubt that the NHS and wider healthcare systems need end of the line help – and digital transformation is the first step in this journey. Purple are wholly dedicated to making our smart tech solutions work hard for the healthcare sector, to help fill the gaps in the system. If we can go even some of the way in supporting the sector on its road to recovery, we will have been successful.
By making simple changes to improve digital processes, healthcare organisations boost output, increase efficiencies and speed up operations – and completely overhaul the sector in the process.
---
This article was kindly sponsored by Purple.
To find out more, please visit www.purple.ai/solutions/intelligent-healthcare/