Racing against time – Mobile Stroke Units

Mobile Stroke Units are the way forward for treating more patients within the Golden Hour, says healthcare consultant Professor Rory Shaw.
Whenever the Mobile Stroke Unit of Southend Hospital is out and about in the East of England, members of the public demonstrate their support for this pioneering ambulance.  It's the first of its kind in the UK and is proving to be hugely successful in its current trial, thanks to the tireless work of interventional Neuroradiologist Professor Iris Grunwald and her team who have fought hard to make it a reality.
Invented by Professor Klaus Fassbender of the University of Saarland in Germany, this state of the art ambulance takes treatment to the patient, rather than waiting for them to arrive at hospital.  He came up with the idea when a breakthrough clot-busting drug was released in 1995 and he was unable to administer it to patients because they arrived too late. It wasn't until 2008 that the first unit took to the roads, and since then these customised ambulances have revolutionised stroke treatment.
Thanks to Professor Grunwald's strong links with her former University, a unit was made available to Southend Hospital from April 2018. Run in conjunction with East of England Ambulance Service and equipped with state of the art technology, the ambulance is a miracle of design.  It has the world's smallest CT scanner and on board technology to examine images and relay them to the hospital while en route.  It also has blood-testing equipment, weighing equipment and specially positioned cameras to allow the remote clinicians to see the patient and advise on treatment accordingly.
Race against time
Early treatment of a stroke improves the outcome for a patient. When a patient is suspected to have had a stroke, a CT scan is vital to determine whether there is a blood clot or a bleed in the brain. Once the diagnosis is confirmed the patient is triaged, just as they would be in a hospital but with onboard triaging the patient is sent directly to the right ward and hospital, saving valuable time.
"Before you can give treatment you have to decide which type of stroke the patient has – a haemorrhagic stroke which is a contraindication in 15-30% or whether they have an ischaemic stroke where you have a blockage of the vessel," says Professor Fassbender. "If you give the clot-busting drug in a bleed it would increase the bleeding. The only way to tell is to look with the scanner. It is different to a heart attack, the brain is much more sensitive. With the ambulance, not only do we have a range of diagnostic tools, but we can do the treatment."
Clinically it is impossible to differentiate between causes of stroke. "If you give the drug and the brain is already dead you actually cause harm," says Professor Grunwald. "In a stroke victim 2 million brain cells die per minute, so time is critical. To give the clot busting drug we need to know how much the patient weighs, and we can measure this exactly when they are on the table.  Often we don't know if a patient is on blood-thinning drugs and we can identify this too."
In the unit the team are also able to do a contrast angiogram to see whether the vessel is occluded.  NICE guidelines state that thrombectomy can be up to 24 hours.  "Sometimes you do not know when a patient was found and whether it was a 'wake up' stroke, so we can do a CT perfusion (imaging) can also be done to see how much of the brain is still alive."
The onboard Artificial Intelligence software, Co-invented by Professor Grunwald who is also Director for Neuroscience at Anglia Ruskin University, automatically analyses the scan and identifies how much brain is damaged using the standardised ASPECTS score.  The ASPETS score is recommended in 19 guidelines for treatment of patients with thrombectomy.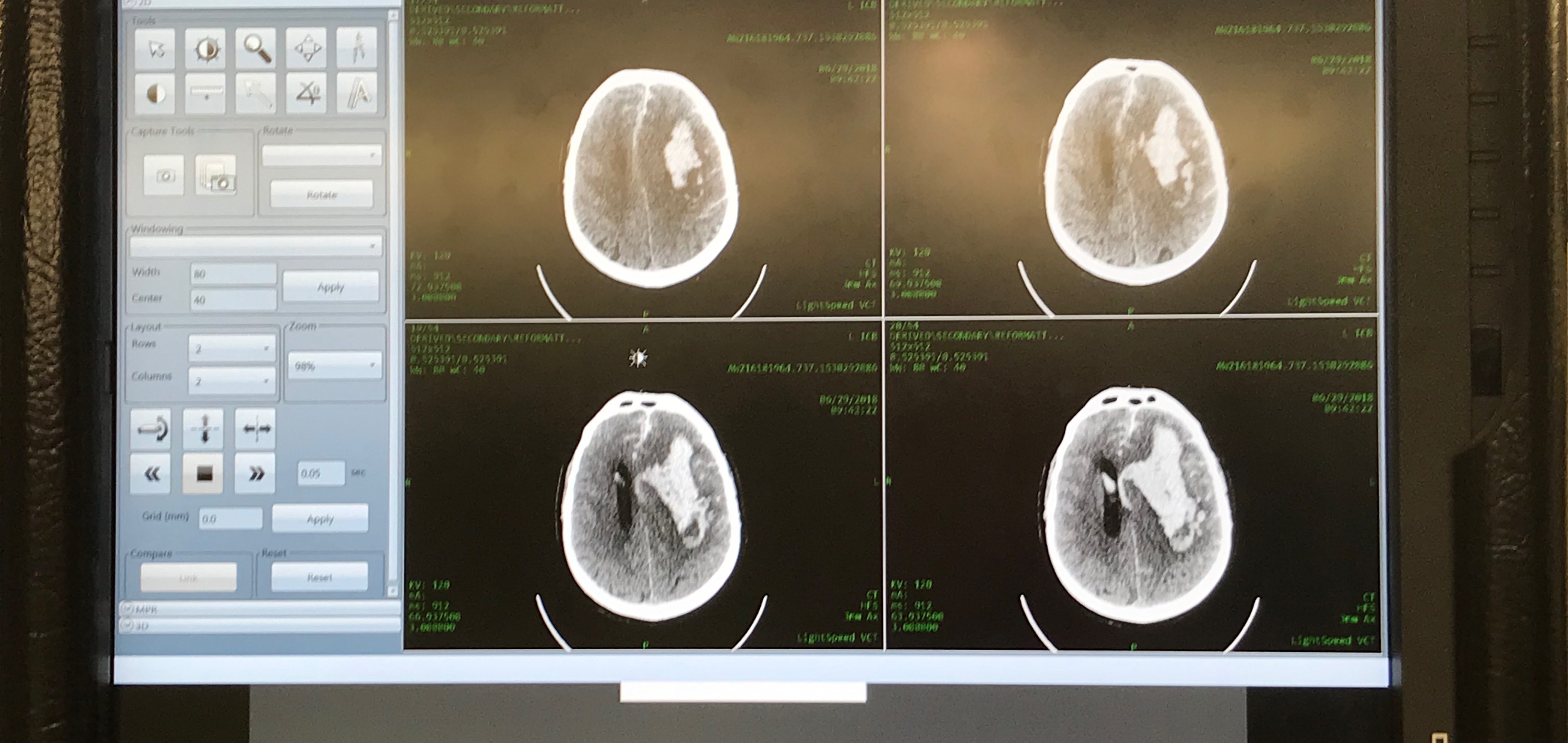 Freeing up resources
Professor Grunwald specialises in thrombectomy or clot removal via a catheter inserted into an artery to remove the clot, restoring blood flow and minimising brain tissue damage.  When used in conjunction with other medical treatments such as the clot-busting drugs and specialist rehabilitation it can significantly reduce the severity of disability caused by a stroke. Southend Hospital is one of just a few hospitals that offers this procedure and Professor Grunwald is a world-renowned specialist in her field.
In November Professor Grunwald and her team performed the second fastest thrombolysis in the world in just 16 minutes, thanks to the Mobile Stroke Unit.
Although she is still gathering data, the unit has been able to treat one third of stroke patients at home, freeing up both ambulance resource and hospital beds.  Often the unit can bypass A&E and take the patient directly to the stroke ward.  Within 26 days with 58 patients the unit has saved between 114 and 250 bed days, and saved the hospital more than £17,000 per patient treated with thrombectomy.
She is hoping to run more evaluations with different centres and in the meantime is raising money to build a UK ambulance.  The total cost is around £750,000 but she is hoping the costs will reduce in future as there is more competition in the scanner market.
There are currently Mobile Stroke Units in Norway, Melbourne, Qatar and the US including healthcare group Cleveland Clinics, all in consultation with Professors Fassbender and Grunwald.
"I think the future of the unit will be paramedic run," Professor Grunwald says.  "At Anglia Ruskin University we are looking at setting up a special diploma for paramedics to be trained for a stroke unit so many more patients can receive treatment . The concept of the Mobile Stroke Unit has saved thousands of lives across the world."