The new hospitals building the future of health infrastructure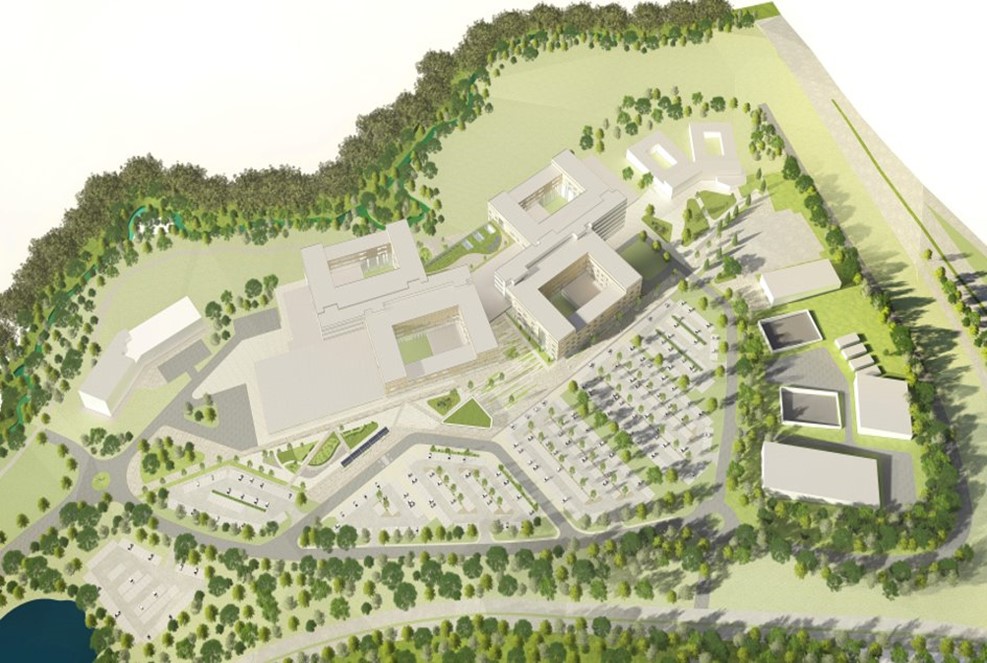 In autumn 2020, the Government made a commitment to build 40 hospitals in England by 2030, with a budget of £3.7 billion. In July this year, the Government announced the selection process for a further eight new hospitals. The new sites are intended to transform NHS services, for patients, staff and the wider community.
With this quantity of builds taking place over a 10-year period, work must be carried out in a different way than previous new hospitals. The Department of Health and Social Care and the NHS allied improvement team have joined together in a collaborative approach to the design and development of these "hospitals of the future".
Speaking at a Public Policy Projects (PPP) webinar in July, part of PPP's Health and Care Estates Series, Natalie Forrest, Senior Responsible Officer for the New Hospital Programme at the Department of Health and Social Care, said: "Our vision is that we build healthcare infrastructure that allows for world-leading experiences for patients and staff. We know that, despite the fact that the medical care, nursing care and care that GPs provide for patients across England is outstanding, the facilities within which we expect them to work are not. That impacts on their day-to-day life and the experience of the patients."
---
Building trust
Collaboration across the different levels of hospital construction requires a great deal of trust between government, hospital executives and the local community.
Emphasising the importance of building trust with this programme, Natalie commented: "There is always a degree of scepticism when a new hospital comes into play because it has so many complexities and moving parts. We need to be working hand in hand with NHS trusts in order to build positive relationships, based on continual partnership and learning."
This positive relationship extends not only to those involved in the construction process but to those who will be using the hospital. One hospital that will be rebuilt as part of this manifesto commitment is the Princess Alexandra Hospital NHS Trust in Harlow, Essex. Lance McCarthy, the trust's Chief Executive, also spoke at the webinar and stressed the responsibility it has to the local population to get this right.
"We're doing a huge amount of engagement with the local population around how they may be able to utilise some hospital facilities, such as our training and education facility, outside of traditional hours, so that it starts to be an asset to the local community rather than just a hospital where you go when you're not feeling too well," explained Lance.
---
Building a system
The NHS is going through a period of structural change, as integrated care systems (ICSs) will increasingly affect how health and care services are organised and delivered. A new hospital is a catalyst to change healthcare delivery, not only within the hospital itself but across local systems. Services managed by a hospital must also be effectively integrated within its region and primary community services.
Craig McWilliam, Programme Director of the New Hospital Programme, said: "We need to make sure that the hospitals we build in partnership with trusts take the greatest advantage of system working. Hospitals are an incredibly important part of the healthcare system, so we need to make sure our buildings recognise that but also try and ensure that the most significant amount of care that's possible is delivered outside of the hospital environment."
Every area of England is now covered by one of 42 ICSs; these will be crucial to measuring the effectiveness of a hospital. The new hospital programme is an opportunity to highlight the many commonalities across hospitals and introduce more standardisation. Hospital buildings typically require many of the same "kit of parts" (a method used in pre-fabrication and assembly) and digital design allows more possibility for this uniform approach than ever before.
Craig explained: "By standardising design, we can encourage new entrants into the healthcare building market, new suppliers of kits of parts, which should become cheaper as supply increases. It also means that teams that are delivering hospitals become more familiar with the design and the pieces that they're building. We can design for manufacture processes from the outset, with all the benefits that they bring in terms of construction, improved sustainability, reduced waste and improved safety."
---
Building beyond tradition
The new hospitals will set a precedent for sustainable infrastructure at a time when reducing climate impact is of ever-increasing importance. The goal is for the NHS to become a truly sustainable operation, reaching net zero carbon emissions by 2040.
Craig laid out some of the incremental steps necessary to make such significant change. "We need to think about the materials we use, the supply chain and how we build the hospitals and support a low-carbon operation within them, as well as how the building facilitates trusts that build new hospitals to achieve a more sustainable operation.
"Significant technology is available now to be used within hospitals; the last couple of years have shown the kind of change that can be achieved. Transformation can take place when a new building is provided."
Digital transformation is a vital element of the programme, ensuring that the new hospital buildings incorporate and support advanced technology. This includes considering the operational healthcare technology that trusts will employ and how the buildings will support trusts to be digitally enabled.
Lance explained: "We've got to think about how the design of hospitals should change to reflect the impact and efficiencies that come from technology. It is crucial that we don't build yesterday's hospital for tomorrow's technology."
The experience of clinicians and patients during the Covid-19 pandemic could help to inform the implementation of digitally focused infrastructure. The pandemic revealed a need for hospitals to allow for flexibility and to adapt to healthcare changes over time. This also includes construction, meaning that additional buildings can be added in a less sporadic and more planned fashion.
"Flexibility is fundamental in terms of the immediate management of the Covid pandemic and post-Covid, but also in actually being flexible enough that we can manage any future pandemics," said Lance.
"Accessibility is also really fundamentally important, and we are using the local community and our patient groups to help us design the flow around the hospital, looking at how we can maximise virtual services with digital and technology being really key."
---
Laying the foundations
The new hospital build programme is a continual learning and improvement journey, bearing the responsibility of shaping modern health infrastructure across England. Several hospitals in the programme are already under construction, including Midland Metropolitan University Hospital in Birmingham and Royal Liverpool University Hospital.
Natalie emphasised the significant lessons that can be learned from the current construction of the hospitals in the programme. "We are working to develop best practice guidance and standards that we will be able to use across the board, but we're going to be learning. Those best practice guides will be dynamic and we'll be continuing to feed them in order to support all the organisation with the latest intelligence on how to build a new hospital."
The pandemic has prompted a nationwide reflection on the shortcomings of the NHS, with hospitals struggling to cope within the confines of their often-dated infrastructure. The new hospital programme comes at a time when we require a modern approach that sustainably provides for the needs of a growing population. The development of the new hospitals is an opportunity to build for the future and put modern healthcare at the centre of the hospital infrastructure ecosystem.