Volunteer helps fit essential masks to frontline NHS staff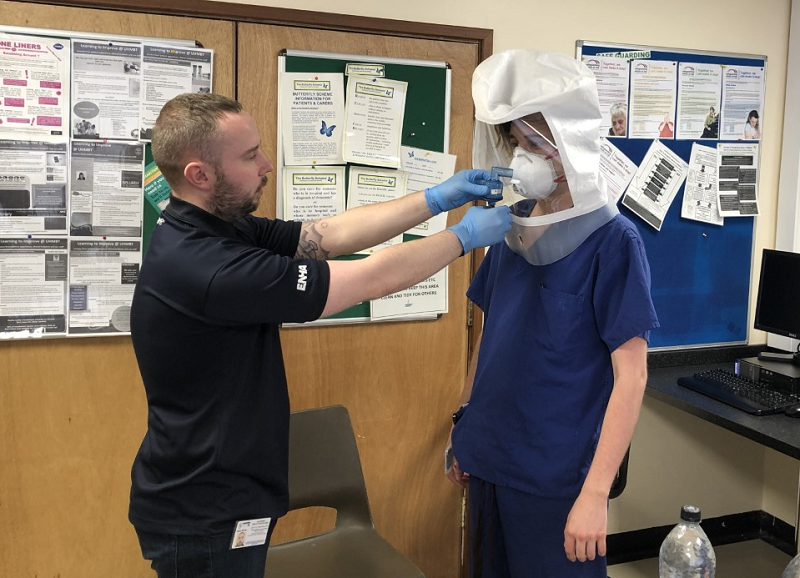 Adam Corcoran-Birtles, of Caton, near Lancaster, volunteered his time to Fit test around 50 frontline staff at Furness General Hospital (FGH) with Filtering Facepieces (FFP3) disposable masks – which are highly effective at preventing infections.
Adam, an Area Sales Manager for Globus Group who is Fit2Fit accredited through his work with the industrial industry, was Fit testing staff at St John's Hospice, Lancaster, where he was made aware that University Hospitals of Morecambe Bay NHS Foundation Trust was looking for volunteers to help support its Fit testing.
To Fit test staff, Adam uses a machine to show how much leakage there is from the face seal. The Fit testing reassures staff that they are getting adequate protection from their mask and that no vapour or particles can come through the mask.
Adam said: "Hospital protocol is that all surgical staff, surgeons as well as nurses, need to be Fit tested before they can enter the theatre or do any surgery, so by volunteering my time to do Fit testing I helped to make sure that life-saving operations went ahead.
"The Trust's own Fit testers are running at full capacity at the moment, so I was very glad to be able to offer my expertise and help these crucial frontline workers to do their jobs."
"I felt honoured and privileged to work with and help the brave frontline healthcare staff"

Adam Corcoran-Birtles , Area Sales Manager for Globus Group
He is also working with the Trust on a long-term plan to help it to prepare for future pandemic events.
Adam added: "In the current crisis I really wanted to give whatever help I could in my free time, and as I am an accredited Fit tester this seemed like a great opportunity to really help the NHS staff on the ground. I have to say that I felt honoured and privileged to work with and help the brave frontline healthcare staff at Furness General Hospital and St John's Hospice. They are giving so much at the moment, and I was so glad to be able to give something back.
"Globus is a privately held company, which is great because the Directors there have been incredibly supportive and have allowed me to use company resources to do the testing."
Sue Smith, OBE, Deputy Chief Executive and Executive Chief Nurse, UHMBT, said: "I want to say a very big thank you to all of our volunteers like Adam who are going above and beyond to help our staff to stay safe and be able to continue to provide the best care to our patients during the Covid-19 pandemic."
Maddy Bass, Director of Nursing & Quality, St John's Hospice, said: "We really appreciate the time Adam gave us – it was really welcomed by staff and is another great example of partnership working between St John's and the local NHS."
Globus Group is a privately-owned British company based in Manchester. Globus is a leading supplier of personal protective equipment (PPE) across a number of industrial sectors, as well as to the NHS for healthcare. Globus supplies a wide range of PPE, including protective gloves, face masks and respirators, and eye protection.
Globus has committed significant resource to help the Healthcare sector during this unprecedented period, and are making products specifically for NHS England and Scotland, as well as facilitating the rapid supply of key items for the frontline staff.
---
You can find out more about Globus Group at https://www.globus.co.uk/