Getting more from the capital budget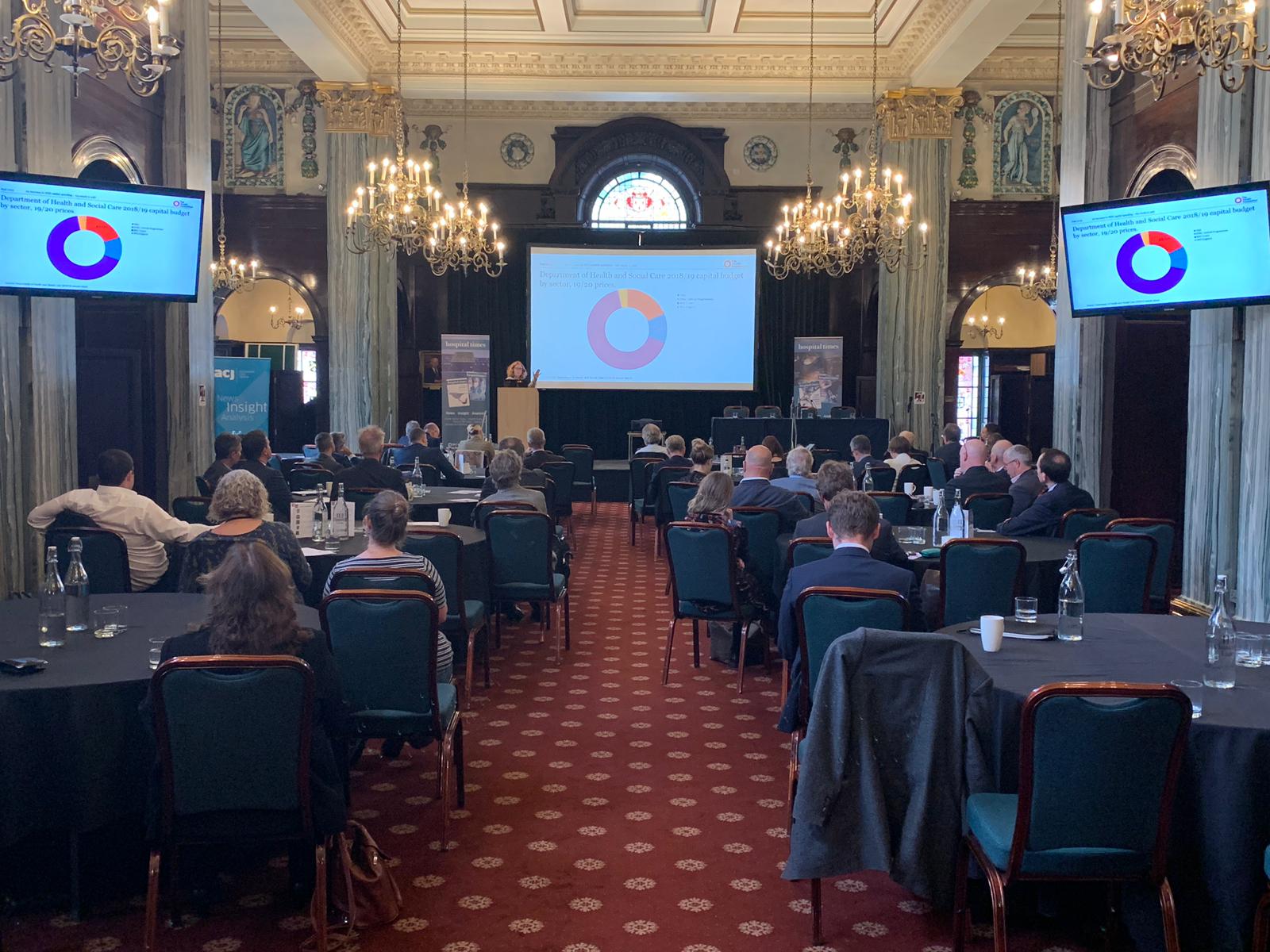 Hospital Times and Public Policy Projects asked a very simple question of delegates attending their inaugural estates seminar: Is there enough capital funding in the NHS to get the job done?
---
The health sector currently accounts for ten per cent of national Gross Domestic Product (GDP), yet the UK has not done enough to strike a balance between capital and revenue budgets, said Anita Charlesworth, Director of Research and Economics at the Health Foundation. The missing link is the absence of a comprehensive methodology to calculate the impact that revenue and capital budgets have upon one another. This has historically resulted in trusts taking money out of their capital budgets to fill holes in revenue spend and is partially responsible for the current £6 billion maintenance backlog facing the NHS in England.
---
Building Blocks
The conversations surrounding capital funding, new hospital upgrades and overdue maintenance, have often come second to workforce and digital in healthcare policy discussions.
While it is estimated that 18 per cent of the NHS estate predates 1948, with the backlog maintenance bill reaching £5-6 billion between 2013 and 2017, capital spending was cut year on year to support the resource budget better. However, new Prime Minister Boris Johnson made it clear in his inaugural policy address that this was to be put back to the top of the pile, announcing £1.8 billion of "extra" funding to support 20 new projects and maintenance tasks.
How much of the £1.8 billion is new money? At least £0.8 billion, according to Sir Robert Naylor, keynote speaker at the seminar. However, this does not present enough of a long-term settlement to manage the scope of development and maintenance projects in need of financial attention. The multi-year spending review promised for 2020 must put in place a strategic pipeline of major schemes over five-year tranches due to the time taken to develop business cases and full consultations, recommends Sir Robert.
According to analysis from the Health Foundation, there was an increase in the sale of estates to fund budget growth up until 2018-19. Capital Department Expenditure Limit (CDEL) as a share of Total Department Expenditure Limit (TDEL) decreased from five per cent in 2013-14 to nearly four per cent in 2016-17. However, for 2019-20, this has now been restored to five per cent. While reassuring, this might still fall short of necessary requirements.
---
The Naylor Review: What comes next?
Sir Robert, National Advisor to the Department of Health and Social Care (DHSC), presented delegates with a number of obstacles facing the sector. Potential land sales were reported at a value of £5.7 billion, with revenue savings estimated at £500 million to £1 billion.
However, with NHS trusts reluctant to sell land without new projects in the pipeline for fear the funding will be swallowed up elsewhere, incentives to support this policy are limited.
The Naylor Review, commissioned by former Health Secretary Jeremy Hunt, sought to review NHS estate strategy, target the sale of £2 billion worth of surplus property to build 26,000 new homes on NHS land and support the Five-Year Forward View. A second report on the opportunities for London was not published due to sensitive information on land values. However, "cherry picked" elements were included.
Recommendations made in the review led to the founding of the NHS Property Board, established incentives for providers to overcome blocks to the release of land, prevented future capital to revenue transfers at the trust level and resulted in additional spending of £10 billion from the Treasury. However, there is no evidence that capital to revenue transfers have been stopped since the review's publication. As Sir Robert continued to iterate, this must be prevented if change is to be delivered based on capital funding need.
With international governments and private sector organisations keen to invest in capital projects, the seminar raised a consensus for the development of a reasonable state funded alternative following the scrapping of public finance initiative (PFI) schemes. This is made more attractive by low interest lending. "At current interest rates we are looking at a fantastic opportunity," said Sir Robert. Money can be borrowed for two to three per cent over 20 or 30 years, with lenders keen to invest. However, the obstacle is upsetting the capital budget as allocated by the Government.
---
Rethinking sustainable development
If trusts are to be more innovative, they must embed their estates strategies within STP plans, urged Sir Robert. While links are emerging, greater integration of estates into wider plans is required to build resilience into healthcare systems and plans for the long-term.
Funding for projects of scale must come from the national level, regardless of how localised delivery might be. However, there is currently a limited appetite for the Government to take loans or invest in partnership with the private sector. Without PFI or LIFT schemes, there is a void of financial mechanisms in place, which is preventing developments getting the investment they need. The jury is still out on how to fill the black hole left by PFI.
"At current interest rates we are looking at a fantastic opportunity" – Sir Robert Naylor.
When incorporating private capital into public projects, clarity is required over the allocation of risk, ensuring proper accountability should projects go wrong. As PFI has shown, there is anxiety surrounding projects where failures require taxpayer bailouts. However, should private partners shoulder a majority, if not all, of the risk on new developments, there is scope to overcome this hesitancy.
---
What about London?
London, which Sir Robert suggests "needs a special focus", require STPs with high-value estates to be ambitious in their hospital rebuilds, maximising disposals to leverage additional funding. Sir Robert's desire is to see the construction of 100 new primary care centres developed across the capital, housing teams of GPs working in partnership with one another. These are intended to address barriers to patients receiving healthcare using current primary care provision and avoid placing extra reliance on acute sector services.
There are 32 London boroughs, all of which naturally want more than their fair share. However, without a coherent strategy spanning the city, there will be a misalignment of development with population and service need. Collaboration with the Mayor of London's office and local authorities, therefore, is essential to overcoming planning restrictions and ensuring that developments are delivered to meet local requirements.
---
Capitalising on capital
Established in 2003, Procure 21 (P21) delivered £4.5 billion of registered work. Following this, P21+ registered a further £4.2 billion. Currently, P22 has registered £3.4 billion of funding for local projects, focusing on cost and service efficiency gains. Throughout its lifecycle, P21+ achieved 15 per cent cost efficiency savings for development projects. This framework is fundamentally about collaboration, with all partners involved in local supply chains taking an active role in the delivery of projects through this programme.
No debate on the NHS estate is complete without representation from NHS Property Services. Thankfully, Simon Taylor, Head of Optimisation, was on hand to offer his view on how managers can best convert funding into measurable improvements. The first step is understanding where the greatest need lies. As was recommended in the Naylor Review, a great deal of estates policy concerns disposal. For some trusts, this means selling off land to private investors to free up funds. For others, where space is not being optimally used, the Vacant Space Handback Scheme allows commissioners to pass on the liability for eligible vacant space to NHS Property Services. Once space is handed back from local trusts to the centralised NHS Property Services, the scheme facilitates re-letting, disposal and development of units.
Where disposal is not the solution, new schemes such as NHS Open Space allow for NHS Property Services properties to be better used through a digital platform that allows flexible use and booking of space and, therefore, better estates management. Simon Taylor was also keen to express NHS Property Services' role in development, whether for healthcare centres, or mixed development projects, including those such as Kingston and Chiswell that include residential units in the development.
"We have lots of good estate, but we also have to take some hard decisions" – Simon Taylor
Raising the environmental question, there are murmurings of progress within NHS Property Services. However, at present there is a lack of convincing strategy to delivery tangible improvements. "We have lots of good estate, but we also have to take some hard decisions," said Simon Taylor, suggesting a simple way of kickstarting this is getting rid of poor quality and inefficient buildings that limit environmental efficiency across the estate.
---
What needs to change?
Agreeing with the majority of the content in the Naylor Review, Simon Corben, Director and Head of Profession, NHS Estates and Facilities at NHSE and NHSI, spoke on the importance of improving guidance to enable successful development – ranging from technical guidance to data use. When improving operational efficiency, ensuring effective use of data allows for increased capacity within services, thus boosting health outcomes.
There is a disconnect between political cycles and longer-term investments required to yield benefits from capital funding projects. However, working in partnership with local authorities, private partners and others, new and improved relationships can be built, allowing for more efficient recycling of property within areas to ensure it better meets the needs of populations. Frustrations initially with the NHS Long Term Plan centred around concerns that capital funding would be reallocated elsewhere. However, with new guarantees for capital funding to deliver on the aims set out in the strategic document, this has been welcomed.
 "We need to get into the mindset that selling ten per cent of our real estate every year is not a bad thing" – Simon Corben
There is a need for improved estate performance metrics, aligning with service estate strategies and simplifying central approval processes. A long-term capital settlement is required and capital to revenue transfers must be prohibited. The DHSC proposed that an upcoming spending review would be "smarter" based on four key areas:
Ensuring that all funding is allocated at the right geographies where it is needed most;
New hospitals;
Modern diagnostics;
Eradicating critical safety issues.
All considered, this is a tall ask for the current budget allocation. With all funding in place, NHS estates must be developed to boost capacity and capabilities for delivering outcomes to patients.
If there were one message to come out of the conference, it is for people to understand the need for capital funding to be used for capital projects and, by extension, to appreciate the impact that capital spending has on revenue budgets and revenue projects.