The Helen Rollason Cancer Charity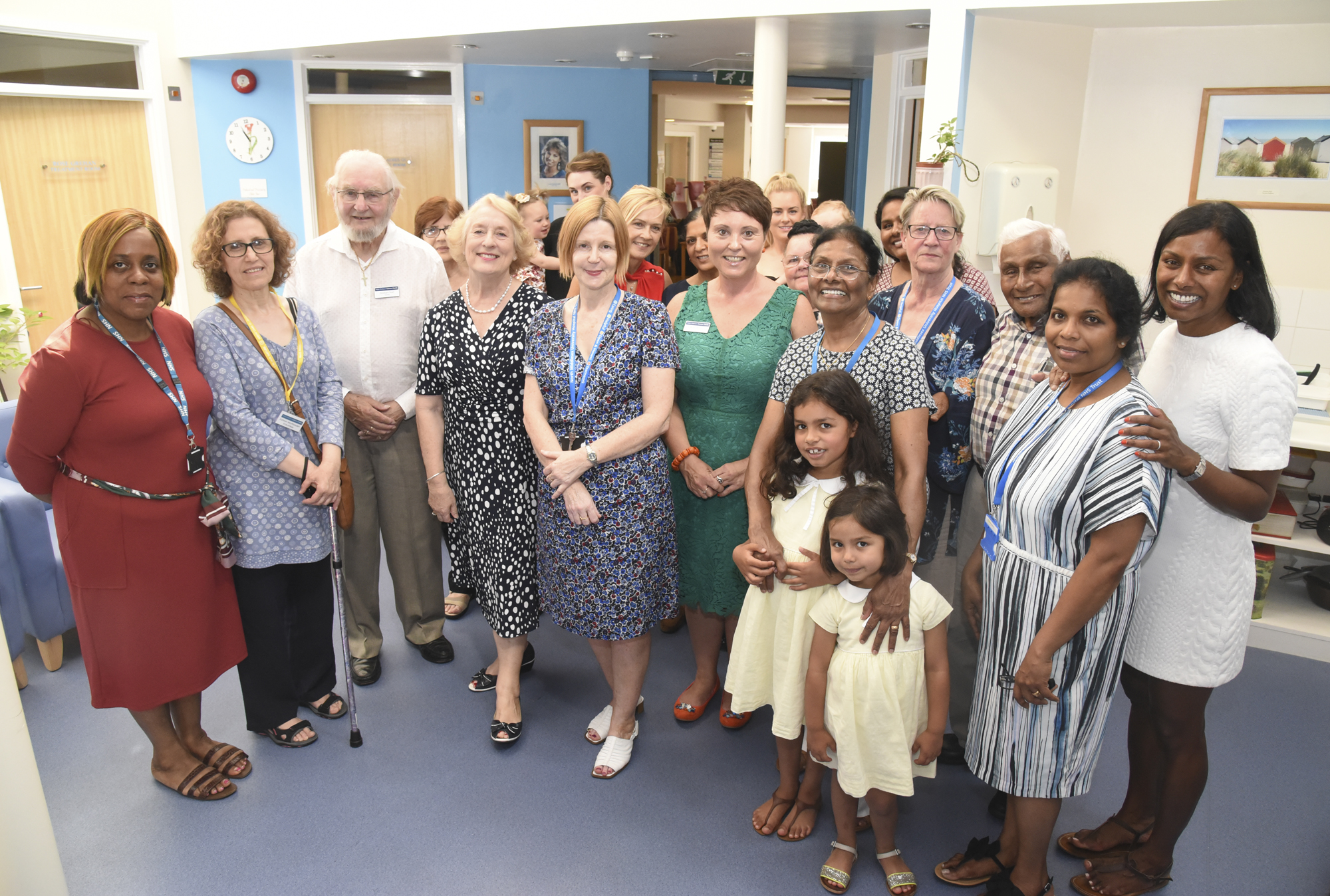 (Pictured above, the Hellen Rollason team celebrate their 15th anniversary event in July 2019)
---
The Helen Rollason Cancer Charity (HRCC) is dedicated to championing quality of life for everyone living with, or affected by, cancer. Kate Aldem, CEO of HRCC, writes for Hosptial Times about the recent and upcoming work of the charity.
---
We are here to support men and women with all types of cancer, during all stages from newly diagnosed through to post-treatment. We also provide support to patients' family, friends and carers. We do this through the provision of support centres, complementary therapies, information and advice, supporting research and clinical trials.
Kate Alden, HRCC CEO, said: "Our services are delivered free of charge to support cancer patients' emotional well-being alongside their medical treatment. We focus on offering these services in non-clinical environments to promote a safe, peaceful, relaxing setting across the Essex, London and Hertfordshire regions. The work we do really does make a difference.
"The charity receives no Government or NHS funding and relies on corporate donations, our retail shops, events, grants and our fantastic fundraising supporters to continue services."
Celebrating 15 years at the North Middlesex University Hospital
Helen Rollason was treated at North Middlesex Hospital in 1999 after being diagnosed with colon cancer. This led to the Helen Rollason Cancer Charity opening its doors five years later, ushering in a new era for cancer patient care.
Since then, hundreds of clients have been helped and supported by the fantastic team in Edmonton led by centre coordinators Rebecca Brainerd and Maria Fleet.
On Wednesday 24th July 2019, the centre hosted a celebration event for volunteers, clients, staff and guests. Attendees included Maria Kane, CEO of North Middlesex Hospital, Graham Hart, HRCC Chair of Trustees, Kate Alden, HRCC CEO and Pat Hume, Support Centre Manager.
Maria Kane spoke about the positive working relationship between the hospital and the charity over the years and how she hoped it would continue for many more. She went on to talk about the very first occasion she visited the support centre and how impressed she was with the level of care shown towards clients. Everyone agreed that the support centre has earned a special place in the hearts of the people of Edmonton and beyond and has left a permanent positive impression on patients and their families.
The following two stories from clients illustrate the impact the charity has had on them.
Adele Barr from Palmers Green, London:
In 2014, I was diagnosed with breast cancer. My MacMillan Breast Clinic Nurse at North Middlesex University Hospital suggested I really needed some help and recommended I went to the Helen Rollason Cancer Charity for support. I was nervous but decided it could be a good idea and agreed to attend a counselling meeting.
I attended the first group session shortly after I was diagnosed. There were a dozen or so of us in the group and we went around the circle explaining our own cancer journeys. I found it quite nerve wracking but very interesting. I will always remember a lady sitting next to me who introduced herself as Zohreh Moftizadeh. She explained to me that she was just deciding to begin a weekly art therapy group at the Helen Rollason Cancer Charity Support Centre at the hospital. She invited me along and I went not really knowing what to expect but trying to keep an open mind. I was warmly welcomed into the group and instantly felt more calm and relaxed than I had been for months.
I enjoy painting, making crafts and knitting; the support centre has been proudly filled with all of our creations and it's so wonderful to see them decorating the walls. I've made so many new friends that I know will always support me.
The art therapy group hasn't just been beneficial for my mental health; I've also learnt new skills and gained a huge amount of confidence. Furthermore, I have used the reflexology service and the one-to-one counselling sessions.
I still attend yearly check-ups to ensure my cancer hasn't returned, but for now, the future is looking bright and I will be able to see my three beautiful grandchildren grow up. I can't thank the Helen Rollason Cancer Charity enough; they really have helped me so much and I am eternally grateful.
Jackie Jones from Wood Green, London:
I am a mother, grandmother and great-grandmother and I have breast, bone and liver cancer.
Ten years ago, I started going to the Helen Rollason Cancer Charity Centre for treatments. At the centre, you can get 45 minutes to yourself and you don't need to worry about your family. I've also had some counselling which has really helped.
I agree with Adele that the charity has benefitted us all; the staff are brilliant and friendly and always take the time to talk to us and ask how we are. Also, if we have appointments and have no one to come in with us, Maria Fleet and Rebecca Brainard, the coordinators, will attend with us, which is a great help and very kind of them. I feel the Helen Rollason Cancer Charity has helped me so much in the last ten years and I wouldn't know what to do without them.
If you would like to find out more information about the charity, please visit www.helenrollason.org.uk or call 01245 380719.